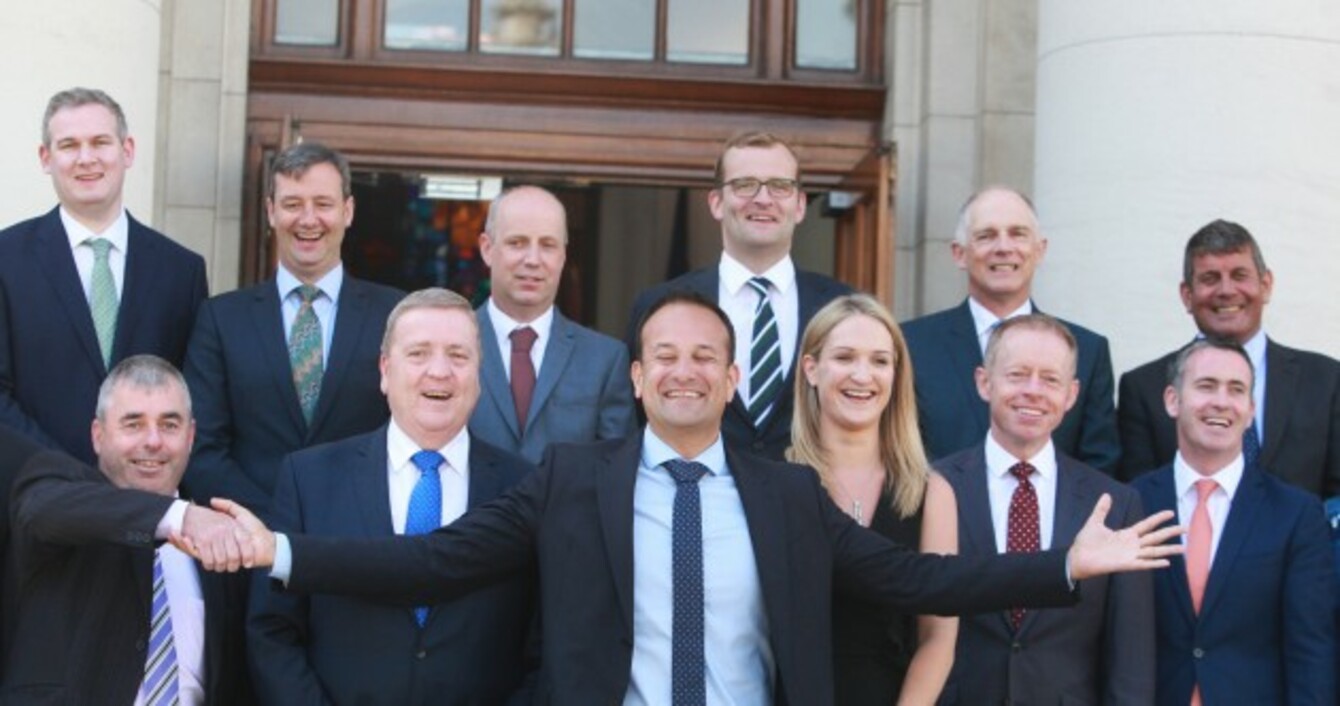 Leo Varadkar with his new junior ministers.
Image: Leah Farrell
Leo Varadkar with his new junior ministers.
Image: Leah Farrell
THE NEW TAOISEACH Leo Varadkar has been criticised for appointing fewer females than Enda Kenny to junior ministry roles.
He faced similar criticism last week when Labour's Joan Burton described the Cabinet reshuffle as a "bad day for women".
Of the 34 positions that Varadkar had to fill, seven are female.
With women appointed to just four senior Cabinet positions, this number remains the same as the number appointed to the previous Cabinet.
Mary Mitchell O'Connor was the only casualty in Leo Varadkar's Cabinet reshuffle, demoted from Minister for Jobs to super junior minister for higher education.
Arts Minister Heather Humphreys also had her ministerial portfolio reduced, with rural affairs being transferred to newly appointed Minister Michael Ring.
The number of women appointed to Minister of State positions remains at three out of 19. Marcella Corcoran Kennedy lost her junior ministry today.
Orla O'Connor, Director of National Women's Council of Ireland said the numbers are stark.
"It is disappointing that in this 32nd Dáil which houses the highest number of women TDs ever elected, that we are not seeing similar increases in the numbers of women in senior decision-making positions.
"Only 18 women have been appointed to Cabinet since Countess Markievicz became Minister for Labour in 1919. This is one woman less than the current number of Ministers for State," she said.
O'Connor said it is crucial there be a whole of Cabinet approach to prioritising policies of women's equality.
Female TDs and senators were also not happy with the numbers. It's understood the matter will be raised at the Oireachtas Women's Caucus in the coming weeks.
Speaking in the Seanad today, Senator Ivana Bacik said she is "hugely disappointed" to see the lack of commitment to ensuring we have a more balanced gender representation among Cabinet and junior Ministers.
#Open journalism No news is bad news Support The Journal

Your contributions will help us continue to deliver the stories that are important to you

Support us now
She said:
Many of us thought that the Taoiseach might use the junior minister appointments today as a means of addressing the imbalance that exists in the Cabinet.
It is very disappointing that there was not more promotion of women in the Cabinet, but in the junior Minister appointments the Taoiseach has missed an opportunity by demoting one very able woman and by not promoting any new women into the ranks of the junior ministers.
For one who has very overtly and explicitly modelled himself on Emmanuel Macron and Justin Trudeau I believe it is a terrible shame the Taoiseach has missed this opportunity.
Those two leaders in France and Canada have explicitly moved to ensure better gender representation in their Cabinets by their choice of ministers.
Bacik said it "is a real shame and a real missed opportunity" that Varadkar has not done the same in Ireland.
In a statement, Labour Women condemned the Taoiseach's failure to promote women, describing it as "a shameful decision which really shows our Taoiseach's true colours when it comes to liberal values".
Chair of Labour Women Sinéad Ahern said following gender quotas, the highest ever number of women were elected last year.
Taoiseach Varadkar wasn't exactly stuck for choice when it came to considering women from his own party.
"For a man of his generation to be leading the country he had a real opportunity to lead the way in promoting women in the workplace, and it's shocking that he didn't," added Ahern.
A government source described the criticism as "unfair" and pointed out that Regina Doherty and Helen McEntee have both been promoted to "very important roles". They added that people are appointed on merit.
"Fine Gael are the party of gender quotas," said the source.
It is understood that it is the party and the Taoiseach's hope to increase representation of women in the Dáil.