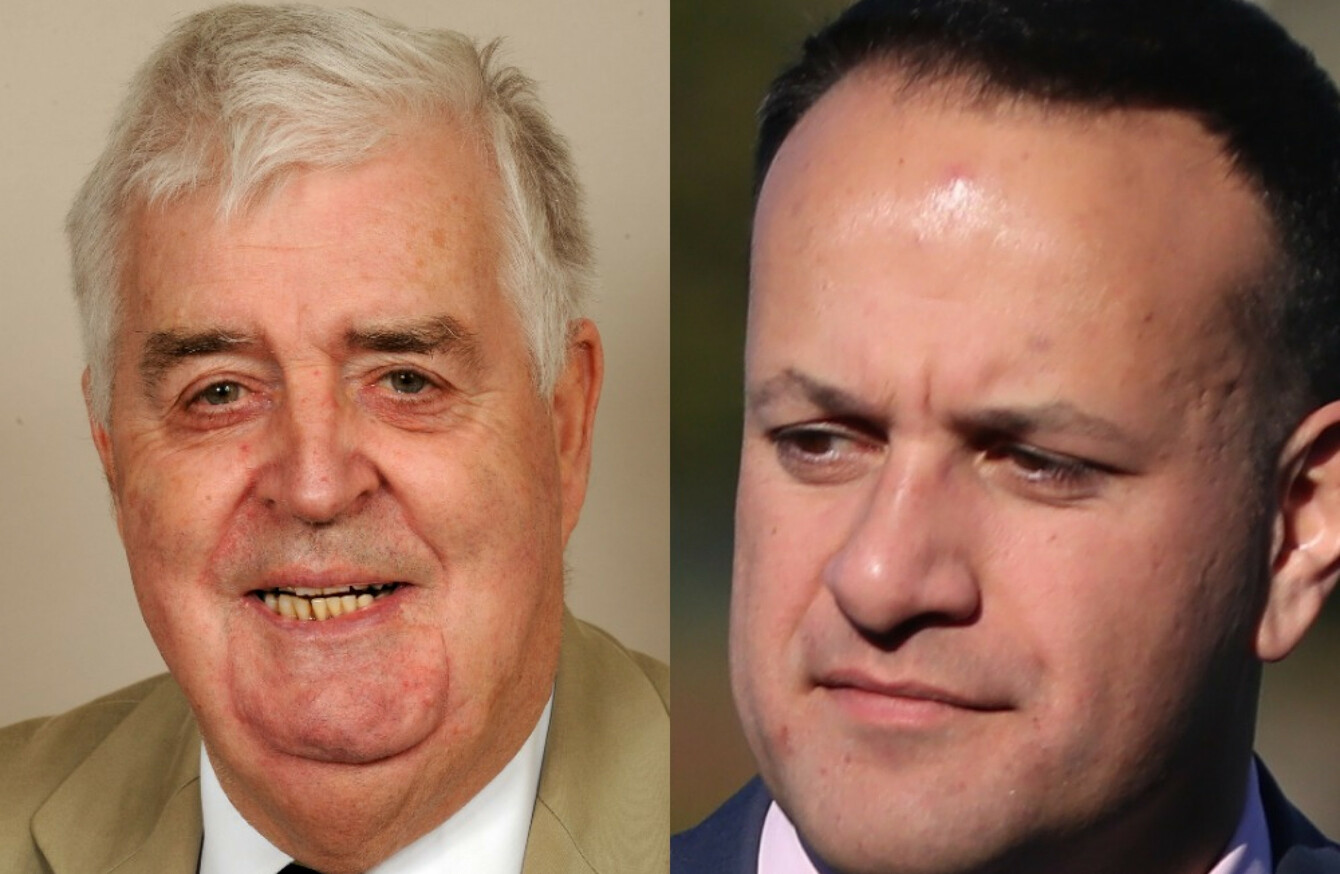 Lord Kilclooney and Taoiseach Leo Varadkar
Image: PA Images
Lord Kilclooney and Taoiseach Leo Varadkar
Image: PA Images
TAOISEACH LEO VARADKAR has said he thought a unionist politician's Twitter account which called him a "typical Indian" was a "parody account".
Former Ulster Unionist Party deputy leader Lord Kilclooney tweeted in response to a BBC news story in which Varadkar was accused of "poor manners" over his visit to Northern Ireland yesterday, calling the Taoiseach a "typical Indian".
Taoiseach Varadkar was born in Ireland; his father is Indian and his mother is Irish.
Kilclooney's remark was met with condemnation and he received a significant amount of backlash online.
Former Ulster Unionist Party leader Mike Nesbitt tweeted that Kilclooney's comment can only be interpreted as "a racist comment".
Speaking in the Dáil this morning, Taoiseach Leo Varadkar acknowledged Kilclooney's tweet and said: "I did see it. I actually thought it was a parody account… that's all I'll say about that."
Reacting to the backlash of his tweet, Lord Kilclooney said that he is "certainly no racist".
"In particular, [I] have an admiration for Indians. A member of the British/Indian APPG [All-Party Parliamentary Groups], only yesterday I had a reply from 10 Downing Street asking for a relaxation of visas for Indians," he tweeted.
"My point was that the PM has upset Unionists more than Irish PMs had."
Kilclooney later added: "I wanted to highlight that, unlike native Irish PMs, he had contravened the normal courtesies of visiting the UK and I certainly have succeeded. As one who works for Indians in the UK, I am most definitely no racist – far from it – I admire them".
Meanwhile, Alliance Party MP Naomi Long hit out at Lord Kilclooney and said that his language was "a racial slur, insulting of not only the Taoiseach and the Irish people, but of Indian people too".
"There is no explaining this one away like last time. The [House of Lords] needs to address his conduct. It is deliberate, calculated disrespect," she said.
Responding to a request for comment from TheJournal.ie, the House of Lords said that "the Commission has not received a complaint" and therefore it did not wish to respond.
The Ulster Unionist Party has been contacted for comment.