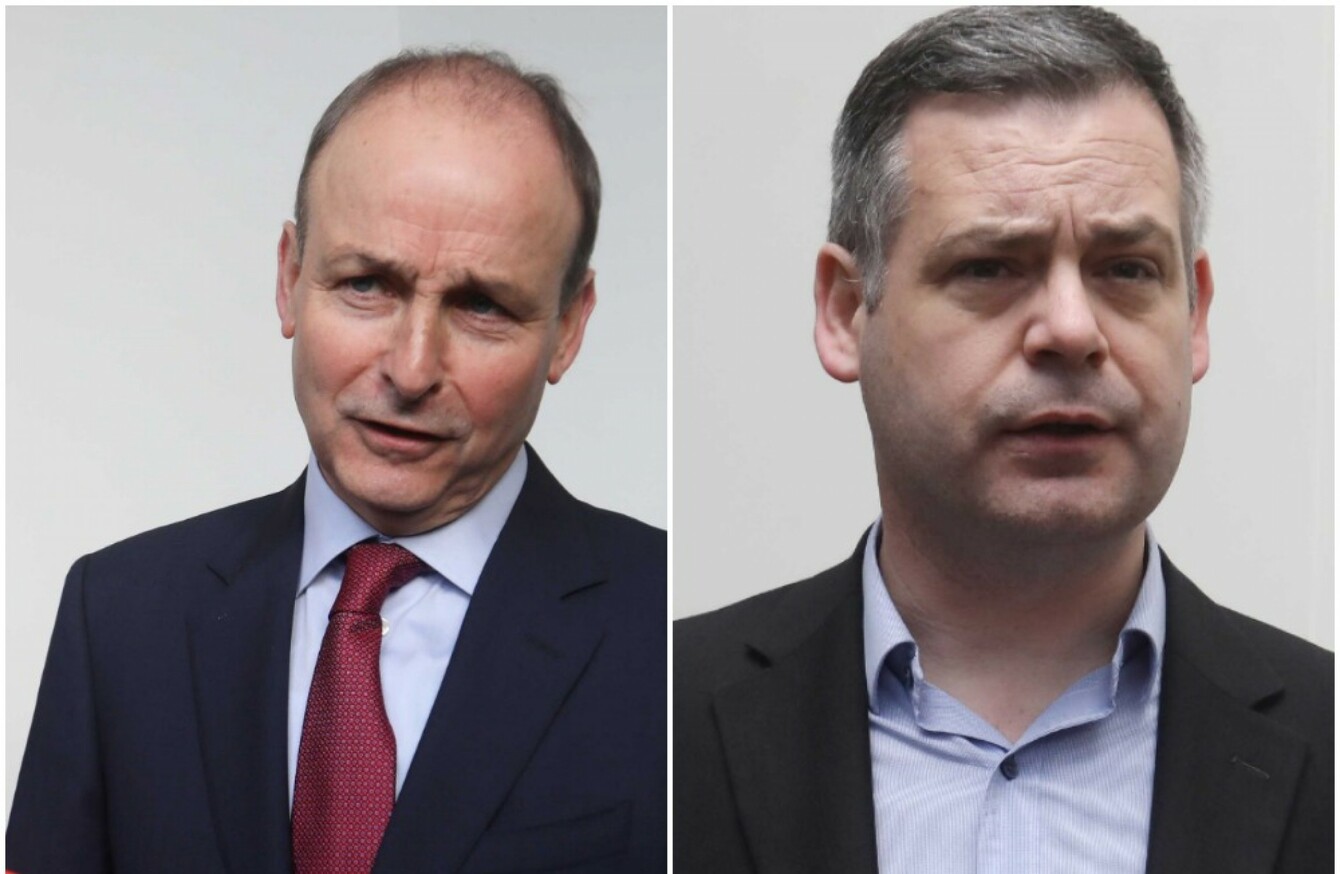 Both Micheál Martin and Pearse Doherty spoke to reporters today.
Image: Rollingnews.ie
Both Micheál Martin and Pearse Doherty spoke to reporters today.
Image: Rollingnews.ie
Updated Feb 25th 2020, 6:14 PM
TAOISEACH LEO VARADKAR and Fianna Fáil leader Micheál Martin say they will meet again after discussing the possible formation of a new government this afternoon.
Separately, representatives from Sinn Féin and the Green Party discussed various policy issues for seven and a half hours today in talks.
From all sides, what was discussed centred on central issues such as housing, health and climate change. 
Speaking to reporters at Leinster House, Martin said he told Varadkar there is a "need to put a government together" to deal with the "urgent issues" people voted on. 
However, he said it was unlikely there will be a government in place by the time the Dáil sits again next week. 
The Fianna Fáil leader said any government formed would have to be done so on "mutual respect" with all parties involved.
"I said to the Taoiseach we have a mandate to engage with his party and the Greens, and with independents, Soc Dems and others," he said. "People want action that brings about real change and real progress.
We have an obligation to try to meet the public's demand on those issues.
In a statement following their meeting, Fine Gael announced that the pair exchanged views on a number of issues, including housing, climate change, health, cost of living, the economy, and taxation.
The statement also said that both sides agreed to meet again at an unspecified point in the future, but added that Fine Gael would continue to prepare to become part of the opposition in the 33rd Dáil.
It also said Varadkar encouraged Fianna Fáil to continue engaging with other parties with a view to forming a government.
It follows similar comments by him since this month's election, including yesterday, when the Taoiseach said his party's first preference was still to go into opposition despite meeting with other parties for "exploratory talks" this week.
Varadkar said his party will only go into a minority government as a "last resort" and insisted yesterday that his position on this has not changed.
Sinn Féin talks
Addressing reporters following discussions with the Greens, Sinn Féin's Pearse Doherty said there was a need to "inject urgency into this process" of forming the next government.
"While parties are deciding not to talk to each other – as some have taken that position – we still have the serious challenges and the crises that we have in health, housing and climate change," he said. 
It also isn't simple. We need to bring together the aspiration and the division that a number of parties and independents have together in a coherent and stable form… I think with political will significant progress can be done in relation to finding that common ground.
He said that when the Dáil sits next week – 5 March – it would be a "staging post" for further discussions in future.
Doherty expects Sinn Féin to meet with the Green Party next week with further meetings after that.
With reporting from Stephen McDermott