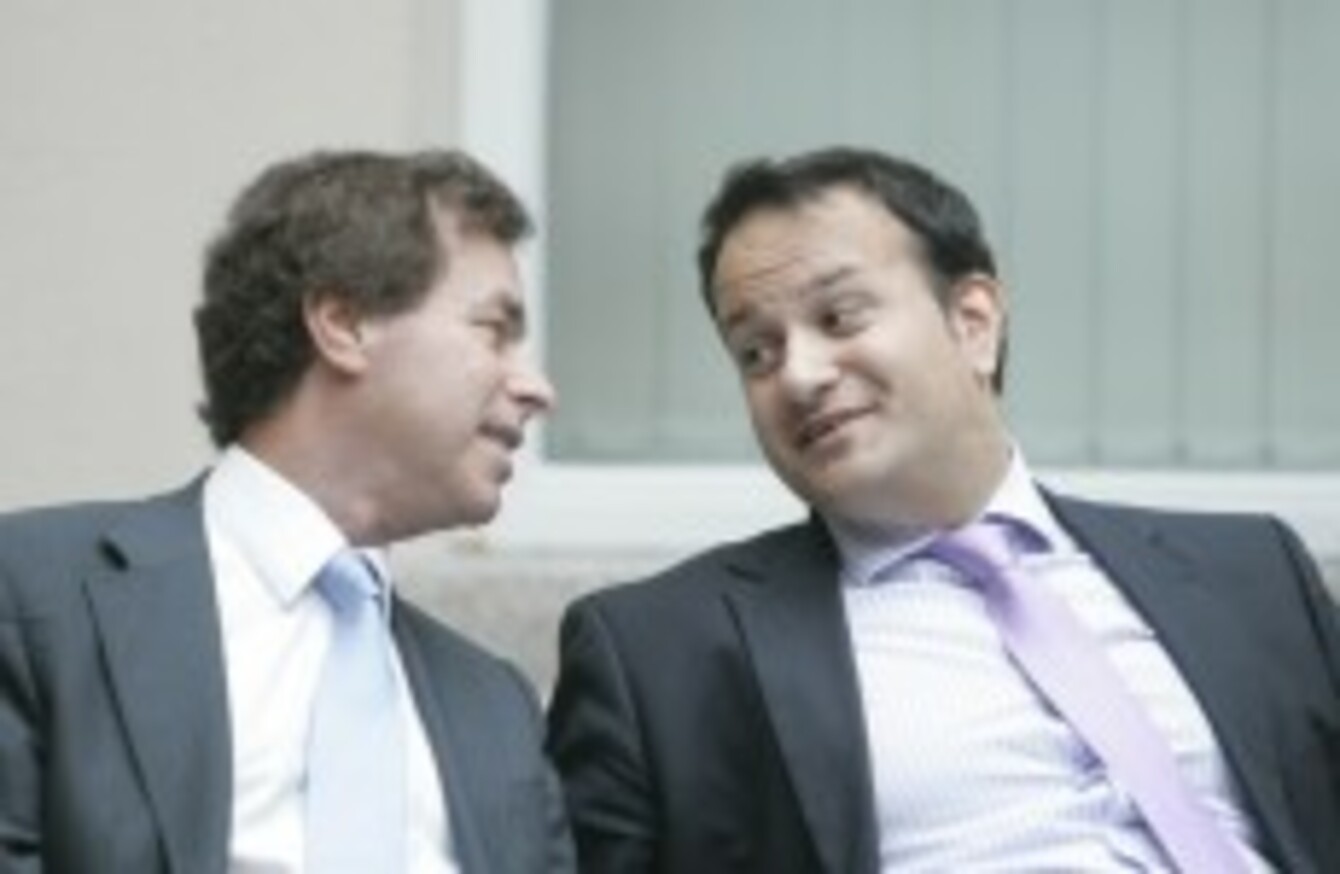 Alan Shatter and Leo Varadkar (File photo)
Image: Eamonn Farrell/Photocall Ireland
Alan Shatter and Leo Varadkar (File photo)
Image: Eamonn Farrell/Photocall Ireland
Updated 3pm 
LEO VARADKAR HAS played down the controversy surrounding Cabinet colleague Alan Shatter after the Data Protection Commissioner found the Justice Minister broke the law by revealing information about independent TD Mick Wallace on live TV a year ago.
The Transport Minister said today that Shatter admitted that he was wrong and apologised for it, but said that Wallace "has broken the law himself and a much more serious law".
Varadkar was referring to Wallace's construction company under-declaring VAT of €1.4 million resulting in a €2.13 million settlement with the Revenue Commissioners in 2012.
"I think it's a bit hard to stomach seeing Mick Wallace presenting himself as some sort of a victim," Varadkar said today.
"He's a deputy I like a lot on a personal level, but let's not forget that he's somebody who has broken the law himself and a much more serious law. He broke our tax laws."
Varadkar said that Wallace should be "man enough now to accept the apology" from Shatter.
Those comments were echoed by Tánaiste Eamon Gilmore today who said that Wallace should accept Shatter's apology, saying "that's what people do in these situations".
The Minister apologised in the Dáil last May after he claimed in a Prime Time debate with Wallace that the Wexford deputy had been been stopped and cautioned by gardaí for using his mobile phone while driving.
Shatter received the information from the then Garda Commissioner Martin Callinan. The DPC found that the Fine Gael TD broke the law but did not commit an offence under existing data protection legislation.
Varadkar, who was speaking at the launch of a Coca Cola-funded sports grant scheme, continued: "I think in this circumstance, he's broken the law, he's admitted what he did was wrong, he apologised for it. It's not an offence, there's no fine or custodial sentence attached to it.
The Minister insisted that the issue is not being raised on the doors and added that he "absolutely" has confidence in Shatter.
Meanwhile, Wallace has said in a statement this afternoon that he hopes Shatter will accept the findings of the Data Protection Commissioner "in order to avoid further damaging the dignity and integrity of his office".