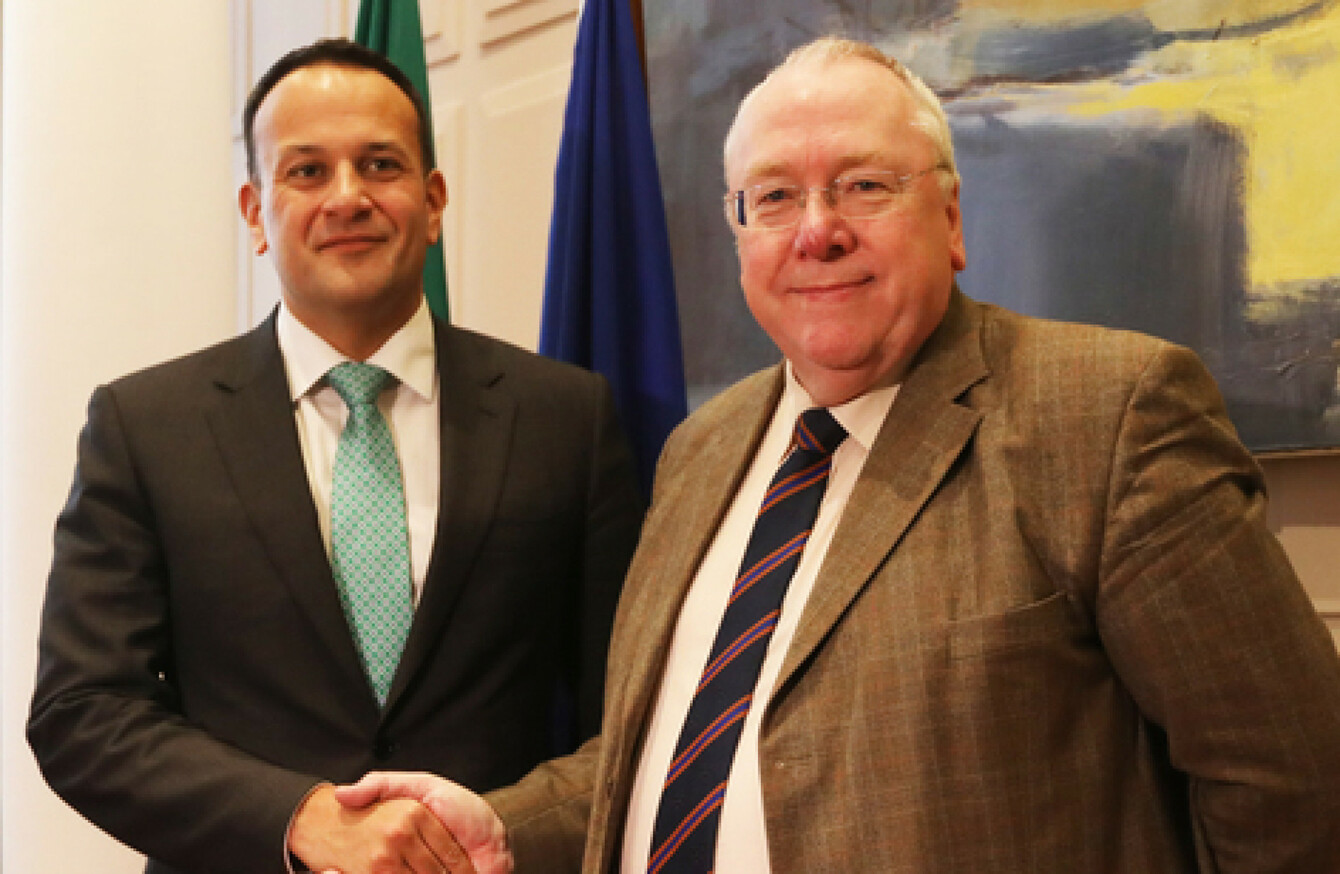 Leo Varadkar with the Grand Secretary of the Orange Lodge, Reverend Mervyn Gibson at Government Building in Dublin.
Image: Eamonn Farrell
Leo Varadkar with the Grand Secretary of the Orange Lodge, Reverend Mervyn Gibson at Government Building in Dublin.
Image: Eamonn Farrell
Updated Nov 26th 2018, 6:50 PM
TAOISEACH LEO VARADKAR has met with the grand secretary of the Orange Lodge Reverend Mervyn Gibson at Government Buildings this afternoon to discuss issues affecting its members in the Republic.
Speaking after the meeting, Vardkar said it is important to remember that "there are many people in our State that feel themselves to be both British and Irish. It's something that we should accept too".
"The Good Friday Agreement acknowledges that people in Northern Ireland have the right to be British, Irish or both, and accepted as such," Varadkar said in a statement. 
Reverend Gibson led a delegation of Orange Lodge members from the Republic to discuss matters relating to Protestant schools in the south, as well as the infrastructure and cultural needs of border Protestant communities.
Coming one day after the European Council agreed the withdrawal agreement and the political declaration on the future relationship, the meeting also touched on Brexit. 
According to a government spokesperson, they also discussed support for tourism projects including further development of the Battle of the Boyne site, the possibility of a Williamite Trail from Antrim to Aughrim, and Second World War commemorations. 
During the summer, Varadkar became the first serving Irish head of government to meet with Grand Master of the Orange Lodge, Edward Stevenson, and took a tour of their venue in the North. 
At the time, the trip to Northern Ireland has been described as a significant visit which aims to smooth over relations between the south and unionist leaders in the North, and reassure DUP members the Irish government has no "hidden agenda" amidst Brexit tensions.
Similar tensions have been reported in recent weeks, particularly as a Brexit deal comes down to the wire, and with DUP leader Arlene Foster stating yesterday that if the backstop is not removed from the withdrawal agreement between the EU and the UK, her party will not support it. 
Speaking yesterday in Brussels, the Taoiseach said: "What's on the table is the only deal that's on the table."
As the border issue became front and centre in Brexit negotiations, Varadkar was at pains to reiterate his respect and understanding for the unionist perspective, and using many of his speeches to reiterate that the south is not interested in a land grab. 
Theresa May announced this evening in the House of Commons that MPs will hold a crucial vote on 11 December to approve or reject the Brexit deal agreed with EU leaders. 
May must now navigate the deal through a divided chamber in which she holds the slimmest working majority – and where lawmakers oppose it on all sides.
With reporting by Adam Daly and AFP