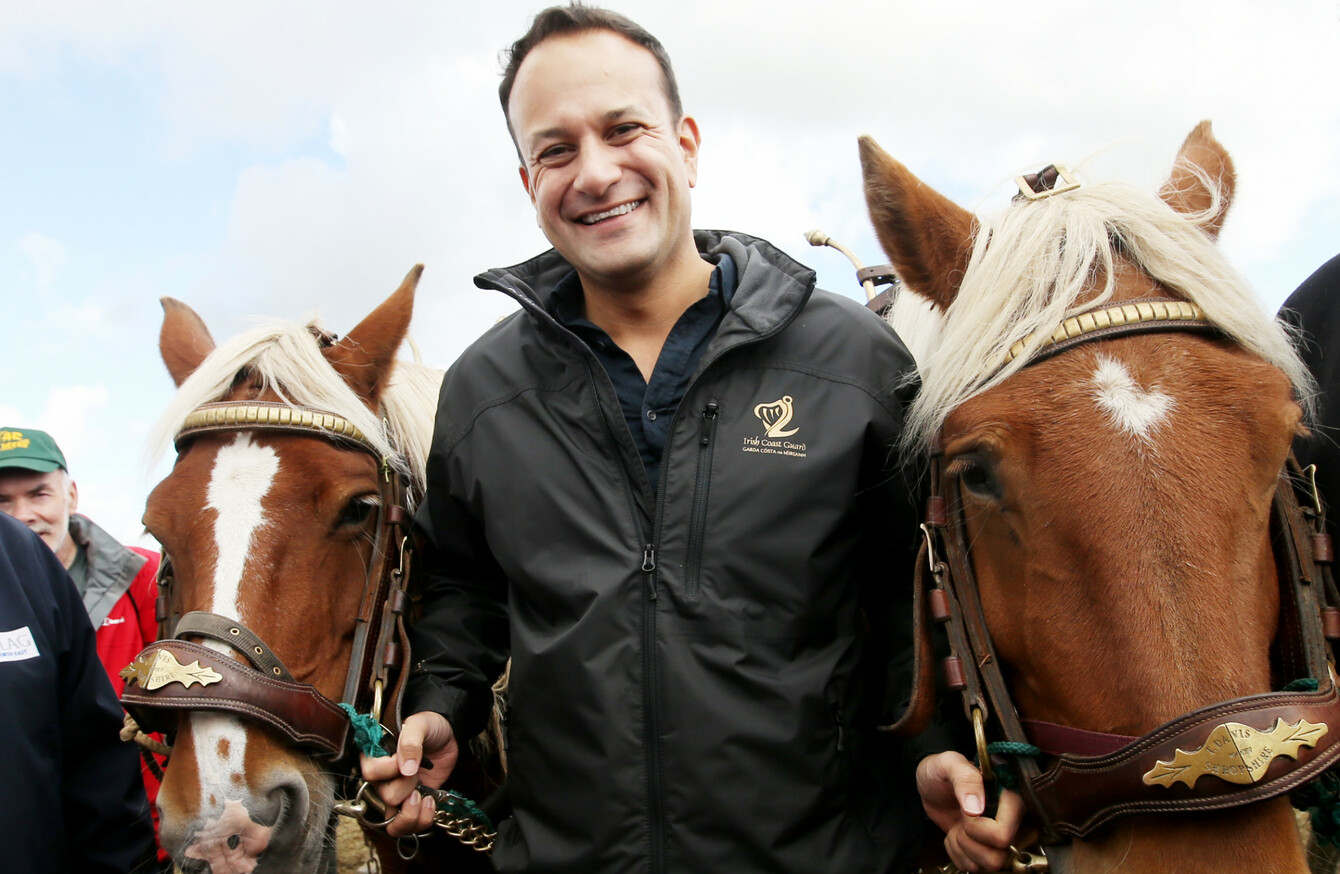 An Taoiseach Leo Varadkar at the National Ploughing Championships.
Image: Sam Boal/Rollingnews.ie
An Taoiseach Leo Varadkar at the National Ploughing Championships.
Image: Sam Boal/Rollingnews.ie
TAOISEACH LEO VARADKAR is planning a new pension system that would see private sector workers contribute to a private pension without them choosing to do so.
Varadkar teased the plans in a speech at the Ibec President's Dinner in Dublin this evening, saying the issue of pensions "has been long-fingered for too long".
An Taoiseach did not provide much detail on the proposal beyond saying that he envisaged it being in place by 2021.
He also repeated a previous pledge from the government to ban zero-hour contracts.
An auto-enrolment pension system sees a portion of a worker's pay automatically directed into a pension fund.
If a worker did not want this, they would likely have the option to opt out of it.
Such a system was introduced in the UK in 2012 and Varadkar wants to see it enforced here.
"Another priority is to ensure that more people in work make provision for decent pensions when they retire," Varardkar said in the speech to Ibec.
This issue has been long-fingered for too long, and now that the economy is recovering strongly we must act decisively, and we will publish a five-year roadmap for pension reform before the end of the year. This will include the introduction of an auto-enrolment pension scheme for private sector workers, two-thirds of whom currently have no occupational pension to supplement their State pension.
"I anticipate the first payments being made into those new individually held funds by 2021," he added.
In some jurisdictions auto-enrolment systems have seen opposition from employers' groups who argue they add an administrative burden for business owners.
Such a system could also include a provision whereby the employer must also contribute to the pension scheme, something that employers may see as an additional tax.
The specifics of the plan were not mentioned by Varadkar who said the government will "work closely and consult with employers on the design of this scheme".
Aspiration
Elsewhere in his speech, Varadkar said it is the government's job to "foster a culture of aspiration" in the country.
He told the business people in the room that a "better life" is not something that is "handed down" to people.
"This government believes in hope and aspiration, a better life as something to aspire to, and something to rise up to," he said.
It's not something that can be handed down by someone else. The State can't solve everyone's problems for them, and most people don't expect it to, but the state can help, and it should. It should see itself, and be, an enabler and facilitator of progress.
On Brexit, Varadkar said the government's priorities were to maintain a frictionless border, keep the Common Travel Area and to protect the peace process.
Again on Brexit, he also said the government will be "shaping our own destiny, rather than relying on others to do it for us."