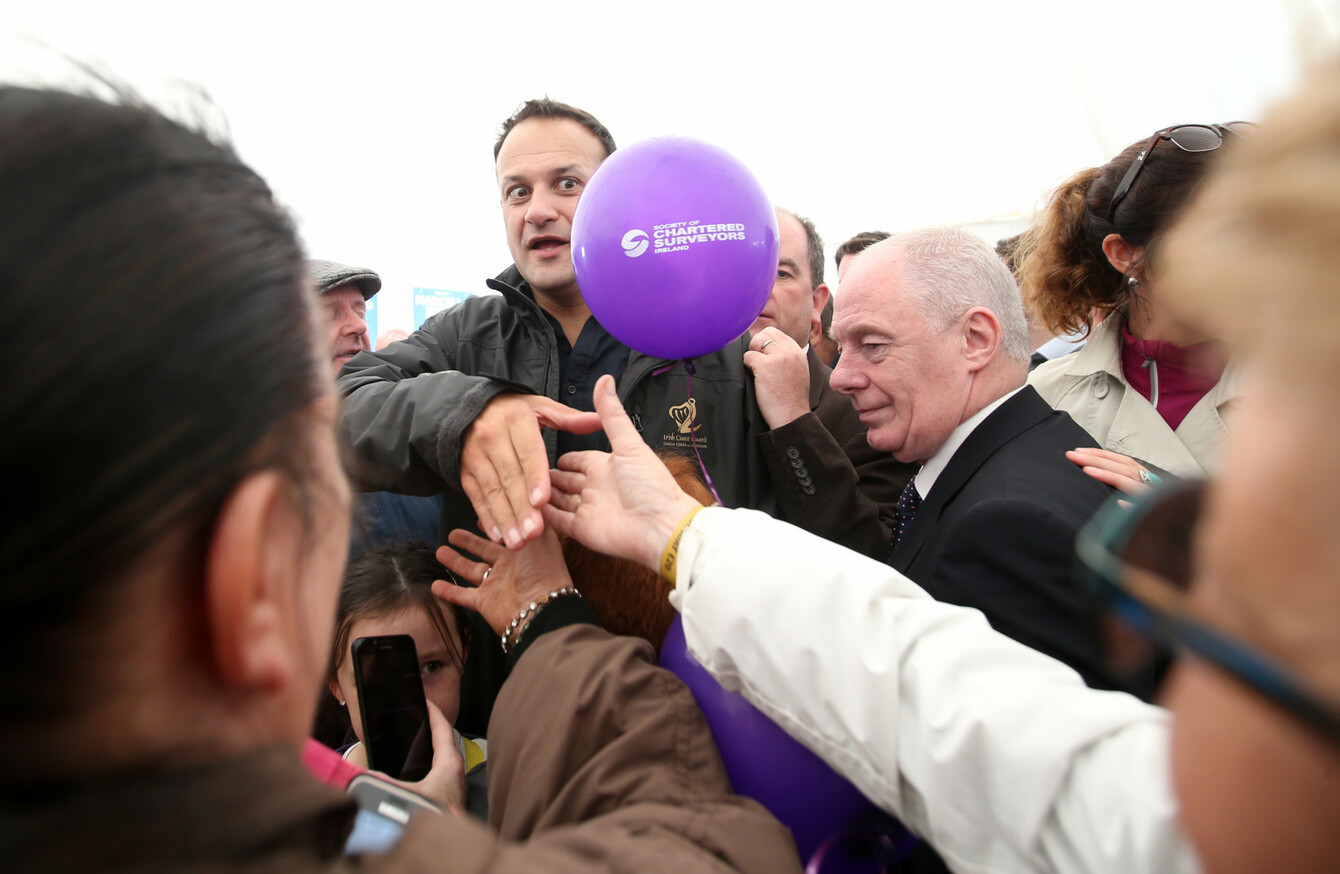 Leo shakes hands with people at the National Ploughing Championships.
Image: Sam Boal via RollingNews.ie
Leo shakes hands with people at the National Ploughing Championships.
Image: Sam Boal via RollingNews.ie
THE GOVERNMENT HAS come under criticism from Fianna Fáíl for putting out a tender to assess its public image.
The government is to spend €160,000 on reviewing how the general public understands its work, according to the Irish Examiner who first reported on the story today.
Taoiseach Leo Varadkar has come under repeated criticism for focusing too much on his government's public image; only recently the Taoiseach, who's just spent his first 100 days in office, has set up a strategic communications unit, which was heavily criticised as a vanity project.
But Varadkar defended the move, saying that a strong State communications strategy was necessary to inform people about how their money was being spent.
"I am determined, therefore, that our communications internally within government institutions and externally to the public will adhere to highest international standards," he said.
A democracy is only as strong as the relationship of trust between government and citizens. Communication is key to that relationship.
In response to the tendering process announced this week, Fianna Fáil's spokesperson on communications, Timmy Dooley, said it was "another example of spin trumping substance".
Coming on top of the revelation that a new Central Spin Unit has been created to try to control what is said about the government, it is a pattern that will trouble those who care more about what the government does than what it says.
"With the health system in chaos and unprecedented numbers of our children homeless, it is time that ministers worried less about their image and spent more time doing what they are being paid to do."
The tender, which can be found here, describes why the services are needed in its introduction:
"The work of the Irish government is vast – over 200 different government bodies constantly producing and updating policies and services, while initiating and running a variety of separate information campaigns annually.
Despite extensive government investment in communications, it can be sometimes be difficult for the public to access the appropriate, up-to-date government information they require.
"There is a need for greater co-ordination and simplification of government communications, to make it easier for Irish people to understand what is happening, what government is doing and the full range of state services, both current and new, that are available.
"Therefore, in addition to an extensive internal audit of all current Government communications that is underway, the Department of the Taoiseach invites tenders for a Research and Insight Survey, to learn how best to communicate with citizens to ensure maximum value for money in all communication expenditure."
The tender includes market research, surveys and polls, analysis and recommendations for the government.