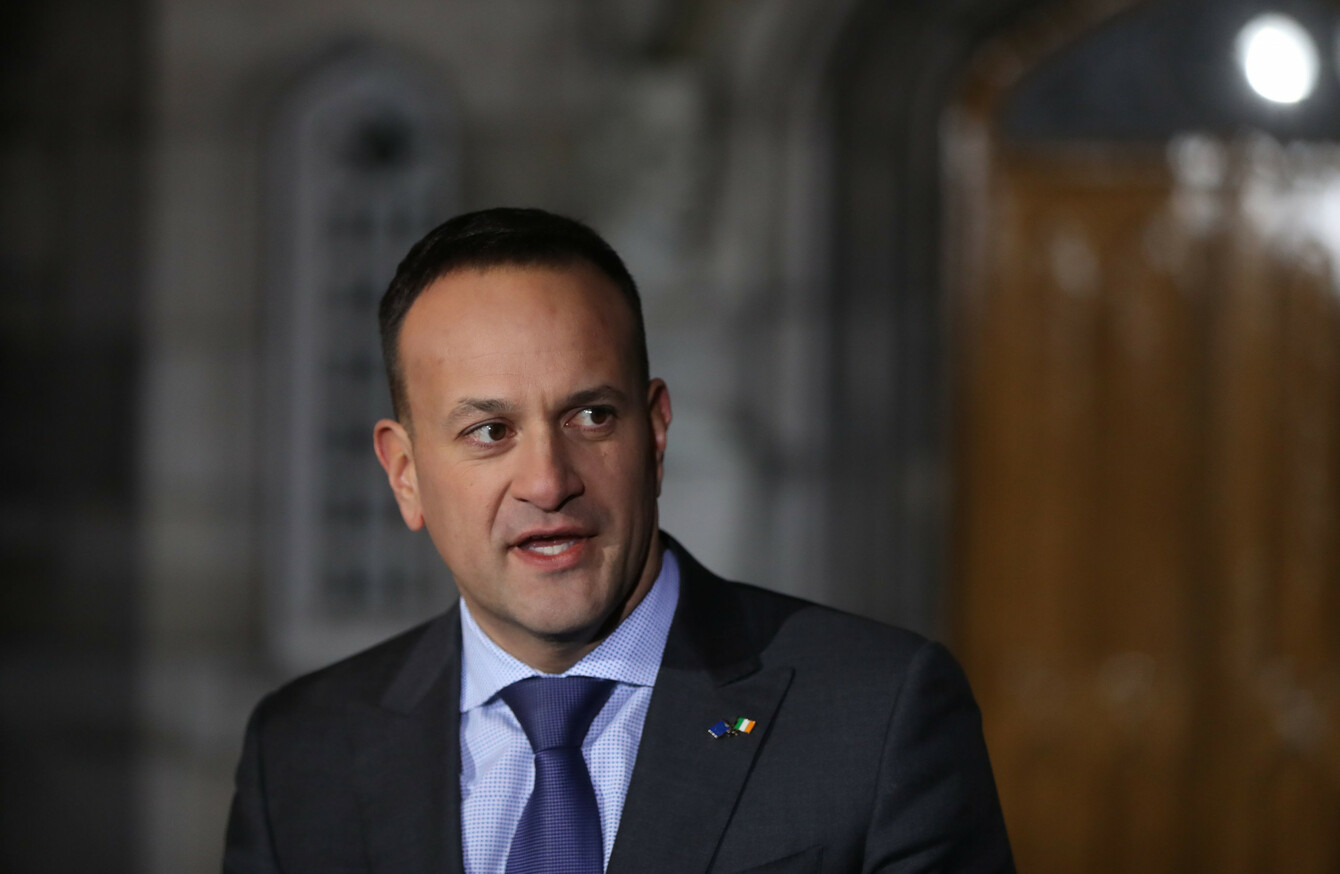 Taoiseach Leo Varadkar says he has not agreed to anything as of yet.
Image: PA Wire/PA Images
Taoiseach Leo Varadkar says he has not agreed to anything as of yet.
Image: PA Wire/PA Images
TAOISEACH LEO VARADKAR has said he has not agreed on a "review mechanism" for the Brexit backstop.
Speaking during Leaders Questions', the Taoiseach reiterated his stance that the Irish government would be open to such a review mechanism, as long as it did not mean the UK could unilaterally pull out of it. 
He rejected the idea Britain could unilaterally end the arrangement, something UK Brexit Secretary Dominic Raab and other eurosceptics in the Conservative party want.
He said the Irish government's position remains the same – that a backstop is needed unless and until another agreement is in place. He said there can be no expiry date and no unilateral exit clause. 
He told the Dáil today that he had not agreed to anything as of yet, adding that he has only stated that he is open to "explore" such a proposal as a review mechanism. 
Varadkar added that a review mechanism is a lot different than an exit clause. 
The Taoiseach also told those in the opposition that he has to be open to use "creative language" in order to strike a deal. 
'Losing his nerve'
Sinn Féin leader Mary Lou McDonald said the Taoiseach's position that he is open to a review mechanism effectively "torpedoed" any clout that Ireland had in the talks. 
She accused the Taoiseach of "losing his nerve" when Brexit talks were at crunch-time, adding that his remarks stating he was open to such a review were a "cock-up".
Hitting back at McDonald, Varadkar said he was glad that the Sinn Féin leader was not leading the talks as she is "too extreme" and "too bullying" in her role, and "would turn our friends into enemies within months". 
Reacting to his comments this afternoon, McDonald said she was accused by the Taoiseach of being "too radical". "Ouch," she told the Dáil. 
Brexit negotiations have become more fractious and public in recent days, ever since the October deadline for a deal was missed.
Negotiations have stepped up with Brussels as London seeks a divorce agreement within weeks, to allow time for it to be passed by the EU and the UK parliament before the Brexit deadline day on 29 March 2019.
Yesterday it was reported the UK's Brexit Minister Dominic Raab had asked May to insist that Britain has the right to pull out of the Irish backstop after just three months. A stance that could be potentially calamitous to the chances of securing a deal with the EU this week.
Reports of such an expiry date resulted in key negotiators on the EU side to repeat that a backstop must be included in the withdrawal agreement, which can have no end date.
At her weekly Cabinet meeting today, May promised her ministers that she would not strike a Brexit deal with the EU "at any cost" after opposition over a mooted plan to resolve the deadlock over Northern Ireland.
#Open journalism No news is bad news Support The Journal

Your contributions will help us continue to deliver the stories that are important to you

Support us now
But British eurosceptics fear May is planning to break the impasse by giving too much ground on an arrangement to avoid border checks between Northern Ireland and EU member Ireland.
Jeffrey Donaldson, an MP from Northern Ireland's Democratic Unionist Party (DUP), which props up May's government, said Dublin's refusal to budge could scupper a deal.
"Looks like we're heading for no deal," he wrote on Twitter, adding: "Can't understand why Irish government seems so intent on this course."
May's spokesman said ministers agreed on the need for an "effective mechanism" within the backstop to ensure "that the UK cannot be held in the arrangement indefinitely".
Work is continuing on this, he said, adding: "Don't be under any illusions that there remains a significant amount of work to do."
Several UK government sources have indicated they would like to see a deal before the end of November, although one official admitted today that this is now a "stretch".
With reporting by AFP