Liveblog
Source: TheJournal.ie/YouTube
FINE GAEL LEADER Leo Varadkar has been elected Taoiseach.
Enda Kenny resigned yesterday after six years in the role.
Varadkar, who at 38 will be Ireland's youngest ever Taoiseach, has succeeded in getting the backing of the Dáil to be the country's next leader – by 57 votes to 50 (47 people abstained).
He's expected to announce his new Cabinet this evening, once President Michael D Higgins has made his new role official.
Leo Varadkar Source: Artur Widak/SIPA USA/PA Images
We'll keep you up to date with everything as it happens.
Thanks for joining us. It's Órla Ryan here. Have any thoughts about today's events? Email orla@thejournal.ie or leave a comment.
If you fancy reading up on the country's leader-in-waiting before the Dáil resumes at 12, here's our profile of Varadkar, which looks back over his time in politics.
Our reporter Christina Finn will be in Leinster House as events unfold. Here are her initial thoughts:
"There is quite the buzz here along the corridors. Everyone is in their Sunday best, pulling out all the stops for the big day.
"There is widespread speculation at this point that Simon Coveney will not be made Tánaiste because he was made deputy leader of Fine Gael, but you never know. He commands 65% of the support from grassroots members after all."
Speaking of Coveney, let's throw it back to 1999 – when a young Varadkar was campaigning for the Cork man, his rival in the Fine Gael leadership race.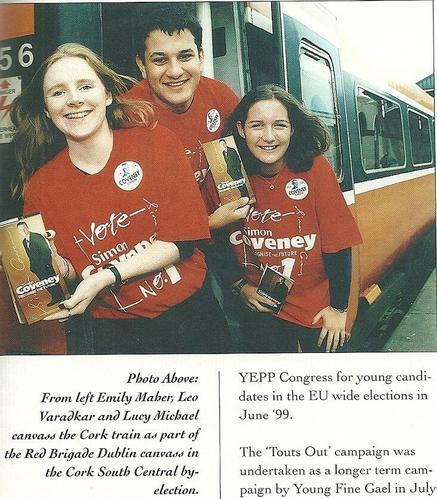 Source: Irish Election Literature
Christina Finn says the Dáil's public gallery is packed.
"There's a photographer outside the chamber taking photos of Varadkar's family and people are signing the official guestbook.
"His dad looks very proud. His partner and nieces and nephews are here too."
The last few TDs are now entering the Dáil chamber.
Source: Oireachtas.ie
Christina tells us outgoing Taoiseach Enda Kenny has arrived and is shaking hands with Varadkar's family.
Enda Kenny and Leo Varadkar are having a chat just before the official business kicks off, Christina tells us.
Kenny tells the Dáil he has worked closely with Varadkar for years and believes he will bring "energy", "integrity" and "skill" to the role of Taoiseach.
He says Varadkar made "significant achievements" while leading the transport, health and social protection departments.
Kenny says Varadkar speaks "for a new generation" and "a modern, diverse and inclusive Ireland".
Kenny wishes Varadkar and his team the best.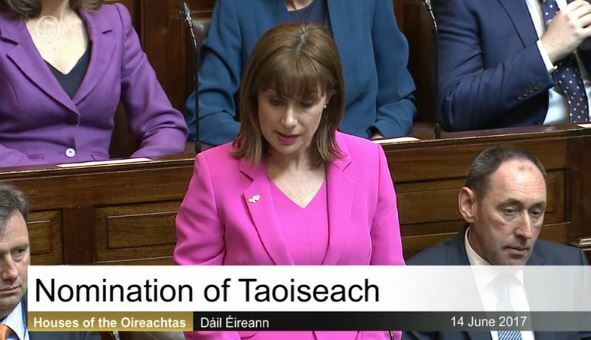 Source: Oireachtas.ie
Josepha Madigan seconds Varadkar for the role, saying he is "honest, genuine and decisive, with a first-class intellect".
She says she believes Varadkar will leave the country in a better place than where he finds it and is "the right person at the right time" to lead Ireland.
Source: Oireachtas.ie
Fianna Fáil leader Micheál Martin says he has differences with Varadkar that will be debated in due course.
However, he adds that as he has "secured the most important role in our parliamentary democracy", his family and supporters have "a right to be immensely proud of him".
Source: Oireachtas.ie
Martin gets a big laugh when he says Varadkar has "started well in his decision to get someone other than Deputy Noel Rock to nominate him", joking that he sent him out of the country during the leadership race.
(Rock previously nominated Kenny for the role, but more recently called on him to set out a timeline for his departure.)
Martin now being more critical of Varadkar and Fine Gael.
"For many years he has been renowned as the most accessible source in government.  His skill at avoiding hard news and distancing himself from the controversies of a government he sat in was remarkable. Added to this has been his ability to spin every minor development in one of his departments as a step-change.
"It is striking that the strong support which this record won him in his parliamentary party was not reflected in the much broader membership of Fine Gael.
"The role of Taoiseach is profoundly different from that of being a departmental minister and party spokesman.  It is only by him holding the office that we will see if Deputy Varadkar is willing to make the changes necessary to be successful."
Martin tells the incoming Toiseach: "The true mark of success for you Deputy Varadkar will be if you understand just how wrong you are when you say 'If you try to represent everyone you will represent no one'.
"The very definition of the job of Taoiseach and the government is to represent all of the people.
"It is not about picking winners and losers, or finding new labels to divide people – it is about representing every citizen. It is about fighting against the growing polarisation we have seen in recent years – where a deep sense of unfairness has developed especially amongst those who feel that their struggles are ignored."
Responding to Martin's jab, Noel Rock has tweeted some fire emojis:
Burn.
Martin is critical about the appointment of Attorney General Máire Whelan to the Court of Appeal – a job that was not advertised.
"Yesterday's appointment to the Court of Appeal represents the first time in nearly a quarter of a century that an appointment such as this was made in this manner.
"It directly by-passed established procedures and the excuse that there were no qualified applicants is clearly false given that the last application process closed nearly six months ago and there was no public advertisement of this vacancy."
Martin concludes by saying: "The challenges which are faced by our country are as they were last year. The obligation on the government and the Dáil to act constructively to tackle this challenges remains.
"After a wasted year of drift and delay the time for excuses is over.
"We will have a new Taoiseach who has been chosen by his party to turn around electoral performance. What we need is a new focus on the much harder work of delivering for the people."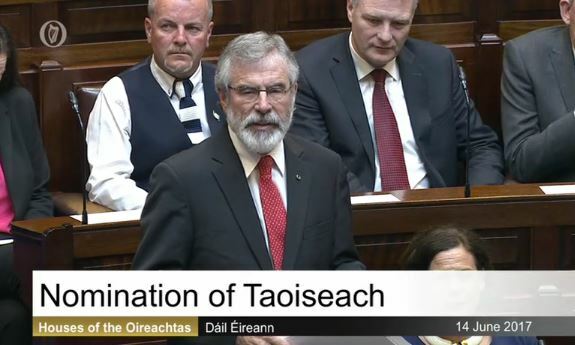 Source: Oireachtas.ie
After welcoming Varadkar's family to the Dáil, Sinn Féin leader Gerry Adams gets straight into criticising Varadkar – challenging his record in the departments of health and social protection.
Referring to Varadkar's age, Adams says "not all young people are progressive" and he fears the new leader will "drag this government even further to the right".
On a much lighter note, Adams then says he doesn't know Varadkar well but they once attended the same pilates class.
Source: TheJournal.ie/YouTube
Adams continues: "I would commend the example of the late Albert Reynolds. He was the first Taoiseach to make the difference when the peace process needed it.
"When others talked the talk, Albert walked the walk. He was able to do so because he had an affinity with the North.
"Because in many ways, he was not enthral to the system. But especially because he was new to the office. So Albert Reynolds did the right thing when the prevailing political mood and most of the media agenda was against this. Leo Varadkar also has the opportunity to do the right thing.
"He could allay the worries and fears of ordinary people about what he will do in office. I am appealing to him to do so."
Adams urges Varadkar to act now on issues such as homelessness, health and repealing the Eighth Amendment.
"Leo Varadkar could be a Taoiseach who sees the level of homelessness and the state of our health services, and says, 'No more, not on my watch'…
"The Eighth Amendment is a relic of the past. It has to go. It must be replaced with compassion. I am asking you to get behind the campaign to repeal the Eighth Amendment and to enact legislation."
In terms of health, Adams says investment is needed to "ensure that access to treatment is solely on the basis of medical need and not on the size of your income".
Also on his wish list? Garda Commissioner Nóirín O'Sullivan being fired and Varadkar supporting a united Ireland.
Adams concludes by saying: "Sinn Féin will not be supporting this nomination for Taoiseach.
"But I look forward to working with Teachta Varadkar on the basis that he is willing to take meaningful action to deal with the issues.
"However, if the prospective new Taoiseach will not do this, if he is convinced that the right-wing policies currently being pursued by this government have the support of the people then he should put that belief to the test by calling a general election."
Source: Oireachtas.ie
Louise O'Reilly, Sinn Féin's Spokesperson on Health, has little time for niceties.
She says Varadkar will be "the most right-wing Taoiseach this State has ever seen".
O'Reilly says he "generally stumbled from one disaster to the next" in the Department of Health and tried to become "Minister of Welfare Fraud" with his welfare cheats campaign.
She hits out at his stance on abortion, saying his track record "doesn't bode well for Irish women or Irish people in general".
Source: Oireachtas.ie
Varadkar's parents and sister are among his supporters in the Dáil chamber.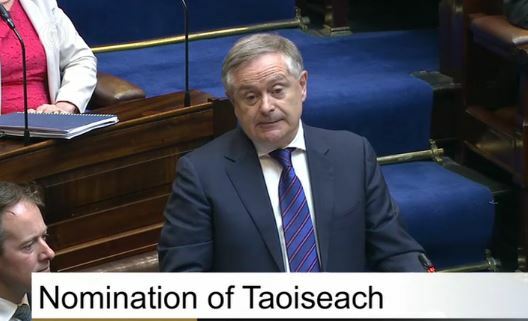 Source: Oireachtas.ie
Labour leader Brendan Howlin wishes Varadkar well before hitting out at the lack of legislation this government has passed.
Howlin says a younger Varadkar showed he was a "decidedly right-wing chap" by the letters he wrote to the Irish Times.
He then hits out at Varadkar's stance on abortion and the recent welfare cheats campaign his department introduced.
Howlin isn't happy that independent TD Michael Lowry reportedly told the Tipperary Star he will have "access" to Varadkar in return for supporting today's vote.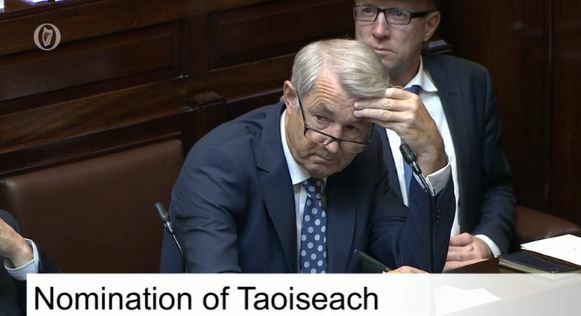 Source: Oireachtas.ie
Lowry, a former minister and Fine Gael member, doesn't look thrilled at being brought up.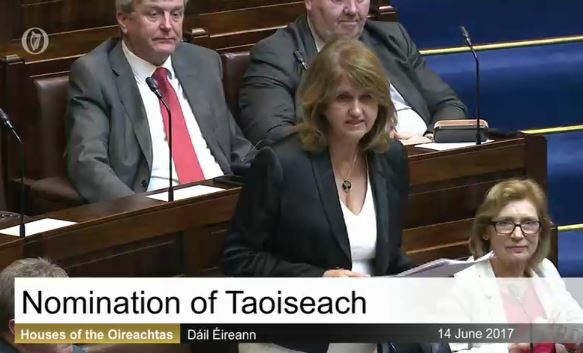 Source: Oireachtas.ie
Former Tánaiste Joan Burton wishes Varadkar well before saying the new Taoiseach "needs to hit the ground running". Taking this somewhat literally, she mentions meeting him running regularly.
If you're keeping count of exercise references made today, Varadkar runs and does pilates (or at least did once, with Gerry Adams).
Burton is now hitting out at Ireland's abortion laws, and in particular the recent case of a girl who was seeking an abortion being held in a psychiatric unit when she thought she was going for a termination.
The Labour TD calls for a referendum on repealing the Eighth Amendment to be held next year, before Pope Francis' visit.
Burton also hits out at companies not paying enough tax here, saying this needs to be tackled.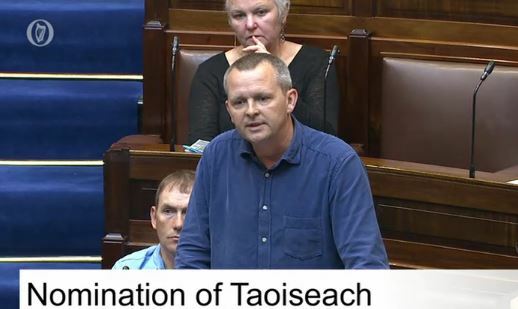 Source: Oireachtas.ie
People Before Profit TD Richard Boyd Barrett praises Jeremy Corbyn's strong showing in the UK election before hitting out at Varadkar's "attack" on people on social welfare through his department's welfare cheats campaign (that's been criticised by several deputies today).
Boyd Barrett is also critical of the "pantomime" that was the Fine Gael leadership race.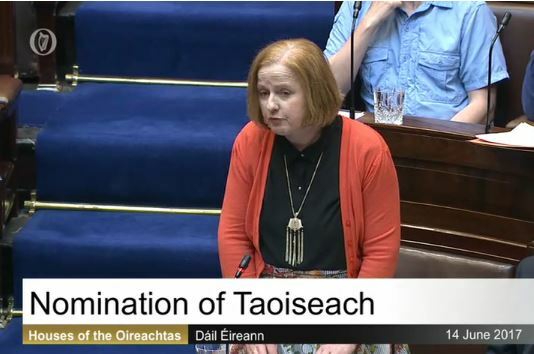 Source: Oireachtas.ie
Solidarity TD Ruth Coppinger describes the rise of left-wing parties in the UK and elsewhere as a "political earthquake" that scares some politicians here. She compares Varadkar to former British Prime Minister Margaret Thatcher – she's not the first person to do so today.
Coppinger criticises the welfare cheats camping, saying Varadkar's remarks about wanting to lead a party for "people who get up early in the morning" will "haunt" him for decades.
She also says action is needed to help tackle poverty, deal with issues faced by the Travelling community and repeal the Eighth Amendment.
Source: Oireachtas.ie
Independents4Change TD Joan Collins says Varadkar's tenure will be "more of the same".
Discussing inequality in Irish society, she says "the squeezed middle is not being squeezed, it's being crushed".
Collins calls for action to tackle the homelessness and housing crises, and increasing poverty. She also says the Eighth Amendment needs to be repealed.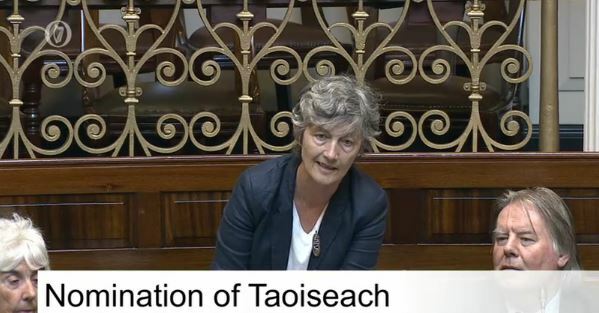 Source: Oireachtas.ie
Independent TD Catherine Collins joins the list of TDs who have criticised Varadkar's social welfare cheats campaign, accusing him of doing it for "short-term gain".
Collins also hits out at "neo-liberal politics", claiming Varadkar and his colleagues view health, housing and public transport crises as "collateral damage" to a supposedly strong economy.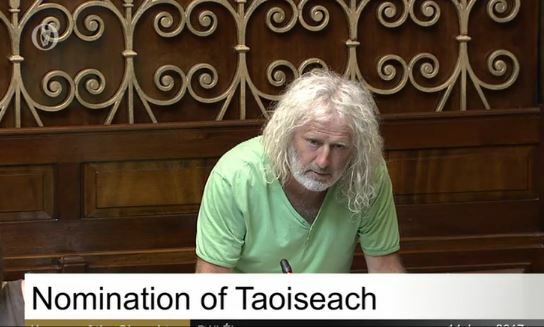 Source: Oireachtas.ie
Independents4Change TD Mick Wallace is focusing on the need for more housing – social and otherwise.
He advises Varadkar to "take Nama's land and pay builders to build on it", rather than developers. Wallace wants the incoming Taoiseach to close down Nama, saying it supports vulture funds.
He says Nama's dealings will in the future be seen as "the biggest financial scandal in the history of the State".
Wallace also says it's "outrageous" Nóirín O'Sullivan is still the Garda Commissioner.
He wishes Varadkar well, and, referring to Enda Kenny, says: "Good luck to the last fella."
Source: Oireachtas.ie
Independent TD Michael Harty, who is abstaining from today's vote, encourages Varadkar to "set [his] sights high".
He says he would be "delighted" to put Varadkar in touch people who are doing great work in the health service, should he want to improve it.
Source: Oireachtas.ie
Independent TD Mattie McGrath starts his speech by quoting The Who's song Won't Get Fooled Again.
He singles out this line: "Meet the new boss, same as the old boss."
Source: The Best Of - Home Of Classic Music/YouTube
Many members laugh, leading McGrath to joke "Who'll be who over there later?" in relation to Cabinet positions.
After a jovial start, McGrath says Varadkar made little impact as Health Minister, and needs to reform government and close down Nama before it leads to a number of inquiries.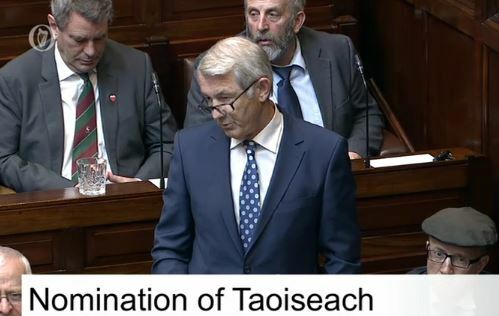 Source: Oireachtas.ie
Lowry praises Varadkar, saying he'll do well as Taoiseach if he is himself.
He then hits out at Brendan Howlin's "nasty and offensive" comments about him earlier, saying he believes Labour's Alan Kelly is behind them.
Source: TheJournal.ie/YouTube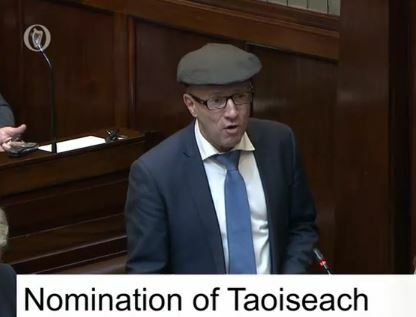 Source: Oireachtas.ie
Independent TD Michael Healy-Rae says Varadkar has a lot of work to do in terms of long waiting lists for health procedures, saving rural post offices and the housing crisis.
Healy-Rae then compliments Shane Ross on the re-opening of Stepaside Garda Station, accusing critics of being jealous of him doing so.
Healy-Rae is abstaining from today's vote "for a good reason" – so Varadkar can deliver on the programme for government.
He ends by telling Varadkar to remember the world "does not stop at the Red Cow Roundabout".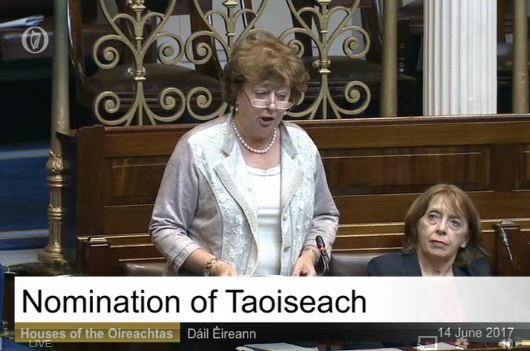 Source: Oireachtas.ie
Social Democrats TD Catherine Murphy says just because a person may be gay or from a migrant background doesn't mean they empathise with others in the same position.
She encourages Varadkar to not curtail the Dáil speaking rights of smaller parties or independents as has been suggested.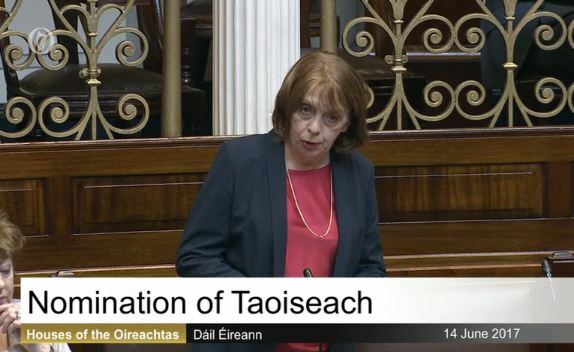 Source: Oireachtas.ie
Fellow Social Democrat Róisín Shortall hits out at Varadkar's "nasty" social welfare cheats campaign.
She then calls the appointment of Attorney General Máire Whelan to the Court of Appeal – a job that was not advertised – "the worst kind of crony politics".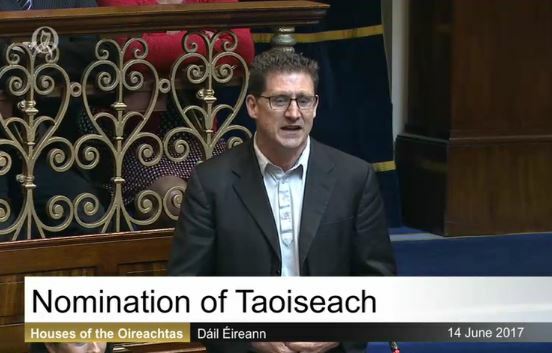 Source: Oireachtas.ie
Green Party leader Eamon Ryan says he is annoyed no one has yet mentioned climate change as a priority for the government.
He tells Varadkar, despite the pilates and frappuccinos, "there is not a scintilla of green in you".
Varadkar's father Ashok laughs when Ryan mentions he may be more inclined to vote left.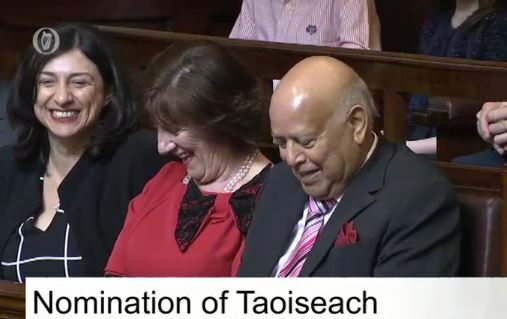 Source: Oireachtas.ie
Moving away from the Dáil for a moment, the provost of Trinity College has some nice words for Varadkar, who will be the first graduate of TCD to become Taoiseach.
"We are delighted for Leo on this historic day," Dr Patrick Prendergast said.
It is a major achievement for him both personally and professionally and we wish him well in the new role.
Varadkar studied medicine at Trinity and graduated in 2003.
The Dáil is now voting on the motion.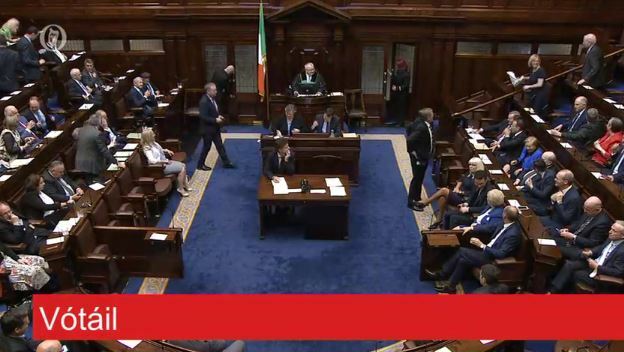 Source: Oireachtas.ie
From Leinster House, reporter Christina Finn says TDs such as Simon Harris, Simon Coveney, Dara Calleary, Mattie McGrath and Mary Lou McDonald are in the distinguished guests box, shaking hands with Varadkar's parents.
"Leo's dad put his arms around Coveney there," she tells us, adding: "Spare a thought for Leo's nephew and niece who are still here and had to listen to all that."
Transport Minister Shane Ross and Varadkar share a lighter moment, as TDs line up to shake the hands of Varadkar's relatives.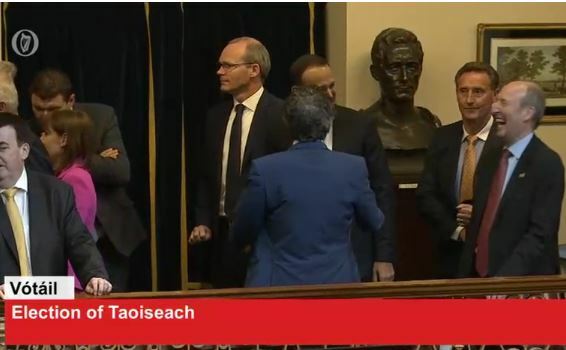 Source: Oireachtas.ie
Source: Oireachtas.ie
He's done it: Leo Varadkar will be Ireland's new Taoiseach after securing the backing of the majority of the Dáil – by 57 votes to 50 (47 people abstained).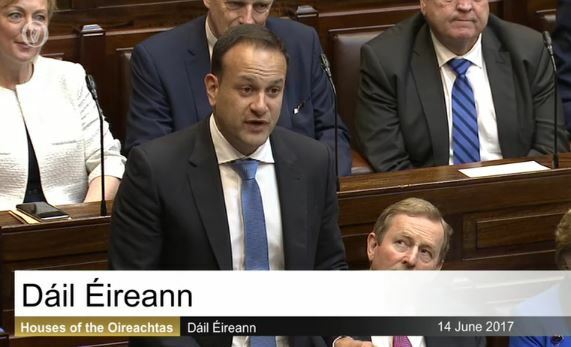 Source: Oireachtas.ie
Varadkar says he first took his seat in the Dáil this day 10 years ago.
He starts by praising Enda Kenny, singling out his work to secure a Yes vote in the Marriage Equality Referendum in 2015, saying it allowed him to become an equal citizen.
Varadkar is Ireland's first openly-gay Taoiseach.
On an almost equally as important matter, Varadkar confirms he went to the same pilates class as Gerry Adams a few times.
He says Adams was better, perhaps due to "his experience of being in a tight squeeze" – to much laughter.
Varadkar continues: "I received 57 votes today. Only two of those were allowed to speak. Opposite, 47 people chose to abstain, but only one was allowed to explain why."
He says he supports changing the amount of speaking time given to smaller parties on a proportionate basis.
Varadkar says he wants a government that is strong on ethics, economics and equity.
He then quotes poet Seamus Heaney, saying: "Public leaders must swear to uphold unwritten law."
Varadkar says he knows there is an "enormous task" ahead of him and he approaches his new role with humility, not presumption.
Varadkar states: "The government that I lead will not be one of the left or right", saying this doesn't comprehend the challenges of the 21st century.
The Taoiseach-elect says his government will instead be "one of the new European centre".
Varadkar's speech gets a standing ovation before he leaves the chamber to go to Áras an Uachtaráin, where President Michael D Higgins will make his new role official.
Can't watch the video? Click here.
The Dáil will be adjourned until 6:35pm when Varadkar will return to announce his new Cabinet.
TDs applause as Varadkar leaves Leinster House for the Áras.
Can't watch the video? Click here.
As the commotion dies down, here's a blast from the past: Varadkar's first-ever Dáil speech. He made it a decade ago, in 2007.
Source: TheJournal.ie/YouTube
Here's Varadkar's speech from this afternoon, where he set out his vision for his government.
Source: TheJournal.ie/YouTube
On that note, we're going to wrap things up here. Thanks for staying with us this afternoon. We'll have more on the site later as Varadkar returns to the Dáil as Taoiseach and announces his new Cabinet after 6.30pm.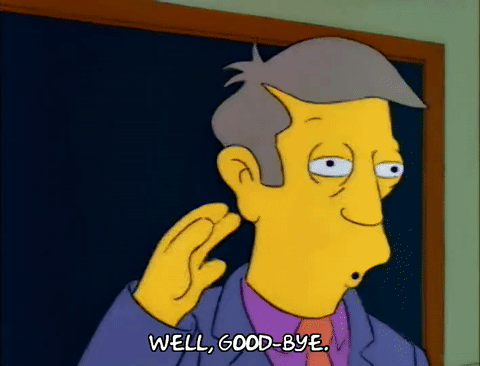 Source: Giphy.com
Contribute to this story: