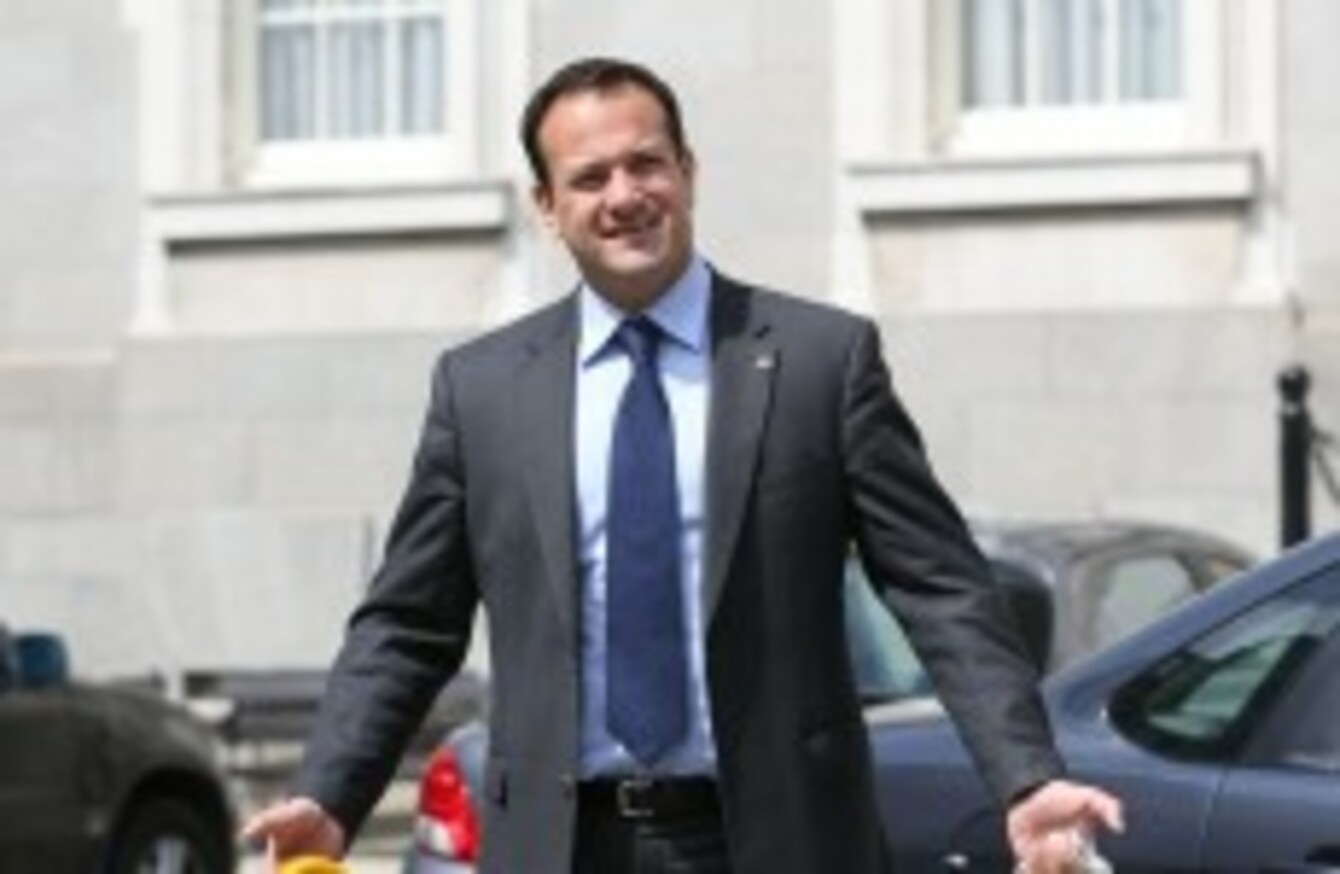 Leo is putting a clamp on expectations for reform of the health service...
Image: Sasko Lazarov/Photocall Ireland
Leo is putting a clamp on expectations for reform of the health service...
Image: Sasko Lazarov/Photocall Ireland
WHEN HE WAS appointed Minister for Health in July, Leo Varadkar noted that Angola – the infamous nickname given to the Department of Health – is now the fastest growing economy in Africa.
"So if you can turn Angola around, I'm sure someone can turn around health," Varadkar said confidently outside Leinster House on a balmy Friday evening.
There's no actual record of Brian Cowen ever having said the Department of Health was like Angola – full of unexploded land mines – but the simile has stuck and become almost an excuse for the failures of each minister that has followed the former Fianna Fáil taoiseach.
One of those was James Reilly – who had big ideas and grand plans – but found himself dealing with land mine after land mine during his three years as Health Minister.
How could the Fine Gael deputy leader even begin to think about abolishing the HSE and implementing a system of universal health insurance when he had all sorts of problems to contend with in the day-to-day running of his department?
There was the primary care centres – admittedly a scandal all of his own doing – and the resignation of a junior minister, drug prices, consultants' pay, abortion and other various legacy issues and of course the budget overruns caused by constant pressure on health services across the country.
The reform plan originally set out in 2011 was to have universal health insurance in place by 2019 – some way through the hypothetical second term of this government. With so many imponderables between now and then was it realistic to say that such a system could be put in place.
Yesterday, Joan Burton pointed out that it took the Dutch – whose model Ireland is apparently basing its proposed UHI system – ten years to get their house in order.
Her view clearly tallies with that of the new incumbent in Hawkins House.
It's all about realism
Leo Varadkar made a notable intervention yesterday and dominated the news cycle by insisting that UHI within the next five years is "too ambitious".
This is not a u-turn on Reilly's policy but a 'slow down'. While Reilly was all about reform, Varadkar's agenda is all about realism and managing expectations. The policy remains the same – for now – but the implementation of it will be different.
This saves face for Reilly but underlines the extent to which he talked a good game but found himself unable to play it. Varadkar has been a month in the job but already the buzz word around his tenure is 'realism'.
Before yesterday he noted the difficulties facing the dozens of health professionals examining the possibility of granting medical cards to people on the grounds of medical condition. He cautioned that such plans could prove to be unworkable and result in nearly everyone qualifying for a card.
Now in addition to the slowdown on UHI and dampening expectations on medical cards he has also ruled out immediately abolishing the Health Service Executive. This is despite the government saying in 2012 that the controversial HSE would cease to exist this year.
Again this isn't a u-turn but a slow down. The reform agenda has been replaced with the realism agenda.
There will be plenty more of this. Why? Because above all else while Reilly and Varadkar are both doctors-turned -politicians the latter is definitely the more savvy political operator of the two.
One need only read and listen to his speech at the MacGill Summer School last month to know that Varadkar's has ambitions beyond Health – to lead his party and the country in the years to come.
To do so he must avoid any fatal land mines at Health and that means being realistic about what he can achieve between now and the next election.