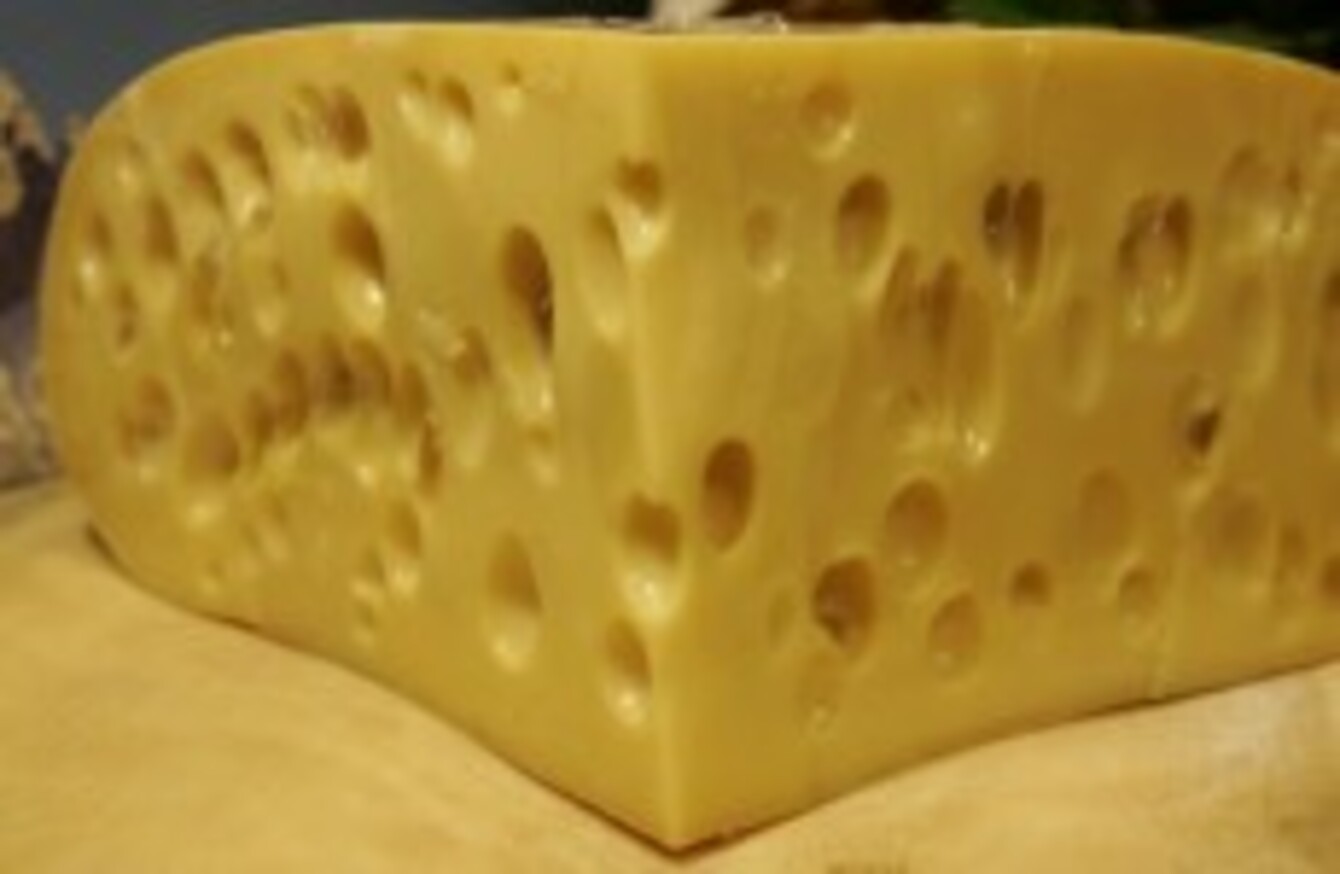 AGRICULTURE MINISTER Brendan Smith has announced a plan to donate 53 tonnes of cheese to the poor coming up to Christmas.
The new scheme, announced by Smith this morning, said the substantial quality of cheese would be made available to volunteer organisations from Monday week, November 15, and would assist those "who are living in poor circumstances and are under pressure."
The scheme would be funded by the European Commission, Smith told RTÉ's Morning Ireland, and would be made available at stores in counties Dublin, Laois, Waterford and Cork.
Smith denied said similar schemes had been run every year since 1987 – even in "good years" in terms of economic performance, but that this was the first year a press release had been issued about it.
"In the past, cheese stocks would have come from the European Union," Smith explained. "Thankfully at the minute there's no such stocks in intervention, but it allows us to go out and purchase, from the Irish Dairy Board, Irish cheese and make it available to voluntary organisations, who will distribute it to those people who can benefit from such a measure.
"Not alone would it benefit people from the point of view of providing good food, but it also promotes the use and the value and the importance and the nutrition of cheese and dairy products.
The minister said voluntary organisations willing to help with the distribution of the free product could contact his department's offices in Wexford.
"As we know, cheese is a nutritious product, it's one that comes from our own country, and it's good Irish product that will be available to those people and those organisations.
"It may be a small measure, but it's all helpful to those people who are most in need."
The Irish Times reports that the fund will cost the European Commissino €818,616 – about 0.17% of the total European Commission budget for the annual programme.
The European Commission had originally set aside 350 tonnes of butter for the scheme, but this had been exchanged for 315 tonnes of cheese this year.
Fine Gael's Andrew Doyle responded to the proposal by saying the government parties had "gouda be kidding" and that people on the breadline would rather that the government's "unfeta'd attention" be devoted to solving the financial crisis.
The fact that the scheme had run every year but that the government had only issued press releases on it now was proof, he said, "that they think that providing free cheese will soft-soap the electorate and make us all forget the mess Fianna Fáil made of the country and the hardship Brian Lenihan will inflict on everyone. It won't."
Naturally, the idea has raised a few eyebrows – and indeed, a few spirits – on Twitter:
Oh holy Cheesus! (01)

Oh holy Cheesus! (02)

Oh holy Cheesus! (03)

Oh holy Cheesus! (04)

Oh holy Cheesus! (05)

Oh holy Cheesus! (06)

Oh holy Cheesus! (07)

Oh holy Cheesus! (08)

Oh holy Cheesus! (09)

Oh holy Cheesus! (10)

Oh holy Cheesus! (11)

Oh holy Cheesus! (12)

Oh holy Cheesus! (13)

Oh holy Cheesus! (14)

Oh holy Cheesus! (15)

Oh holy Cheesus! (16)

Oh holy Cheesus! (17)

Oh holy Cheesus! (18)

Oh holy Cheesus! (19)

Oh holy Cheesus! (20)

Oh holy Cheesus! (21)

Oh holy Cheesus! (22)

Oh holy Cheesus! (23)

Oh holy Cheesus! (24)

Oh holy Cheesus! (25)