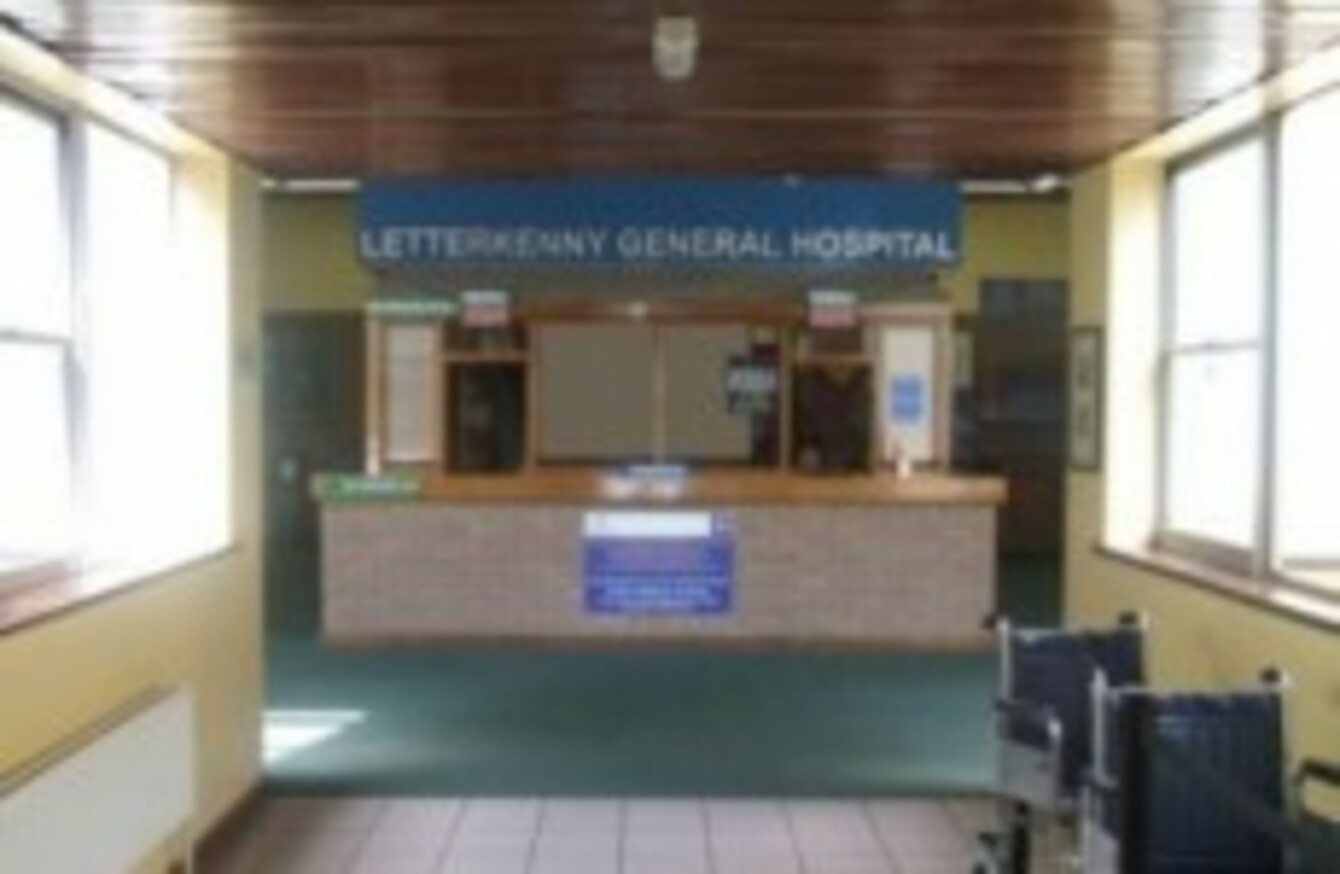 Image: Wikimedia Commons
Image: Wikimedia Commons
IT WILL BE 'several months' before it is known when Letterkenny General Hospital can be reopened to full capacity.
In an update, the HSE said that 40 per cent of hospital services have been affected by the significant flood damage.
The flooding struck during bad weather conditions in July, and the hospital's emergency department had to be evacuated due to rising waters.
The HSE said:
It will be some time before we have all the information to determine when the hospital will return to pre-flood conditions, but it is likely to be several months. However we are working to resume all services in the coming weeks.
Patients who were well enough to go home or to a community hospital or nursing home have been discharged.
There is no emergency medicine service at the hospital, and it cannot undertake a range of other surgeries and treatments due to the lack of diagnostic equipment such as x-rays and scans.
Maternity, Dialysis and Chemotherapy services have not been affected by flood damage, said the HSE, while the hospital is providing limited Paediatric services for GP referred patients who do not need access to radiology services.
Emergencies
Work has begun on bringing in mobile equipment to the emergency department, but in the interim, emergency admissions continue to be diverted to Altnagelvin Hospital, South West Acute (Erne Hospital, Enniskillen) and Sligo Regional Hospitals.
Visitors are currently not allowed into the hospital. The HSE is examining the possibility of staff from Letterkenny going to Altnagelvin and Sligo "as an additional resource while these hospitals experience a significant increase in activity".
A spokesperson from the Irish Association for Emergency Medicine (IAEM) said that in order to open a temporary emergency department, they need access to radiology, so that x-rays can be taken.
He said that they are waiting on parts of a radiology kit and also a CT scanner.
The flooded parts of the building have been "heavily contaminated" and significant building work needs to be done to rectify this and decontaminate the area, said the spokesperson.
He said it has to be "rebuilt from within" and "it's not a question of putting a coat of paint on it – things have literally been destroyed". Waste water and sewage flowed into the emergency department during the flooding.
He also said "staff, where possible, are being advised to take leave" and some staff were being redeployed.
As Sligo hospital is 75 miles from Letterkenny, "it's a real challenge for people", he said in relation to people in Letterkenny and the surrounding areas needing emergency treatment.
He added that it is "difficult to see how they can get a temporary building big enough to do what they currently do" so the temporary emergency department is likely to be a "restrictive service".