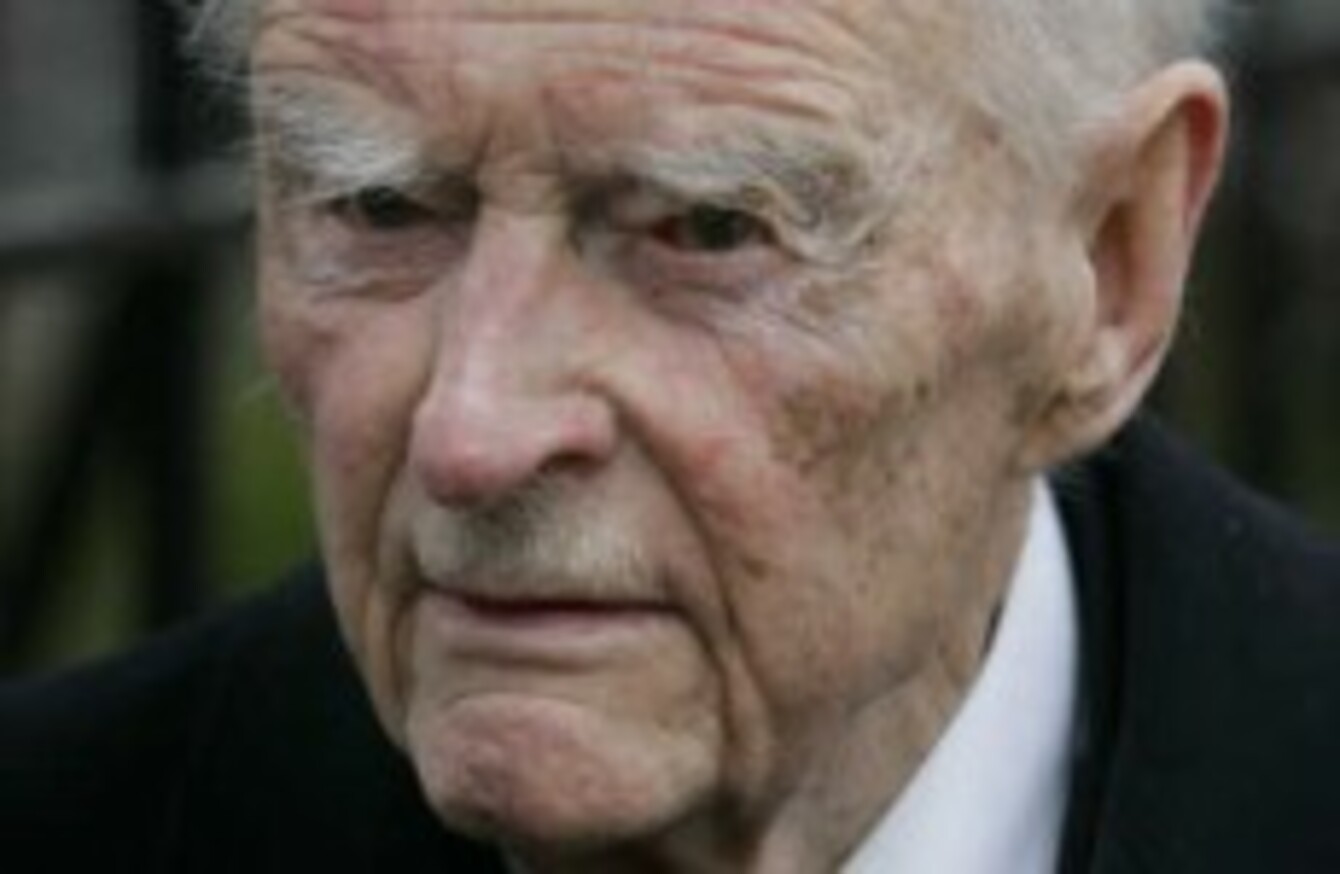 Image: Mark Stedman/Photocall
Image: Mark Stedman/Photocall
FORMER TAOISEACH LIAM Cosgrave has died at the age of 97.
As Taoiseach, Cosgrave served for just over four years between March 1973 and July 1977.
He'll be remembered for bringing Northern Ireland to the brink of peace with the 1973 Sunningdale Agreement.
Upon first being elected as a TD in 1943 Cosgrave, at the age of 23 years and two months, became one of the youngest people to ever be elected to the chamber
This saw him sitting in the chamber alongside his father WT Cosgrave, a founder of the Irish Free State.
In a statement this evening, Taoiseach Leo Varadkar said he was "deeply saddened" by Cosgrave's passing.
He said:
Liam Cosgrave was someone who devoted his life to public service; a grateful country thanks and honours him for that and for always putting the nation first.Throughout his life he worked to protect and defend the democratic institutions of our State, and showed great courage and determination in doing so. He always believed in peaceful co-operation as the only way of achieving a genuine union between the people on this island, and in the 1970s he celebrated that this country had embarked, in his own words, 'on a new career of progress and development in the context of Europe'.
During his time in the country's highest political office he presiding over a coalition described as a 'government of all talents'.
With 1973 the Sunningdale Agreement, he came close to bringing an end to the Northern Ireland conflict, which continued for another quarter century.
The agreement, which was signed and in part negotiated by Cosgrave's government, could have ushered in a power sharing executive in Northern Ireland. However opposition to the agreement from unionists saw it collapse.
Source: Oisín Ó Dubhláin/YouTube
Cosgrave's conviction was demonstrated during a vote on a bill that would legislate for married couples being able to obtain contraceptives. In keeping with his conservative perspective, the Taoiseach crossed the floor to help defeat his own government's bill.
During the 1977 election Cosgrave made a controversial speech thought to be aimed at Fine Gael's detractors where he singled out 'blow-ins' for particular criticism.
The attack was thought to be aimed at English journalist Bruce Arnold. While writing in the Irish Independent, he had criticised a number of the Taoiseach's policies.
Source: RTE/Oisín Ó Dubhláin/YouTube
The former Taoiseach was noted for his rapid rise through the ranks after entering politics.
At the age of 34, in 1954, Cosgrave took his first cabinet position as Minister for External Affairs. This saw him presiding over Ireland's entry to the Council of Europe in 1955.
In 1965 he rose to become leader of Fine Gael and remained as leader until 1977. He took the position following the defeat of the party led by James Dillon in the 1965 election.
As leader of the opposition Cosgrave played a key role in the arms crisis of 1970.
The then-leader of Fianna Fáil and Taoiseach Jack Lynch was pressured into action over the incident when the Fine Gael leader became aware of the involvement of Charlie Haughey and Neil Blaney in the smuggling of arms intended for use by the IRA.
In recent years the former Taoiseach was still out taking part in political activity.
Cosgrave is survived by his three children Liam, Mary and Ciaran.
With reporting by Garreth MacNamee