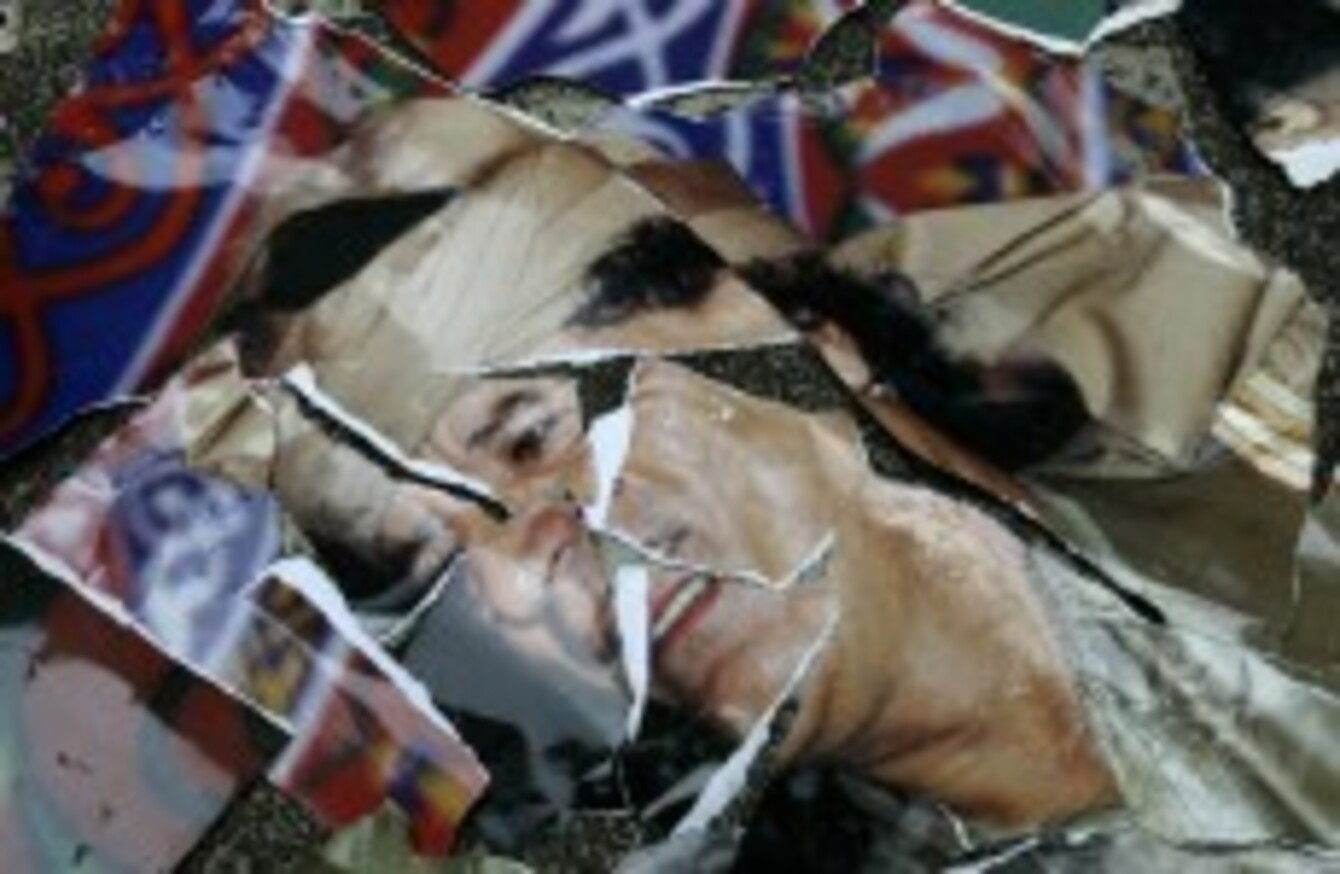 A torn portrait of Gaddafi outside the Libyan embassy in the Philippines earlier this week.
Image: Bullit Marquez/AP/Press Association Images
A torn portrait of Gaddafi outside the Libyan embassy in the Philippines earlier this week.
Image: Bullit Marquez/AP/Press Association Images
MUAMMAR GADDAFI CAME close to being captured on Wednesday when rebels raided a private home in Tripoli where he appeared to have been in hiding, according to Paris Match magazine.
The magazine cites a source which it says is co-ordinating between intelligence services from Arab states and the rebels. The source reveals that rebels still believe Gaddafi is hiding somewhere in Tripoli.
The report says that agents arrived at the safe house in central Tripoli at about 10am local time on Wednesday following a tip off. Gaddafi was not there but there was evidence he had spent at least one night there, although it's not known how recently this was.
It had previously been reported that Gaddafi may be hiding out in Sirte, his birthplace, and one of the last remaining pro-Gaddafi strongholds.
The Libyan National Transitional Council (NTC) has offered a €1.4 million reward for Gaddafi's capture – dead or alive.
Officials from the NTC and from NATO, whose aerial bombing campaign has been key to the advances over the past week, are keen to avoid a repeat of the situation in Iraq following the overthrow of Saddam Hussein in 2003 when it took coalition forces some eight months before they captured the former president who was later executed.
In other developments in Libya today, an intense gun battle has erupted outside the hotel where many foreign journalists are staying in the Libyan capital Tripoli.
Associated Press reporters staying in the Corinthia Hotel near the Mediterranean coast saw about a dozen rebels with machine guns and an anti-aircraft gun mounted on the back of a pickup truck battling this afternoon outside the hotel entrance with what appeared to be gunmen loyal to Gaddafi shooting from high-rise buildings nearby.
The rebels initially tried to enter the hotel so they could get on the roof for a better vantage point, but hotel staff persuaded them to leave.
Rebels say one of their key targets now is Sirte, about 250 miles from Tripoli, but acknowledged that capturing that city would not be easy because Gaddafi's fellow tribesmen were expected to put up a fierce fight.
Opposition leaders have said they were trying to negotiate a peaceful surrender of the city.
Fighting has also been  taking place outside Bin Jawad, 400 miles south of Tripoli where Gaddafi loyalists ambushed rebels advancing toward the city on Wednesday, killing at least 20 of them.
Rebels also have seized several parts of Sebha, another Gadhafi stronghold still holding out, including the main commercial Gamal Abdel-Nasser street, according to rebel official Adel al-Zintani, who is in daily telephone contact with rebel commanders in the desert city.
- additional reporting from AP