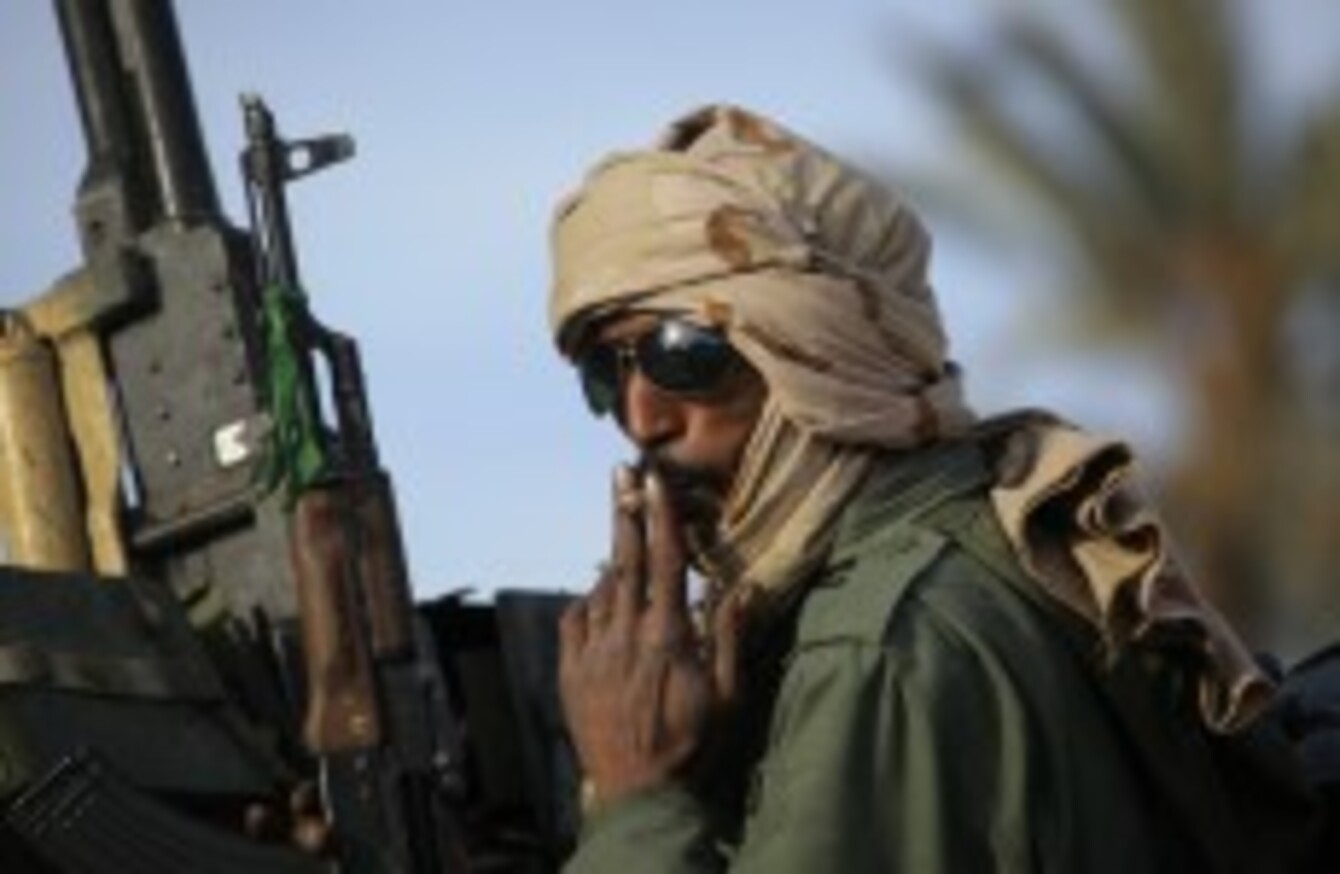 In this photo taken during a government-organised visit for foreign media, a pro-Gaddafi soldier smokes a cigarette on the top of a tank on the main square of Zawiya, Libya
Image: AP Photo/Jerome Delay
In this photo taken during a government-organised visit for foreign media, a pro-Gaddafi soldier smokes a cigarette on the top of a tank on the main square of Zawiya, Libya
Image: AP Photo/Jerome Delay
THE REGIME OF Libyan leader Muammar Gaddafi has retaken a strategic city near Tripoli following days of shelling and it is strengthening its hold on the capital and surrounding areas.
Loyalists celebrated on Zawiya's main square, which had been the center of resistance, amid a heavy presence of pro-Gaddafi troops, tanks and snipers.
There was talk of rebel bodies having been bulldozed away, and the dome and minaret of the nearby mosque were demolished, grim evidence of battle after days of relentless shelling by government forces.
With Gaddafi men also on the march against rebels in the east, Western nations appeared in disarray over how to stop the bloodshed.
US President Barack Obama said a no-fly zone over Libya remains a possibility as "we are slowly tightening the noose" around Gaddafi, but he stopped short of moving toward military action.
He cited actions already taken, including getting American citizens and embassy workers out of the country, slapping tough United Nations sanctions on Libya and seizing $30 billion in Gaddafi's assets.
But the European Union said any such action would need diplomatic backing from international organizations like the Arab League, which was to discuss situation in Libya on Saturday in Cairo, Egypt.
The capture of Zawiya, a coastal city of about 200,000 people that lies 50 kilometres west of Tripoli, seals off a corridor around the capital and solidifies the government's control over the western half of the country to the border with Tunisia.
The government still faced a rebel challenge in Misrata, Libya's third-largest city 200 kilometres southeast of Tripoli with rebels who are seeking to oust Gaddafi saying fighting was ongoing.
A heavy crackdown by pro-Gaddafi militiamen also apparently has succeeded in stifled attempts at protests in the capital.
Gaddafi opponents have attempted to hold protests every Friday for the past few weeks in Tripoli, met each time by a fierce retaliation from militiamen.
No attempts, however, were reported on Friday.
In Tripoli's Tajoura district — scene of some of the heaviest past protests — police deployed in significant numbers outside the main local Murad Agha mosque to prevent marches after prayers. The main road from Tajoura to downtown was blocked by repeated checkpoints.
Pro-Gaddafi forces also appeared to be turning the tide in the country's east, bottling up a ragtag force of rebels at a key oil port in a powerful offensive as the conflict is increasingly shaping into a potential civil war.
Despite the onslaught with heavy weaponry, rebel fighters said they were determined to push forward.
The rebels seemed to have a tenuous hold around the oil facilities at Ras Lanouf, taking refuge among the towering storage containers of crude oil and gas.
Government forces stopped directing their fire at those positions, apparently to avoid blowing up the facility's infrastructure, according to fighters.
Instead, the pro-Gaddafi troops, positioned in Ras Lanouf's residential area east of the oil port across a barren desert no man's land, were raining rockets and shelling along the main coastal highway, targeting rebel vehicles trying to reinforce and bring supplies to the port, said Mohammed Gherani, a rebel fighter.
At least five rebels were killed and 27 wounded in the Ras Lanouf fighting on Friday, said Dr Gebriel Hawadi of the opposition's Medical Committee in Benghazi. That raised the toll from two days of battles in the area to 13.
The shift in momentum is a major blow to opposition forces who just a week ago held the entire eastern half of the country and were charging along the Mediterranean coast westward, trying to push toward the capital.
The assault on Ras Lanouf was a sign the Gaddafi camp had regrouped after it first seemed to reel in confusion for the much of the uprising that began on the 15 February.
Gaddafi's son Saif al-Islam vowed on Thursday to retake the eastern half of the country. If government forces take Ras Lanouf, they could threaten the opposition's bastions further east.
Ahmed bin Helli, the Arab League's undersecretary general, said a no-fly zone proposition was on the agenda for Saturday's emergency meeting. Member states, however, were divided over how to deal with the Libyan crisis, signaling it would be a tough debate.
European Union leaders holding an emergency summit on Libya failed to agree on military action or a no-fly zone but embraced Libya's opposition group as a viable partner after cutting all contact with Gaddafi.
They stopped short of giving full diplomatic recognition to the opposition as France did on Thursday. This decision by president Nicolas Sarkozy prompted Gaddafi's government to suspend diplomatic ties with Paris.
"If we don't sort out the current problems, the risk is … a failed pariah state festering on Europe's southern border threatening our security," British Prime Minister David Cameron said.
- AP