Muammar Gaddafi
Image: Abdel Magid Al Fergany/AP/Press Association Images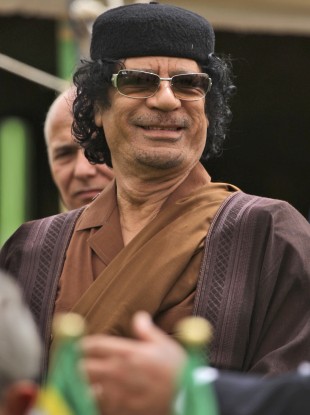 Muammar Gaddafi
Image: Abdel Magid Al Fergany/AP/Press Association Images
THE CHIEF PROSECUTOR at the International Criminal Court (ICC) has said there is evidence that Libyan leader Colonel Muammar Gaddafi has ordered the rape of hundreds of women as a weapon against opposition forces.
Luis Moreno-Ocampo also said that he was also looking at a possible evidence that pro-Gaddafi forces were giving soldiers medication such as Viagra to enhance their sex drive, reports BBC News.
Libyan authorities have not responded to the allegations.
Moreno-Occampo was speaking at the United Nations in New York ahead of the expected decision from judges within a matter of days on his request for charges of crimes against humanity to be laid against Gaddafi, his son Saif al-Islam Gaddafi and intelligence chief Abdullah al-Sanoussi.
Moreno-Ocampo has previously said that the three ordered, planned and participated in illegal attacks on Libyan civilians in their homes and commanded soldiers who shot at demonstrators protesting with live ammunition, shelled funeral processions and deployed snipers to kill people leaving mosques.
Speaking to CNN last month, Moreno-Ocampo made similar allegations that Gaddafi forces were using rape and that there were claims of security forces using viagra as "a tool of massive rape".
But now Moreno-Ocampo appears to be directly linking Gaddafi with the orders to rape women who are  supportive of the rebel forces in Libya attempting to end over 40-years of Gaddafi rule in the north African country.
He said it was difficult to know how widespread the use of rape was. The Guardian reports him as saying at the UN:
Now we are more convinced. Apparently, [Gaddafi] decided to punish, using rape.

They were buying containers with products to enhance the possibility to rape, and we are getting information in detail confirming the policy.

We are trying to see who was involved.
Accusations of rape will likely be added to the existing allegations after the arrest warrants have been issued, the paper adds.
Widespread evidence of rape by Libyan soldiers has emerged in recent weeks and months with one doctor in Libya uncovering 259 cases where women said they had been raped by militiamen loyal to Colonel Gaddafi in locations across the country.
The incidents have been personified by the case of Iman al-Obeidi who made headlines around the world in March when she rushed into Tripoli's Rixos Hotel.
There, she told foreign reporters covering the country's pro-democracy insurgency that she had been gang raped by Libyan troops who detained her at a checkpoint in Tripoli as hotel staff and Libyan official violently attempted to silence her.
Yesterday it was reported that she had arrived at a UN refugee centre in Romania having fled Libya for fear of reprisal, travelling to Tunisia, Qatar, and Italy. She ultimately wishes to settle and start a new life in the United States.