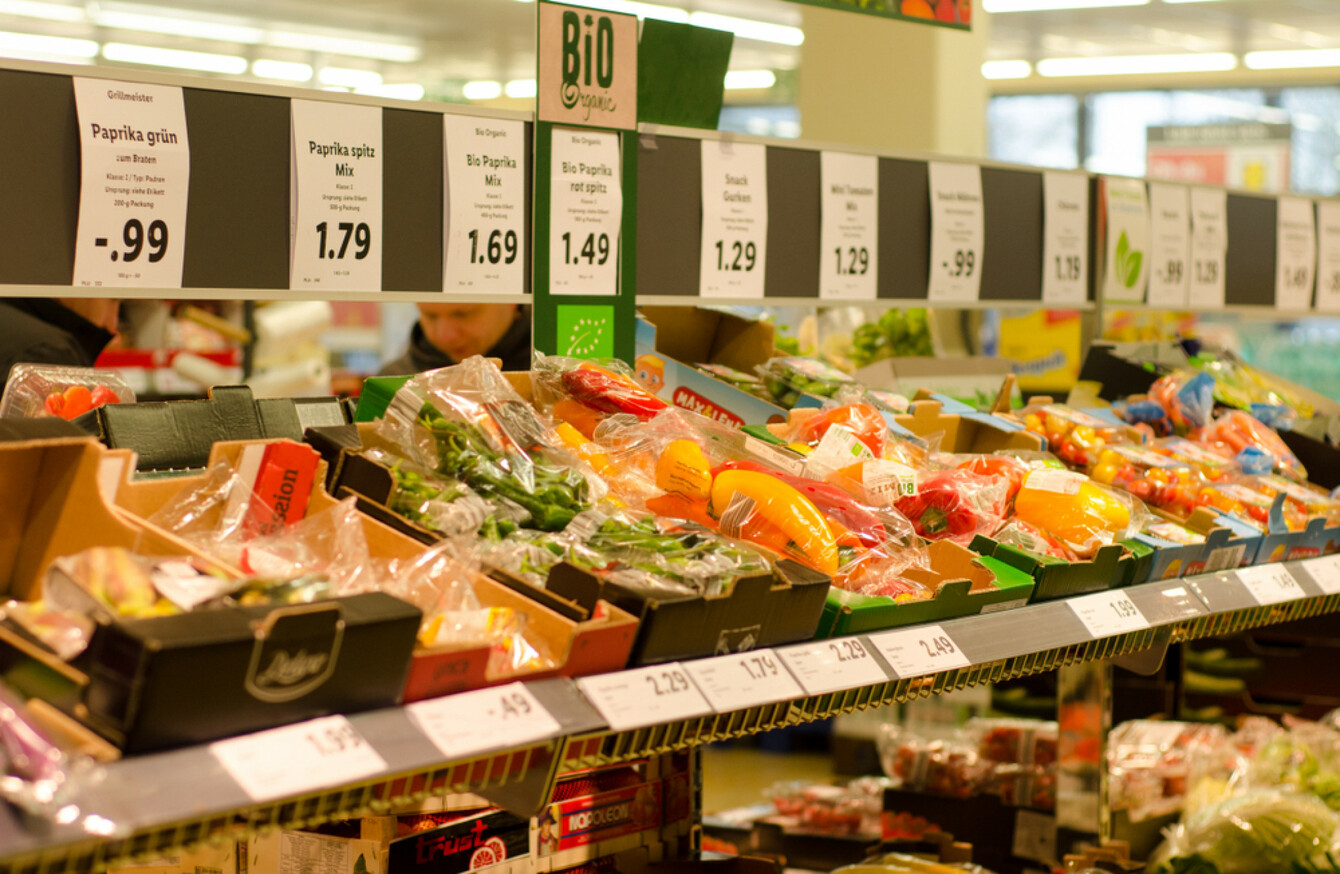 The fruit and veg section in Lidl, Soest, Germany.
Image: Shutterstock/Lutsenko_Oleksandr
The fruit and veg section in Lidl, Soest, Germany.
Image: Shutterstock/Lutsenko_Oleksandr
Updated 8 October
BY NEXT YEAR, Lidl will have discontinued the sale of single use plastics – including plastic drinking straws, disposable cups and glasses, plates, cutlery and plastic stemmed cotton buds – in its Irish stores.
Two weeks ago, Lidl announced that all black plastics in fruit and vegetable packaging will be discontinued in its UK stores from the end of September. 
Now Lidl Ireland is to follow suit. The retailer said today that it is to remove black plastic packaging from its entire fruit and vegetable range before Christmas.
The packaging, which cannot be recycled, will be scrapped from fresh fish products by February 2019, followed by fresh meat, poultry and cured meat ranges before August.
As a result of this move by Lidl, over 65 tonnes of black plastic waste will be avoided annually from fruit and vegetables alone. 
In addition, we introduced a new range of unpackaged fruit and will have more vegetables in all our stores next week.
The new introductions will bring their overall loose lines to approximately 25% of the range.
"These are significant steps," Lidl Ireland & Northern Ireland Managing Director, J.P. Scally said. "Sustainability is core to our business and we are proud to continue leading the retail sector in implementing ambitious measures which will deliver real and lasting benefits for everyone."
The German discounter earlier this year announced a ban on microbeads in cosmetic and household products. 
Lidl has also committed to reduce plastic packaging volumes by a fifth by 2022; make 100% of its packaging widely recyclable, reusable, or renewable and 50% of material used in its packaging will come from recycled materials – both by 2025.