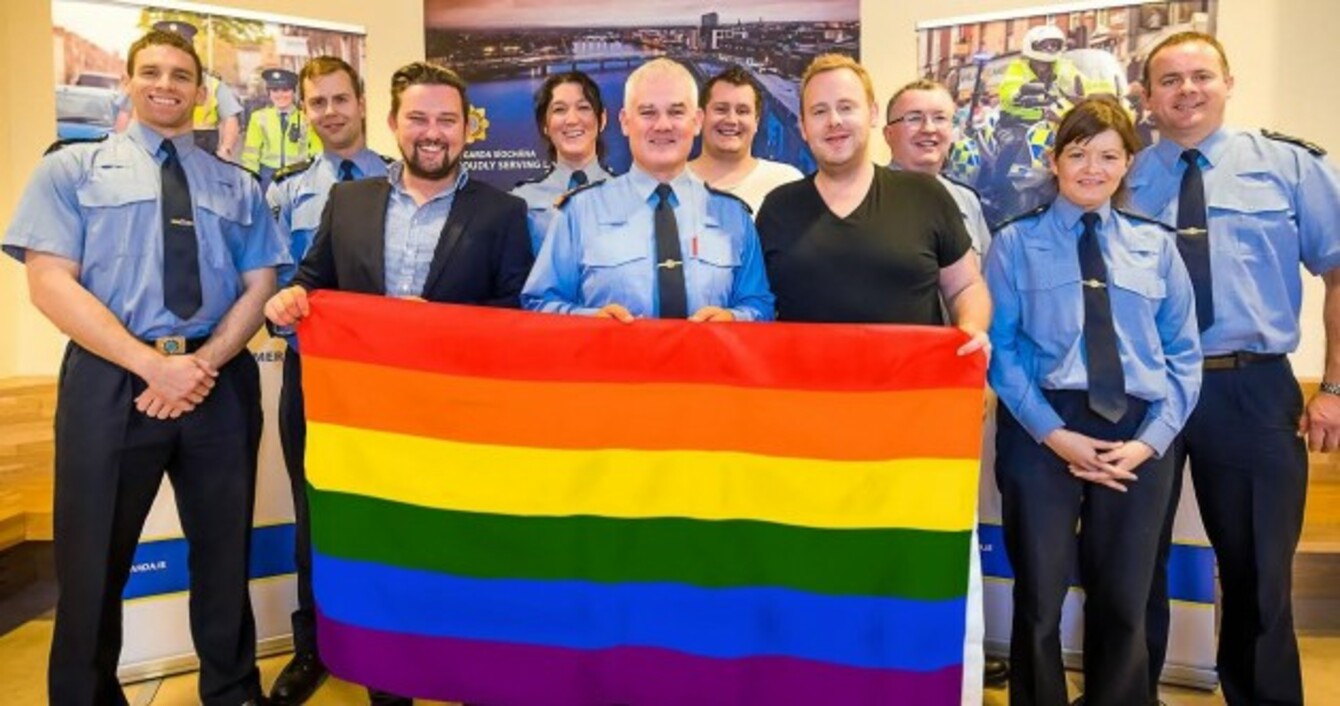 Gardaí at Henry Street station in Limerick smile while they stand behind a rainbow flag with Gay Pride organisers.
Gardaí at Henry Street station in Limerick smile while they stand behind a rainbow flag with Gay Pride organisers.
HENRY STREET GARDA station in Limerick will make history this weekend, when it becomes the first in Irish history to fly a rainbow flag during the city's gay pride parade on Saturday.
What's more, the symbol of support for the LGBT community was an initiative of local Gardaí themselves, according to Limerick Pride Chairperson Dave Cuddihy, who said he was "taken aback by the gesture."
Speaking to TheJournal.ie today, Cuddihy said Gardaí from the Henry Street station had been very proactive in reaching out to the gay community in Limerick, ahead of this year's Pride festival, which is currently ongoing.
They approached [the organisers] last week, and basically said: 'This is everything we're going to do to support the LGBT community.'
It was the last thing we expected.
The flag will be a huge symbol, but what's equally important is the practical steps they've taken to provide support for the community that will last beyond the week [of Limerick Pride].
Gardaí in Limerick have made dedicated community officers available to members of the LGBT community.
They have also set up a special email address, to allow safe and discrete reporting of any potential homophobic or worrying incidents, during Saturday's parade and afterwards.
In a statement sent to TheJournal.ie, Chief Superintendent David Sheahan, based in Henry Street, stressed the importance of LGBT people being comfortable reporting any troubling incidents, and said the flag was a part of that effort.
Flying the flag is a means of showing our recognition and support of the LGBT community as they pass by Henry Street Garda station, and in particular, we are sending a message to report any homophobic, transphobic, violent, abusive or threatening behaviour.
The LGBT community can be assured that LGBT liaison officers are available to any member of the LGBT community at any time, and their particular issues will be dealt with in a confidential and sensitive manner.
In the event of a homophobic or abusive incident, members of the public are encouraged to contact their nearest Garda station, or contact the National LGBT Liaison Officer in the Garda Racial and Intercultural Diversity Office at 01-666-3150/3817.
Garda Diane McAuley is the appointed LGBT Liaison person for Henry Street Garda station, and can be reached at henry_street_community@garda.ie, or 061-433-538.
Cuddihy, however, isn't expecting any problems.
Limerick is always very open and accepting. We really don't see or hear of many homophobic incidents, either during Pride or any other time.
Local people and businesses love getting involved, basically – Limerick embraces Gay Pride.