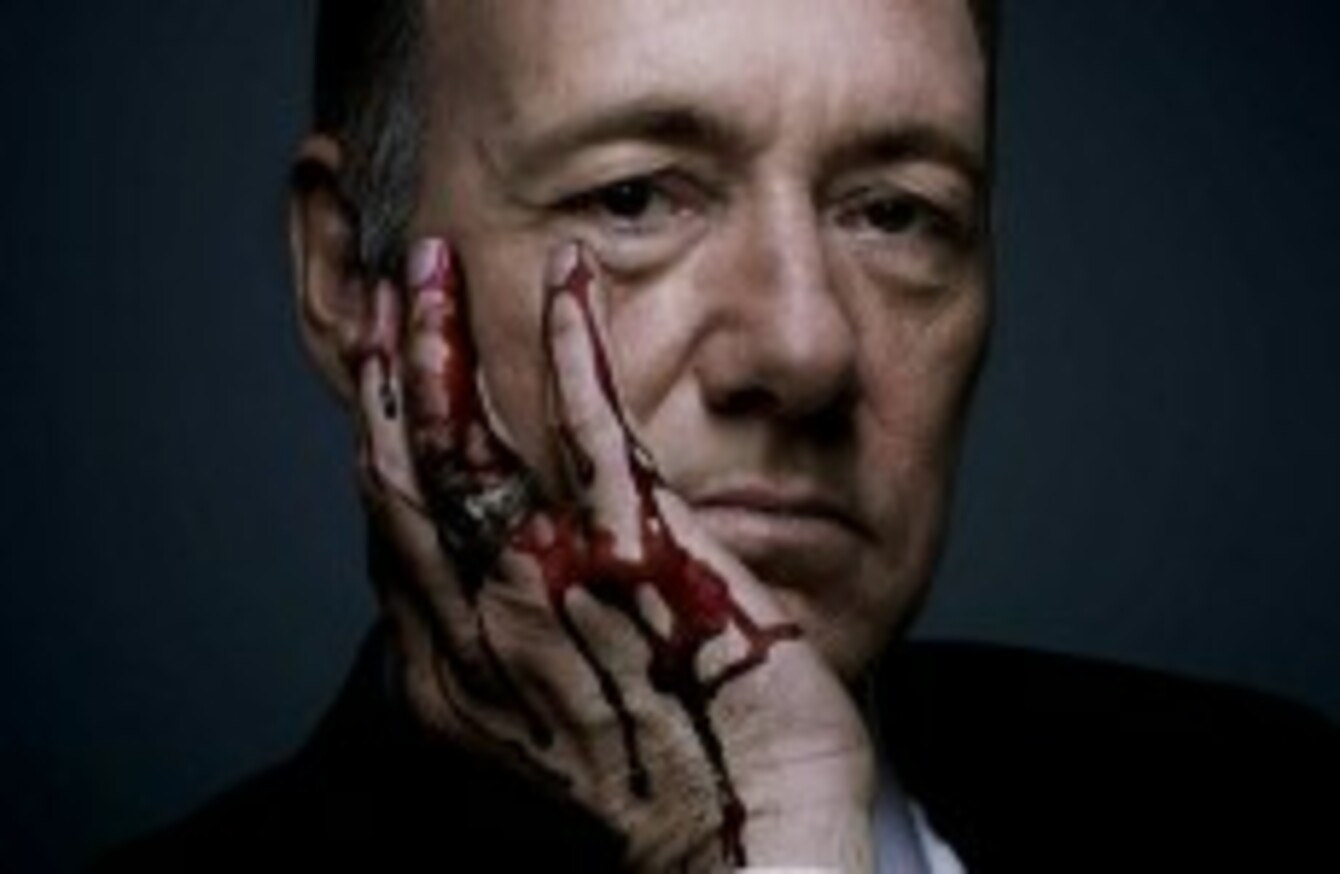 Image: Netflix
Image: Netflix
Updated 6.30pm
A FAMOUS HOUSE of Cards line was quoted at the banking inquiry today, as the committee questioned Dr Elaine Byrne on corruption.
Byrne spoke extensively about the amount of donations received by political parties. Committee chair Ciarán Lynch asked her if there was a link between money spent and the level of success at elections.
To which she quoted Frank Underwood's famous line: "I've always said that power is more important than money, but when it comes to elections, money gives power, well, a run for its money."
Byrne said there is some evidence to suggest a correlation between the best-financed election campaigns and the most successful. However, she noted that the SIPO figures on how much parties spent in last year's local and European elections are not yet available so no solid findings on this issue could be made for 2014.
Byrne discussed how "serious concerns" about political donations were exposed in the Hamilton, McCracken, Moriarty and Mahon Tribunals.
She recalled how the Moriarity Tribunal found that Charles Haughey's level of indebtedness "spiralled" from from £188,844 to £1,143,839 between 1975 and 1979, and described the €393,000 debt writedown he received as "somewhat unorthodox".
From 1979-1996 Haughey received at least £9,106,369 in donations.
Byrne said she was using "brief history lessons" to "illustrate that a culture of deference between State authorities, political parties, elected representatives, supervisory authorities, banking institutions and the property sector was already well established by the 1990s".
She noted that since the introduction of the Electoral (Amendment) Act in 2001 – which introduced a limit on the value of donations to be disclosed – a pattern emerged whereby all political parties disclosed under the limit.
The disclosed donations by all political parties amounted to €753,523 in 2001, the year before the 2002 election. In contrast, disclosed donations by all political parties amounted to €17,000 in 2006, the year before the 2007 election. These figures exclude politicians donating to their political parties.
"This is perhaps due to the relatively small difference in the maximum donation that can be accepted by a political party (€6,349) and the amount that must be disclosed (€5,078)."
Byrne said it is "impossible to present a complete picture of how political parties were financed".
Of the €10.1 million spent by parties and candidates in the 2007 general elections, €1.3 million was disclosed with no information available as to the origin of the remaining €8.8 million.
She added that the €10.1 million figure itself only covered the period between the dissolution of the Dáil to polling day, usually three to five weeks – not the entirety of the campaign.
When discussing more recent donations made to Fianna Fáil, Byrne said it appears that "the property barons of the 1990s and 2000s replaced the beef barons of the 1980s".
Between 1997-2009, she noted that the opposition did not disclose any donations from property interests.
"Fine Gael disclosed €197,914 in donations between 1997 and 2000 from a variety of businesses and individuals, but did not disclose donations above the legal threshold from 2001-09.
Almost two thirds of the Labour party's €392,255 disclosed donations came from the trade union movement. Sinn Féin were in receipt of €1,299,608 in disclosed donations in this period – much of it from the salaries of elected representatives (north and south) and organisations such as Friends of Sinn Féin Australia and Friends of Sinn Féin America.
Denis O'Brien
Byrne criticised Enda Kenny for ringing the opening bell at the New York Stock Exchange alongside businessman Denis O'Brien, given the findings of the Moriarty Tribunal.
She told the committee: "Instead of the Taoiseach standing up, he rang a bell." Byrne said this gave the public the impression there are "different rules depending on who you are".
The Moriarty Tribunal had found that former Fine Gael TD and Minister for Communications Michael Lowry had an "insidious and pervasive" influence over how the second mobile phone licence was awarded to Denis O'Brien's company, Esat Digifone, in 1996.
'Corruption is sexy'
Byrne said she believed corruption is "not about a particular party or individual", rather
"proximity to power and how long they are in power".
It's very easy to do it, corruption is sexy.
Byrne noted that Ireland ranks on a similar footing as Germany and the UK  in terms of corruption worldwide, adding: "We need to stop blaming our small population as the reason for why we have bad governance."
She said this was a "bogeyman" and "lazy" argument.
Recommendations
Byrne said there needs to be an independent audit of the "capacity and operational ability of oversight agencies" such as the Criminal Assets Bureau, the ODCE, the Central Bank, Revenue, and the Competition Authority.
She also recommended that monetary awards are introduced for whistleblowers, and advised the committee to examine the tax reliefs given to property developers from 1997-2007 and why they were "extended beyond their natural lifespan".
Byrne also called for the establishment of an independent commission to decide how political activity in Ireland is funded, and the introduction of a web-based centralised information platform to coordinate consultations with individuals, stakeholders and lobby groups.
In 2012, Byrne was appointed as the Irish expert on corruption to the European Commission. She has also penned a book entitled Political Corruption in Ireland 1922-2010: A Crooked Harp?
Originally published 11.11am