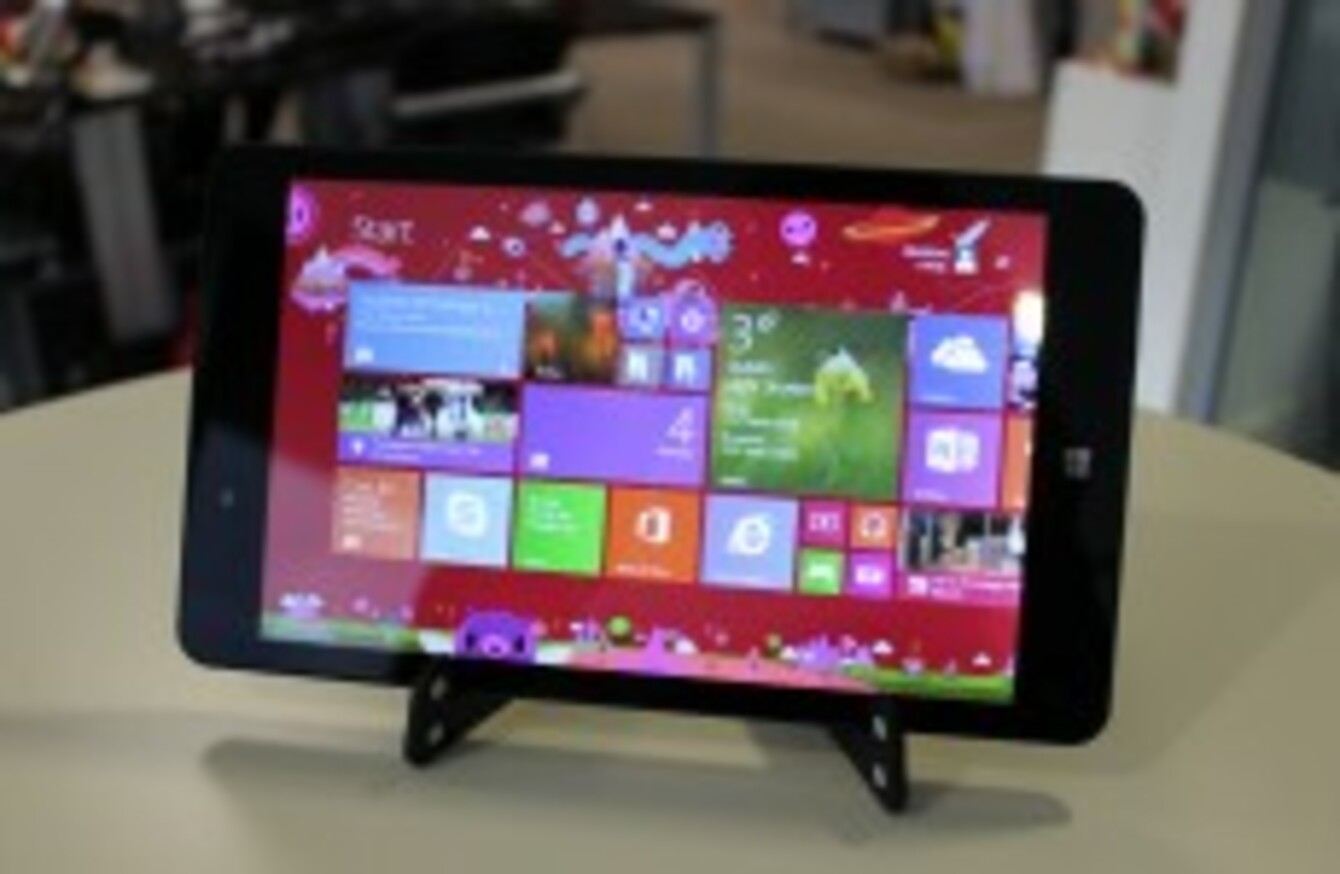 Image: TheJournal.ie
Image: TheJournal.ie
IF YOU'RE IN the market for a budget tablet, you don't have to look far. While the top end is dominated by the likes of Apple, Google, and Samsung, the lower end has seen numerous manufacturers releasing their own devices in an effort to grab a share of the market.
One of those is Linx, which has released two new Windows 8.1 tablets, 7- and 8-inch . While many would gravitate towards the iPad range or Android, does the Linx range offer enough to pull them over to Microsoft's corner?
(Note: This review looks at the Linx 8. Both the Linx 7 and 8 have the same specs, the only different is the 8 has a larger screen and slightly longer battery life)
Look and feel
Sporting a rectangular design, the Linx 8 has a rather solid build. It's sturdy, everything is in the right place, and both buttons and ports are easily found. The speakers are located at the back and are easily noticeable, and the sound quality is rather decent so long as you don't turn it up to its loudest.
The rubber casing is comfortable to hold and you do feel like you can hold it one-handed without dropping it.
Thankfully for a large screen device, it has both a good display and resolution. It's not amazing by any means, but it's sharp enough that watching Netflix shows is pleasant.
Hardware
Powered by a 1.83GHz quad-core Intel processor and 1GB of RAM, the Linx 8 doesn't have eye-catching hardware, but it performs competently.
You could have few complaints about the performance of games like FIFA 15 and Asphalt 8, although the latter menus tend to slow down a little from time to time. Ultimately, you will experience few problems provided you don't go overboard with it.
Another nice addition is 32GB of space and the inclusion of a microSD slot that can go up to 64GB. You won't need it, but it's a nice addition all the same.
The tablet comes equipped with a 2MP front and rear-end camera and to be honest, they're quite poor. Both are grainy and low-light situations aren't great either and can make everything appear duller than it actually is, even with vibrant colours on display.
This won't matter as much if you don't use Skype or other video messaging services, but it's a black mark for what is a decent tablet.
Battery life is also a bit of a problem as well. The makers say that it will last on average five to seven hours and to be fair, that's a good estimate (leaning more towards the five-hour mark). Also, it takes ages for it to charge back to full capacity, three hours by our estimations, so you're better off charging it during quiet periods or overnight.
Software
It's a good thing that Windows 8.1 works better as a tablet than a desktop, although it's a little strange that you can still access desktop mode here.
If you have the accessories to back it up (a wireless keyboard and mouse and maybe a stand) then it can function as a makeshift laptop although it not exactly designed with this in mind.
Despite the identity crisis, there are features of Windows 8.1 that makes it more at home on tablets. Picture unlock – tapping three spots on an image lock screen in the right order – works just as well as you would expect and once you get a grasp of the swipe gestures, it feels more logical on tablet than other rivals.
The only problem is for now is it doesn't have the apps to properly back it up. What's already there is fine and more than enough to pass you by, but you won't feel the same urge to properly invest in the ecosystem if you already have an Android or iOS device.
Summary
It's rare that a device grows on you the more you use it, but the Linx 8 is impressive for the price you're paying. While it has a few flaws, they aren't dealbreakers, and the design and hardware make up for them.
Some may see the inclusion of Windows 8.1 to be a barrier, especially if they've had bad experiences with it on desktop, but unless you're absolutely specific about what apps are on offer, that really shouldn't be a concern.
If you're looking for a budget tablet, there are few that will offer a better experience at that price range, especially for Windows.
Pros
- Great build.
- Good performance and storage space.
- Low price.
Cons
- Both front and rear end cameras are poor.
- Battery life is average, and charge speed is slow.
The Linx 8 is available in Carphone Warehouse (€129), Littlewoods Ireland (€135), Power City (€149) and Arnotts (€169).