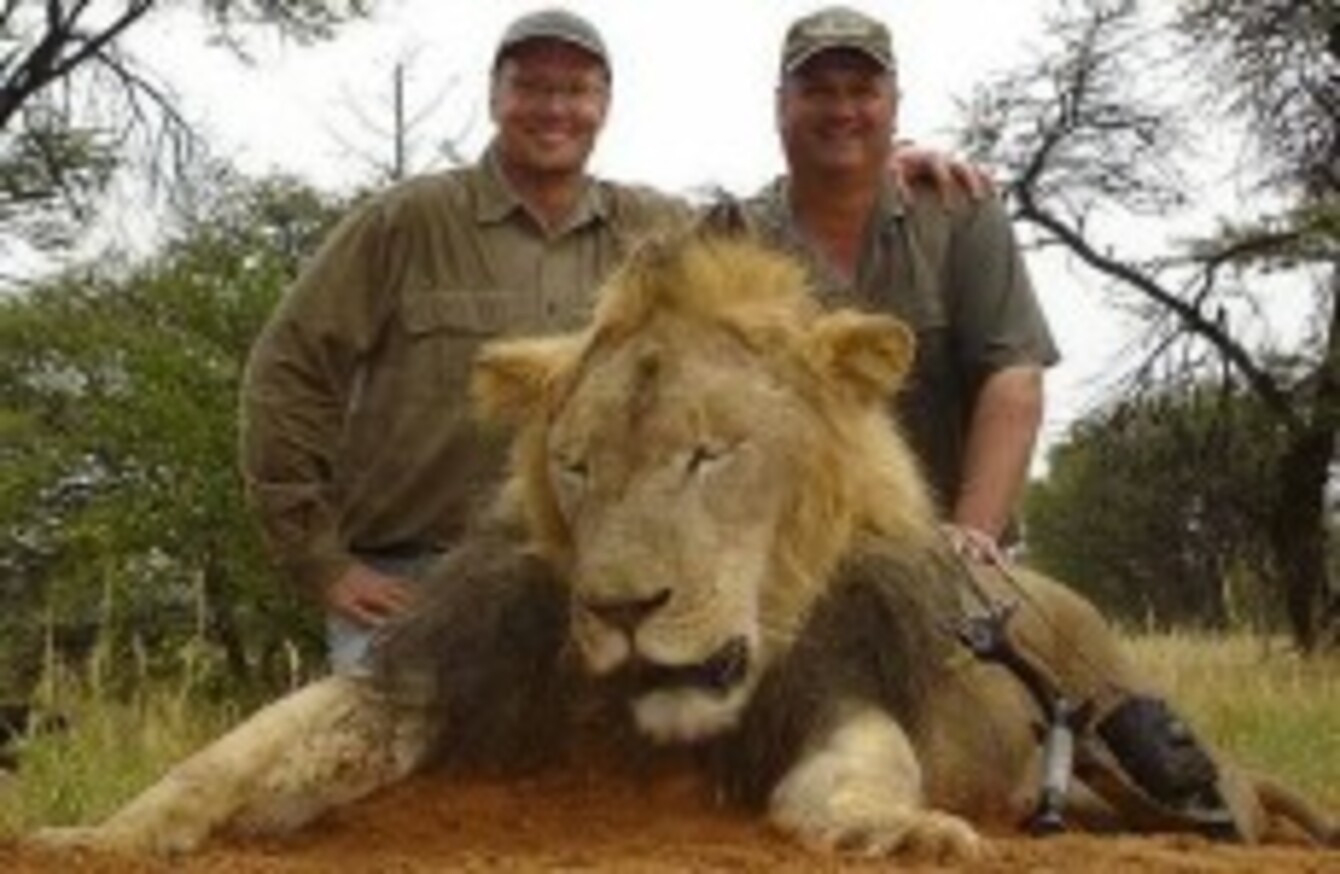 Walt Palmer, left and another lion.
Walt Palmer, left and another lion.
POLICE IN ZIMBABWE are seeking an American dentist who they say paid $50,000 to shoot a protected lion named Cecil.
The American, named as Walter James Palmer from the Minneapolis suburb of Bloomington, said that he "believes that he might have" shot the lion.
A spokesperson for Palmer told The Guardian that the killing was legal.
What he'll tell you is that he had the proper legal permits and he had hired several professional guides, so he's not denying that he may be the person who shot this lion. He is a big-game hunter; he hunts the world over.
The American faces poaching charges, according to police spokeswoman Charity Charamba.
"We arrested two people and now we are looking for Palmer in connection with the same case," she said.
The two arrested Zimbabwean men — a professional hunter and a farm owner — face poaching charges, the Zimbabwe National Parks and Wildlife Authority and the Safari Operators Association said in a joint statement.
Killing the lion was illegal because the farm owner did not have a hunting permit, the joint statement said. The lion was skinned and beheaded. The hunters tried to destroy the lion's collar, fitted with a tracking device, but failed, the statement said.
If convicted, the men face up to 15 years in prison.
The lion is believed to have been shot at the start of July.
During a nighttime hunt, the men tied a dead animal to their car to lure the lion out of a national park, said Johnny Rodrigues, chairman of the Zimbabwe Conservation Task Force.
The American is believed to have shot it with a crossbow, injuring the animal.
The wounded lion was found 40 hours later, and shot dead with a gun, Rodrigues said in the statement.
"The saddest part of all is that now that Cecil is dead, the next lion in the hierarchy, Jericho will most likely kill all Cecil's cubs," said Rodrigues.
The black-maned Cecil was being studied by Oxford University, conservation groups said.
With reporting from AP.