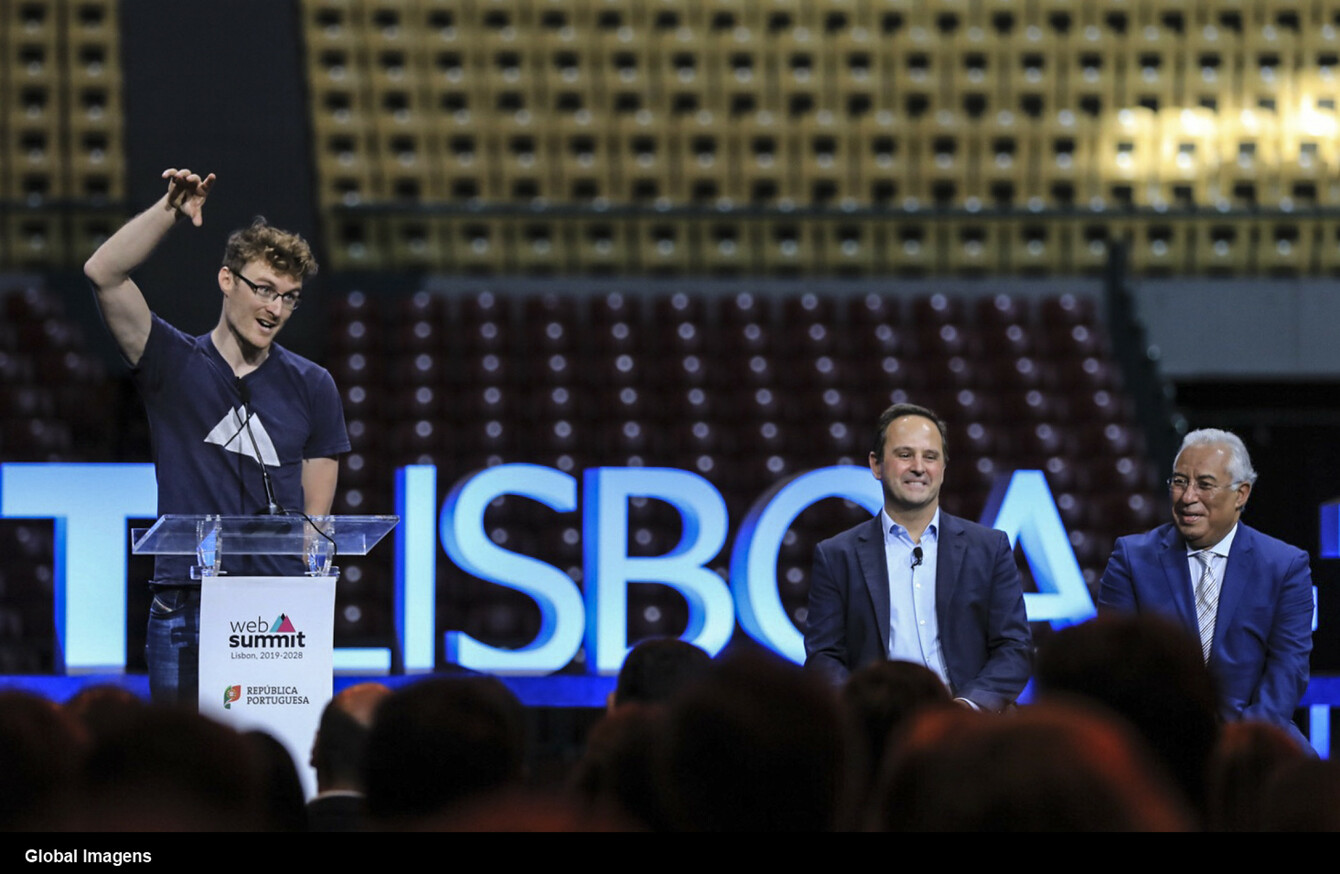 A ceremony announcing the new ten-year deal for the Lisbon Web Summit this morning
Image: SIPA USA/PA Images
A ceremony announcing the new ten-year deal for the Lisbon Web Summit this morning
Image: SIPA USA/PA Images
ORGANISERS OF THE Web Summit have announced that the event will remain in Lisbon until at least 2028 following a €110m deal with the Portuguese government.
The annual event, which moved to the Portuguese capital in 2016 on an initial three-year basis, expects to see its capacity more than double as part of the deal by 2022.
The announcement follows a competitive tendering process which saw more than 20 major cities across Europe offer to host the conference, including Berlin, Paris, London, Madrid and Milan.
However, the Web Summit's Irish organisers will receive €11m a year to keep the event in Lisbon on a ten-year basis.
They also agreed a €3 billion buyout clause with the Portuguese government, which is expected to be the minimum amount the event will make for the country over the next decade.
Web Summit CEO Paddy Cosgrave said the group looked forward to "doing incredible things" over the next ten years, and claimed that remaining in Portugal did not even seem like a possibility in recent months.
He said that new plans to grow the summit, agreed with the Portuguese government, ensured that Lisbon would now be the event's long-term home.
Key location
"We were flattered by the offers of cities as diverse as London and Valencia, and greatly appreciate the time of prime ministers, presidents and mayors from across Europe," he said.
"It's an amazing moment for Europe's cities. So many are thriving, with world-beating startups emerging from an ever-growing list of Europe's cities and regions."
Mayor of Lisbon Fernando Medina said the deal would make the city a key location for innovation, entrepreneurship and talent.
"We are thrilled to continue to write this story together with Web Summit," he said.
More than 70,000 people are expected to attend the event this year, which will take place from 5-8 November.
Earlier this year, organisers of the Web Summit drew controversy after inviting French far-right leader Marine Le Pen to the annual conference.
However, Cosgrave subsequently announced that the invitation was to be rescinded after realising it was "disrespectful" to the event's host country.