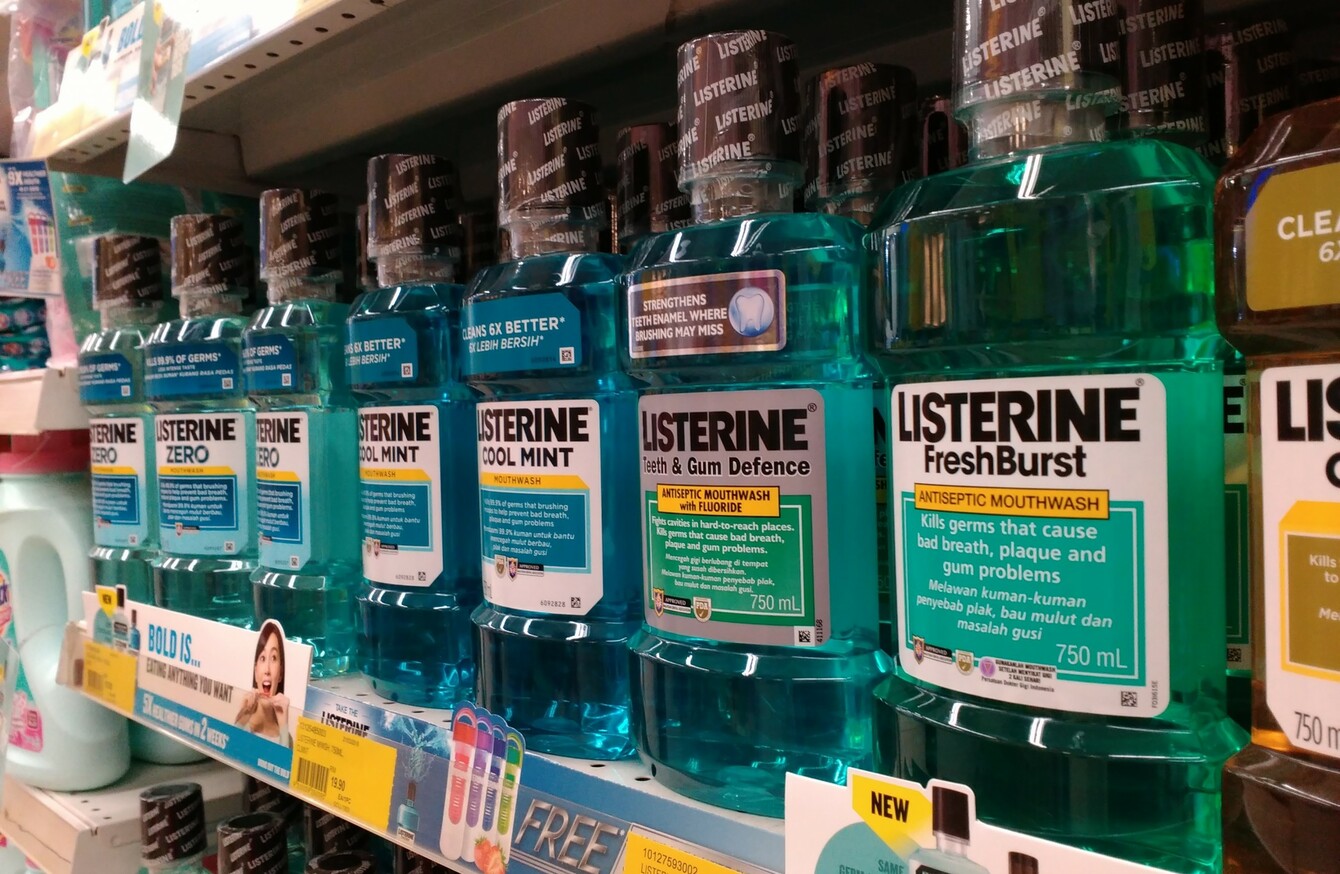 Image: Shutterstock/nawawi
Image: Shutterstock/nawawi
LISTERINE MOUTHWASH CAN help kill off gonorrhoea in the mouth, according to new research in the British Medical Journal.
Daily rinsing and gargling using the mouthwash has the potential to be a cheap and easy way to prevent the sexually transmitted infection spread, say researchers.
"This readily available, condom-less, and low cost intervention may have serious public health implications in the control of gonorrhoea," they claim.
The brand has long claimed to kill 99% of bacteria in your mouth, but this is the first scientific study to put this to the test, its authors suggest.
The Australian research team highlight that new cases of gonorrhoea among men are on the rise in many countries, with gay and bisexual men representing the majority of cases.
In the trial, 196 gay and bisexual men who had previously tested positive for the sexually transmitted infection were returning for treatment at a clinic in Melbourne. Of these, 58 of them tested positive for gonorrhoea bacteria in their throat.
A majority (33 of them) were randomly assigned to rinse and gargle with Listerine, while the other 25 were given a saline solution instead.
The research showed: "After rinsing and gargling for 1 minute, the proportion of viable gonorrhoea in the throat was 52% among the men using Listerine compared with 84% among those using saline.
And the men using Listerine were 80% less likely to test positive for gonorrhoea in their throat five minutes after gargling than were the men using the saline solution.
While acknowledging that their test is limited because the effects of the mouthwash could have been short lived, researchers said that their lab results would suggest a longer effect.
They conclude: "Listerine mouthwash is a cheap, easy to use and effective agent that inhibits gonorrhoea growth and requires further careful consideration and study."
No competing interests were declared in relation to the study.
Earlier this year, the HSE's national clinical lead on sexual health, Dr Fiona Lyons, said that the emerging super-gonorrhoea was a "serious threat" in Ireland. The term super-gonorrhoea was coined for a strain of the infection which is growing resistant to antibiotics.