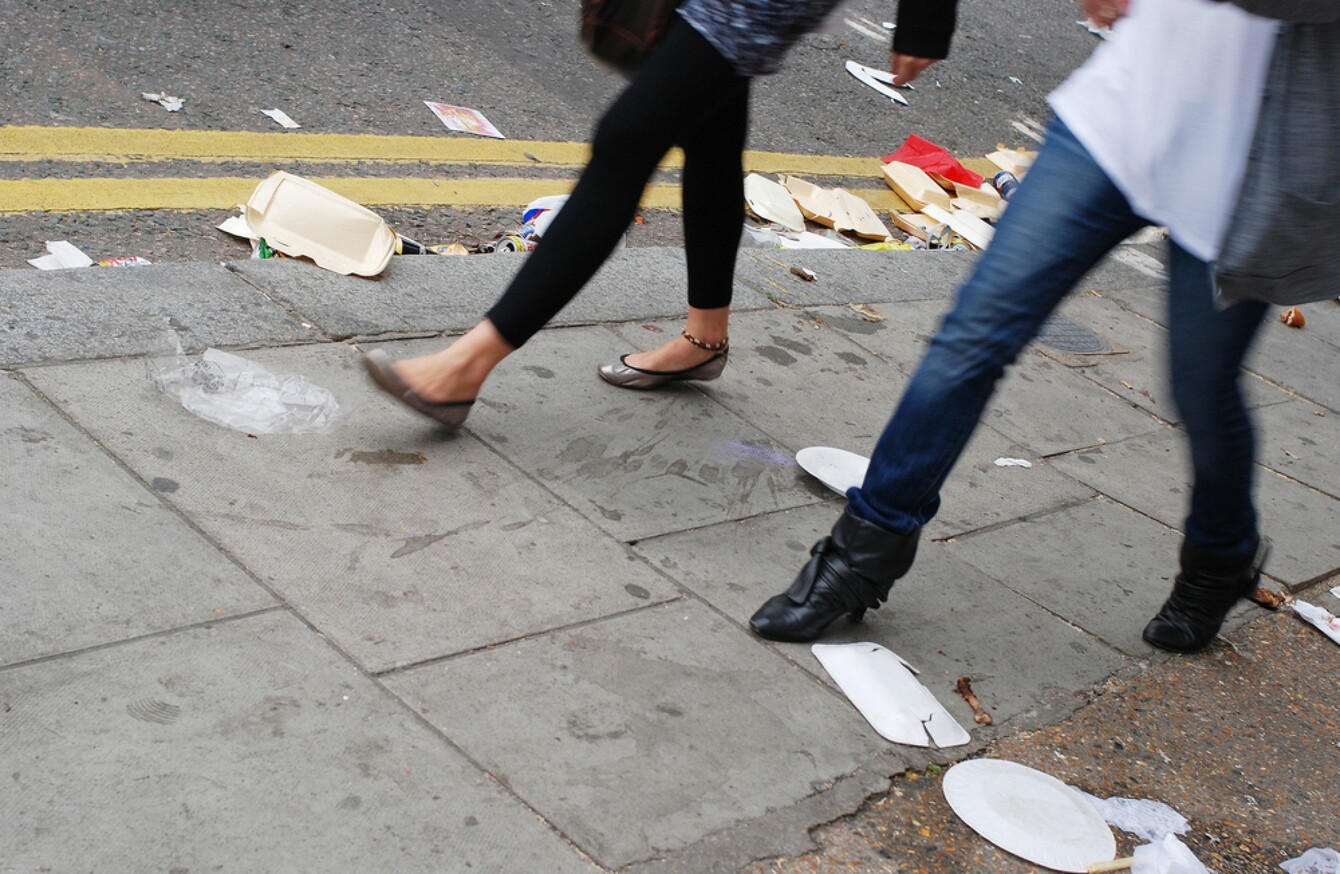 File Photo
Image: Shutterstock/Concept Photo
File Photo
Image: Shutterstock/Concept Photo
Ireland is grappling with a series of challenges that are impacting our citizens' quality of life. TheJournal.ie is examining solutions to these issues which have worked or are currently being trialled in other states and asking: Would It Work Here?
LITTER LEVELS ACROSS Ireland are undoubtedly on the rise.
Walking down a street in any city, town or village anywhere in the country will indicate this but hard data confirms it.
The latest survey results from IBAL (Irish Business Against Litter) found just 70% of the towns and cities surveyed were clean to European norms, compared to 85% two years ago.
Three urban areas were deemed to be seriously littered – Galvone in Limerick, Farranree in Cork and Dublin's North Inner City.
Meanwhile in Galway, the latest IBAL survey described dumping across the city as a 'critical environmental issue' – just this week thousands of empty Buckfast bottles were found after the River Claddagh was drained as part of upgrade works.
Dublin City Centre and Limerick both slipped to join Galway as 'moderately littered' in the IBAL research.
And the problem doesn't stop in cities or, indeed, at general litter such as food wrappers and cigarette butts.
Human excrement was found in a playground in Clonakilty in Co Cork this week. Disgusting, yes; unusual, perhaps not.
One mother told TheJournal.ie that this is something she has witnessed in her local playground in Dublin and at a rural area in Tipperary.
So what can be done about this? 
The cleanest countries in the world tend to top leaderboards because of certain cultures and ways of life.
Japanese football fans made headlines for cleaning up rubbish in a stadium during the 2014 World Cup in Brazil.
In Japanese culture, it's considered appropriate to clean up after yourself at public events such as concerts, festivals and sports games.
However, there are exceptions and it is not always just the cultural values of a place which dictate how clean it can be.
The island of Singapore has managed to transform itself from a swampy land mass to one of the cleanest places in the world.
How did it do it? Strict fines. Really strict fines.
A person can be fined, or even arrested, for littering, spitting or selling chewing gum.
Prime Minister Lee Kuan Yew introduced the severe anti-litter laws in the 1960s and they are still in force today.
People can be fined up to $1,000 (€670) for dropping litter on their first conviction, going up to $5,000 (€3,355) for repeat offenders.
If you're caught a third time you could even be made to wear a sign reading, "I am a litter lout."
You can also be fined $100 (€67) for putting your chewed gum anywhere that's not a bin and there's a $100 fine for not flushing a public toilet. Yes, spot checks are carried out.
Would it work here? 
We already have fines here so the problem isn't a lack of laws. There is, however, a lack of implementation.
Littering in a public place is an offence in Ireland that can be subject to an on-the-spot fine of €150, or a maximum fine of €3,000 if convicted in a District Court.
If a person continues this after being convicted, they are guilty of a further offence and can be fined up to €600 for each day it continues.
In serious incidents, there is a maximum fine of up to €130,000 and a fine of up to €10,000 per day for continuing offences.
However, while we may have the legislation around littering, very few fines that are issued are actually paid.
In the years 2014 and 2015 Dublin council paid €670,000 and €640,000 respectively to collect illegally dumped litter but those who are fined for the offence simply aren't coughing up.
Of the 6,259 fines issued across Dublin city between 2013 and 2015 – only 2,042 were paid in full with a further 77 fines being partially paid.
The issue is not limited to Dublin city, less than half of all fines issued in Cork city since 2012 have been paid.
What's our problem? 
So why do fines work in Singapore but not here? Ireland is not alone in this. Many countries struggle with litter, and our neighbours in the UK have similar issues.
Britain has carried out extensive research on the effectiveness – or ineffectiveness – of fines which found that people who have seen or heard about fines being issued through media reports are more likely to think they are effective.
A report on the Effectiveness of Enforcement on Behaviour Change stated:
Attitudes to enforcement are greatly shaped by the degree to which an individual sees them as a threat – and many do not think it is likely they will be fined for environmental offences.
It also stated that, "A fixed penalty notice should only be issued where there is enough evidence to support a prosecution, so in the event that it is not paid, an authority will be able to follow it up in court."
Dublin councillor Ciaran Perry echoed this describing how the current system means the chance an an illegal dumper getting prosecuted is slim but said "illegal dumpers should fear getting caught".
It doesn't look like Ireland will clean up its act as long as people feel they are able to get away with it.
So would you support stricter fines for littering?