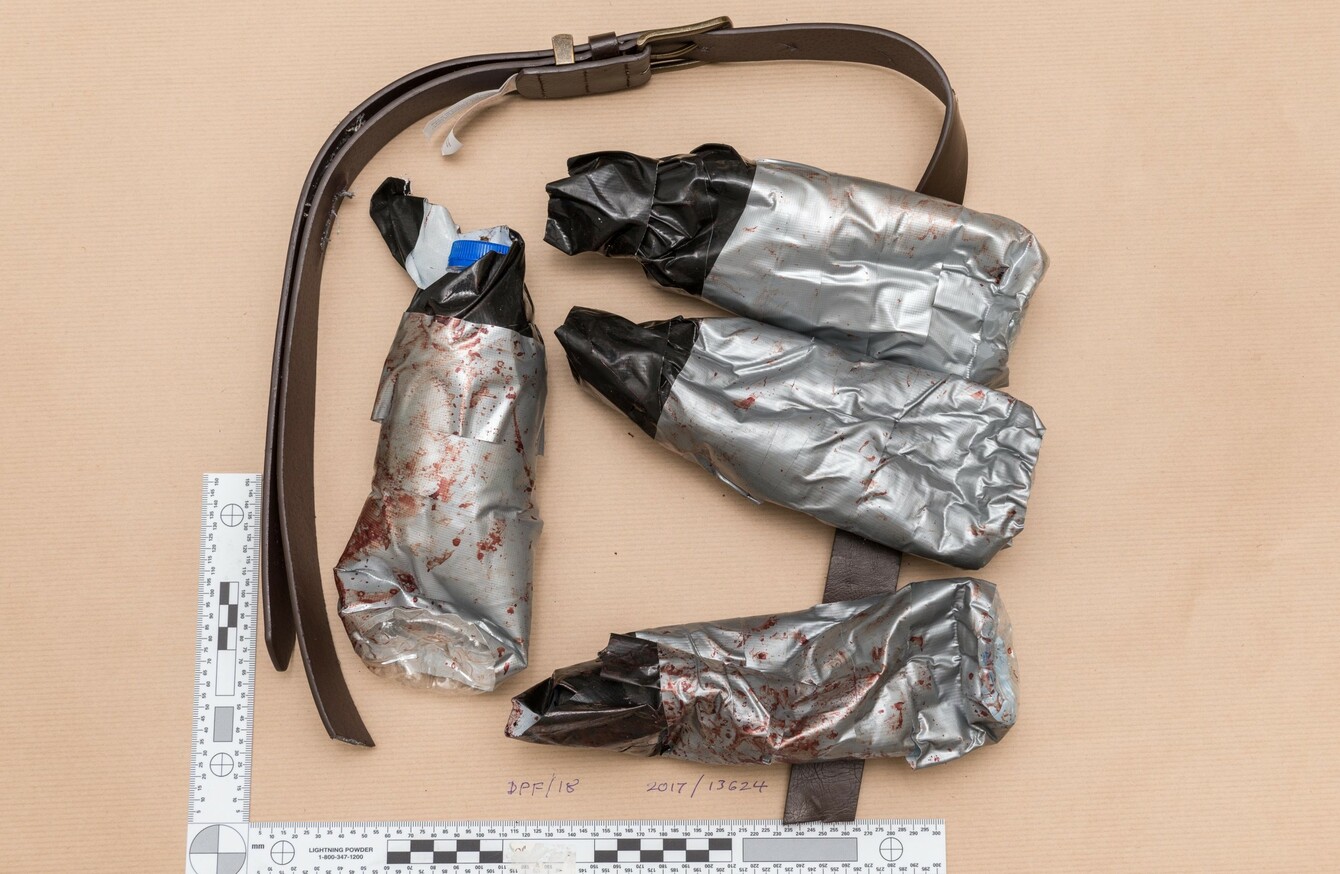 Image: Met Police
Image: Met Police
POLICE IN LONDON have released pictures of the blood-soaked fake suicide vests worn by the London Bridge attackers.
The attackers - Khuram Shazad Butt, Rachid Redouane and Youssef Zaghba - were shot and killed last Saturday night after they drove a van through pedestrians on the London Bridge and stabbed others nearby, killing eight and injuring scores of others.
During the attack, they wore suicide belts designed to make the public and police believe they would detonate themselves if approached.
All three of the attackers wore the leather belts. Each had three disposable water bottles covered in masking tape attached to the belt. The belts were still attached to the suspects when they were shot dead.
Met Police Commander Dean Haydon, who is leading the investigation, said that the tactic was new in the UK, but the fakes were realistic.
Anyone who saw them on the night would have thought they were genuine. It is hard to speculate what the motive was for wearing the belts. It could be that they had plans to take the attack in to a siege situation or it might be that they saw it as protection from being shot themselves.
"It makes the bravery of those police officers and members of the public who tackled the terrorists even more remarkable. The belt would have been visible to them and if you are fighting back or aiming a shot at someone wearing the device you would clearly be very aware that you could be caught in an explosion."
Police recovered a number of items from the van:
13 wine bottles with rags wrapped around them and believed to be filled with a flammable liquid
Two blow torches
A few offices chairs and a suitcase
Gravel bags
Officers have so far spoken to 262 people from 19 different countries in connection with the attacks. Of these, 78 are significant witnesses. 18 people have been arrested.
They believe there will be many others who witnessed the incidents who have yet to speak to police, and are asking them to come forward.