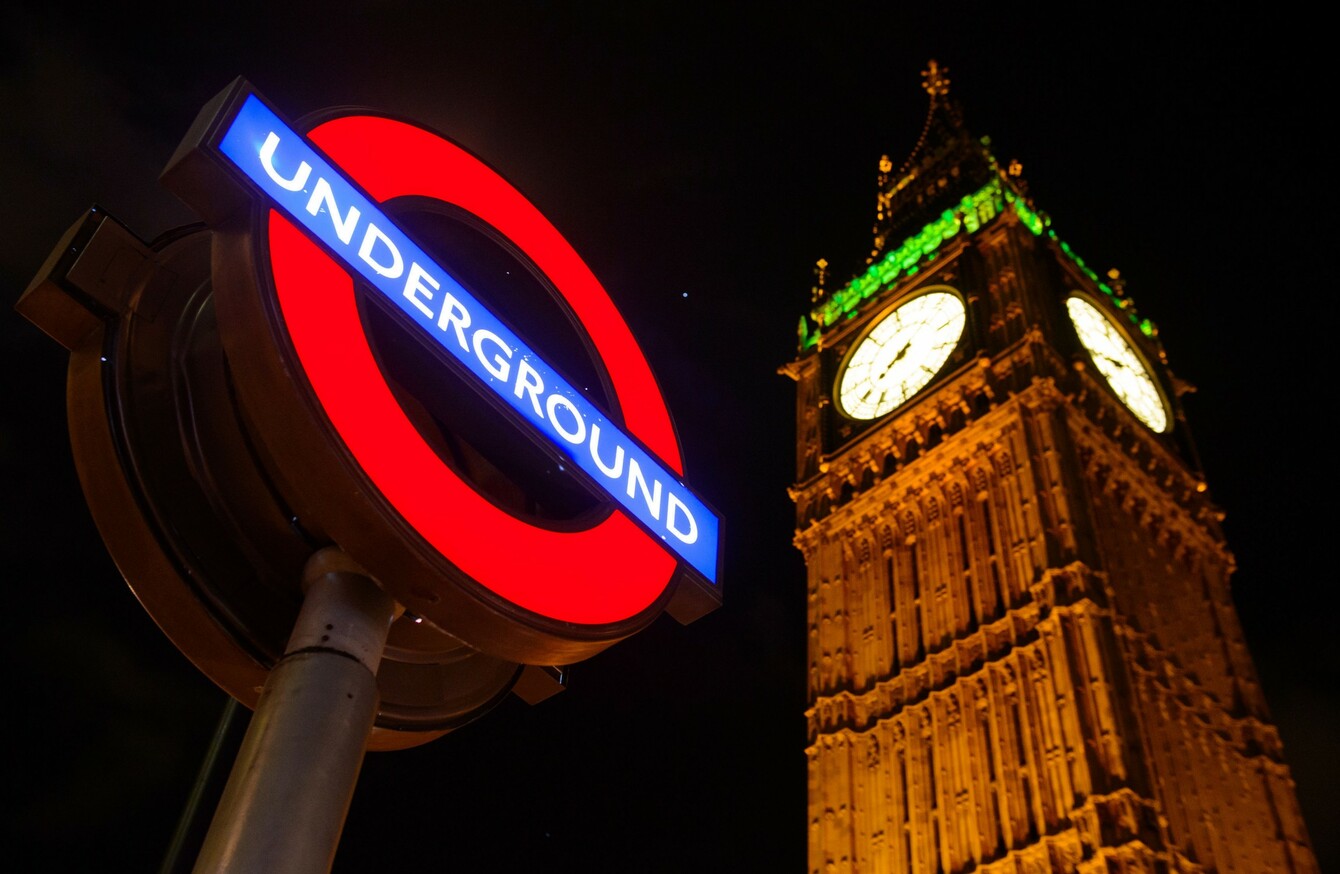 Image: PA Wire/Press Association Images
Image: PA Wire/Press Association Images
WHEN AMERICAN JONATHAN Dunne began handing out badges encouraging travellers on the London Underground to talk to each other, he had no idea how controversial challenging the unwritten "no conversation" rule would be.
Just as in many big cities, refusing to make eye contact, let alone exchange chit-chat with fellow travellers, is considered sacrosanct, the result largely of a desire to avoid potential weirdos.
Wry glances are exchanged at delays or outlandish behaviour, but for many in the British capital, staying silent is as important as standing on the right on escalators.
So when 42-year-old Dunne, who works as an administrator in the state-run National Health Service (NHS), paid £100 (€115) to print around 500 badges saying "Tube chat?", which he then handed out last week, it was always going to provoke a reaction.
"I get the Piccadilly line – it's 20 minutes of people in complete silence. It's actually a bit odd," he told AFP.
"I thought it would be fun to break down barriers that people put up on their commute. I didn't realise it would be so controversial."
Some Londoners did feel very strongly about it.
"This is an affront to everything I love about London. Fight this, by God, fight it!!" wrote comedian Matt Thomas on Twitter.
Broadcaster Jeremy Vine added: "Anyone comes near me with one of these, I'm heading out the window."
By Friday morning, a rival badge emblazoned with the slogan "Don't even think about talking to me!" was being handed out on the Tube, London's Evening Standard reported.
"Want nothing less than a 'chat' with one of your fellow passengers? Wear this badge to let them know that you'd rather drink a pint of bleach than talk with them," the accompanying leaflet said.
'Backlash against the backlash'
The "Tube chat?" badge appears similar to the "Baby on board!" badges issued by Transport for London for pregnant women, but the Tube operator was quick to distance itself from the project.
Dunne has been dismissed by some as a naive American, and the assertion on a flyer that accompanies the badges that "you'll benefit from a daily chat" is distinctly un-British.
Some have suggested he might as well have a badge saying "I'm a weirdo", but Dunne counters: "The real weirdos are on social media, who within hours are making videos about punching me in the face."
He has lived in London on and off for 20 years, and says the silent Tube does not reflect life above ground.
"Where I live, there are a lot of Turkish and Italian and Spanish — a lot of everything. It's really friendly. Then when you get on the Tube it's miserable," he said.
And as news of the badges spread, others started coming out in favour of the scheme.
Dunne has received tens of thousands of requests on Facebook for a badge, and has heard of copies being handed out in other parts of London that have nothing to do with him.
"There's been a backlash against the backlash," he said.
"It's definitely started a conversation, and that's all I was looking for."