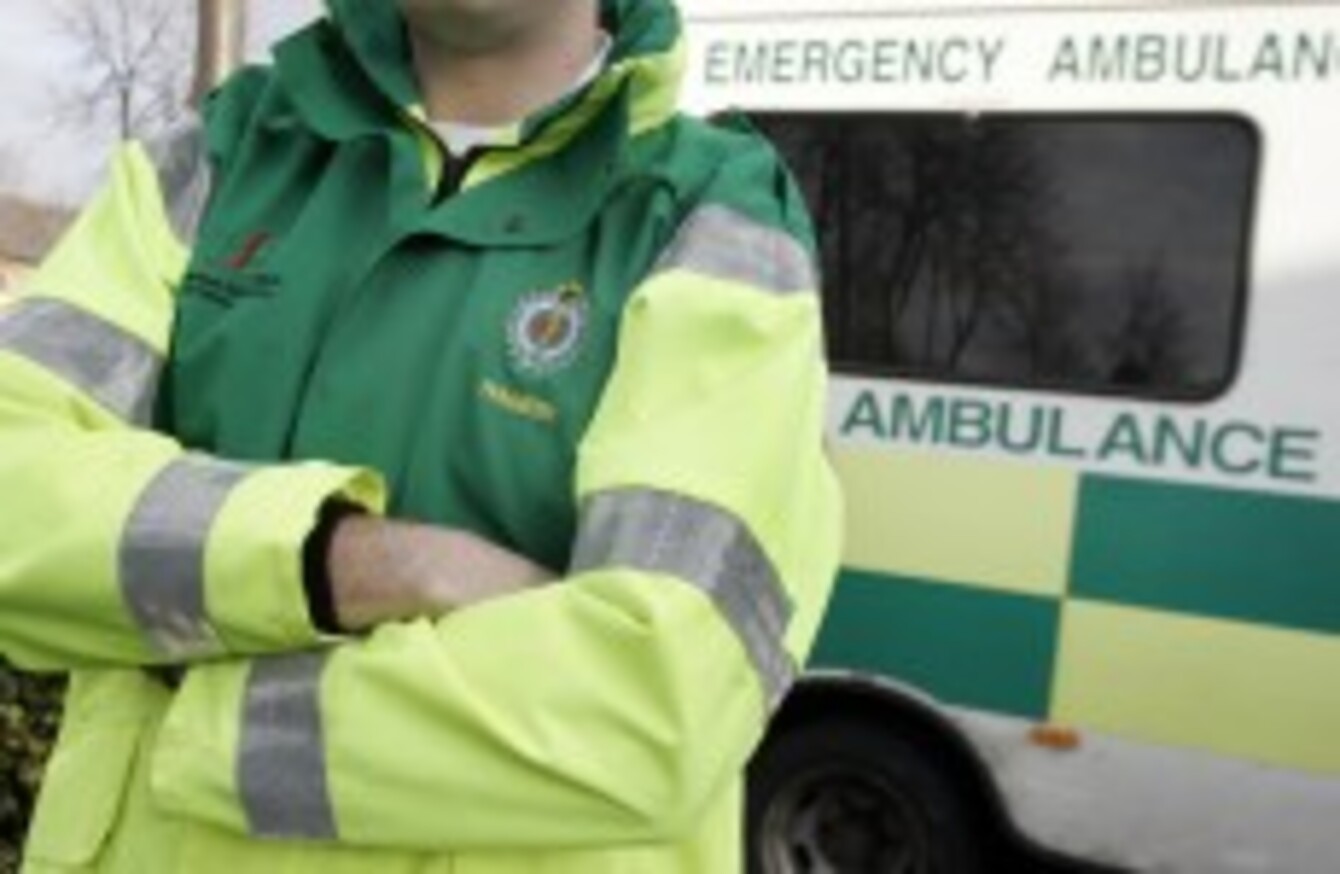 Image: Mark Stedman/Photocall Ireland
Image: Mark Stedman/Photocall Ireland
THE PRACTICE OF sending a lone paramedic to incidents has been criticised due to the potential threat to their safety and to the well-being of patients, as new figures show almost 3,500 of these incidents across the country in a six month period.
Figures provided to TheJournal.ie through a Freedom of Information request reveal that 3,475 calls were attended by a solo responder in the six month period from May to October 2013.
This system is not one supported by the National Ambulance Service Representative Association (NASRA), according to general secretary, Tony Gregg.
"We have serious concerns of people being deployed as lone workers in rapid response vehicles," he said. "The scenarios they are deployed into are unpredictable up to a certain point. It can be violent and aggressive and indeed people are assaulted on a regular basis."
If you're in a pub or a bar room brawl and someone has been stabbed or assaulted, one can be treating and the other can be watching your back.
He said these solo responders "shouldn't be sent to houses where there has been violence or where there has been alcohol taken" and "there should be no lone workers in an ambulance after 8pm at night".
Rapid Response Vehicles
Figures show a greater number of instances where lone responders were sent to attend in the summer months. In May the number is 826, in June it was 807 and in July the total was 630, with numbers dropping in the three following months.
The figures provided to TheJournal.ie only include responses by an advanced paramedic who is sent in a car, known as a 'rapid response vehicle' (RRV), and not those attended by a community first responder - volunteers trained in basic first aid.
Community first responders are not recorded on the National Ambulance Service's electronic dispatch system and the NAS said the records "are not easily accessible" and so were not provided through the request. However Gregg said that most lone responders would fall into that second category and "if you get an advanced paramedic, you're doing well".
Moral conscience
Although there is a system of risk assessment in place for these solo responders, part if this involves the worker making a decision after weighing up the risks at the scene and Gregg said these paramedics are "motivated by their moral conscience as well".
"If someone has been assaulted or they're in cardiac arrest, it's difficult to stay at the end of the road and wait for backup," he explained.
Uncovered leave
In a recent incident, a paramedic was injured in a fall at an ambulance base and had to call 999 for help. He was working alone because there was no cover provided for a colleague on leave, according to reports.
Gregg said this system is not only putting the paramedics at risk but the public as well. He said a lone paramedic is often sent out in one of these RRVs even though they are supposed to work on a people-carrying ambulance because their colleague is out sick or on leave and this is not covered due of cutbacks.
(Image: Shane Casey/Flickr)
"The purpose of the RRV is supposed to be to compliment the ambulances but they're using it as an alternative to the ambulance," Gregg said.
#Open journalism No news is bad news Support The Journal

Your contributions will help us continue to deliver the stories that are important to you

Support us now
Response times
Under HSE rules, a first responder is required to be at the scene in 7 minutes and 59 seconds, with a patient-carrying vehicle at the incident in 18 minutes and 59 seconds.
Gregg claimed the National Ambulance Service is using the RRV system to meet the lower time target but with the local ambulance off the road because staff leave is uncovered, it means "the other ambulance will take longer to get to them because they have more distance to travel".
"We have a situation now where two vehicles are doing the work of four vehicles," he said.
This month it was reported that an ambulance took 40 minutes to get to a serious road collision. Two advanced paramedics were sent to the scene in Portlaoise but could not transport the patients to the hospital, which was only ten minutes away, because they were travelling in cars.
I think we need to look, where an intervention was put in place by a first responder, how influential it was in the recovery of that paramedic - would it have been better to wait for an ambulance?
'Significant investment'
In its response to TheJournal.ie's request for information, the NAS said there are two indicators that determine whether to dispatch a solo responder:
Being the nearest available resource to an incident;
Where the advanced clinical skills, only provided by an advanced paramedic, are required for the circumstances of particular incidents.
The HSE said that a review of recent incidents reported in the media has shown that at some emergency departments, ambulance vehicles have been delayed for longer than the 20 minute target time.
"An enhanced escalation procedure is being developed in relation to delays beyond 20 minutes," they said. "This enhanced escalation procedure will provide for a RAG (Red, Amber and Green) rating whereby such delays can be treated as an adverse incident."
The HSE said there has been "significant investment in ambulance services" in 2013 and this year with €25 million allocated in 2013 and a further €3.6 million in 2014 for the single national control centre.
"These investments will allow for significant improvements in response times as well as being able to cater for an increase in the volume of emergency DELTA calls which are currently about 10 per cent more than the same period last year circa 1,000 extra calls per month."