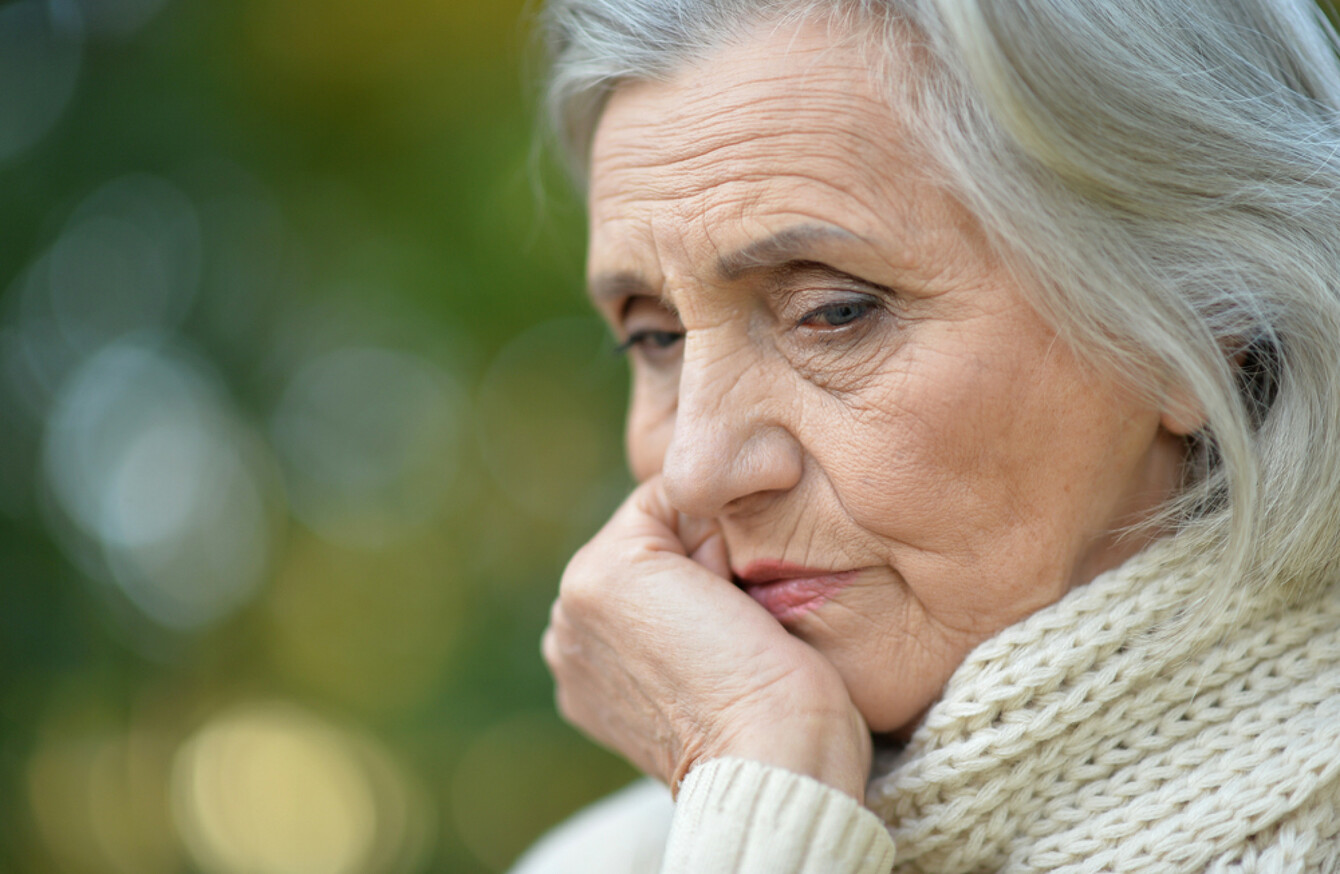 File photo
Image: Ruslan Guzov via Shutterstock
File photo
Image: Ruslan Guzov via Shutterstock
SENATOR KEITH SWANICK has collaborated with Alone, the charity that supports older people, to form the Loneliness Taskforce, an initiative to coordinate a response to loneliness and social isolation in Ireland.
The Loneliness Taskforce intends to increase awareness about the issue and to produce a set of recommendations for the government, state agencies and all policymakers.
The taskforce is made up of a range of people from the community and voluntary sector, nursing, sport, business, medicine, youth work, psychiatry and non-governmental organisations.
In January, Britain appointed a Minister for Loneliness, Tracey Crouch, to tackle what Prime Minister Theresa May described as "the sad reality of modern life" affecting millions of people.
In Ireland, Fianna Fáil Senator Keith Swanick has been speaking on the issue of loneliness in Seanad Éireann since October 2017.
Speaking to TheJournal.ie, Swanick said:
I have always tried to raise awareness of it because through my work as a GP I see these issues on a continuous basis. I don't want it to be seen as inevitable for people who go through loneliness as they get older. 
Swanick said he took inspiration from the late British Labour politician Jo Cox who was murdered in June 2016. Cox began a campaign called Happy to Chat and from there, a loneliness commission was set up.
"I'm not saying we need a Minister for Loneliness in Ireland, but I do think one of the Junior Minister posts should be allocated for loneliness," Swanick said.
Before Christmas, he formally proposed the idea of the establishment of a Loneliness Taskforce to both Taoiseach Leo Varadkar and Minister for Health Simon Harris. However, he said he received no response.
Since then, Swanick has teamed up with Alone and to form the taskforce.
The taskforce is currently collecting submissions and recommendations online and is due to publish a report in the coming months.
"We're going to compile all the submissions and publish the report. We're going to have short, medium and long-term recommendations," he said.
I want to bring awareness to us all, ordinary people, non-medical people, who could do better and look out for our neighbours and try to be more aware of the whole epidemic of loneliness, because that's that it is, it is an epidemic.
Prevalence of loneliness in Ireland
The issue of loneliness in elderly people is becoming more prevalent as the days go on, as the elderly population continues to increase.
#Open journalism No news is bad news Support The Journal

Your contributions will help us continue to deliver the stories that are important to you

Support us now
Census 2016 found that the 65 and over age group saw the largest increase in population since 2011, rising by 102,174 to 637,567 – a rise of 19.1%. The census also recorded 456 centenarians, an increase of 17.2% on 2011.
Over half a million (577,171) in this older age group lived in private households, an increase of 19.6%.
Alone CEO Sean Moynihan said: "Loneliness is one of the greatest public health risks today. One in every ten older people suffer from chronic loneliness, and the problem is now also prevalent in young people.
"Alone has been working to fight against loneliness in older people since 1977, however, the issue has been growing among all ages over the last number of years and we can't tackle it alone. This is why we have taken the lead with Senator Swanick to establish the Loneliness Taskforce.
We are asking all interest groups and other organisations to submit short-term, medium-term and long-term proposals that could make a significant change to the issue of loneliness in Ireland.
Further information about the Loneliness Taskforce can be found here.