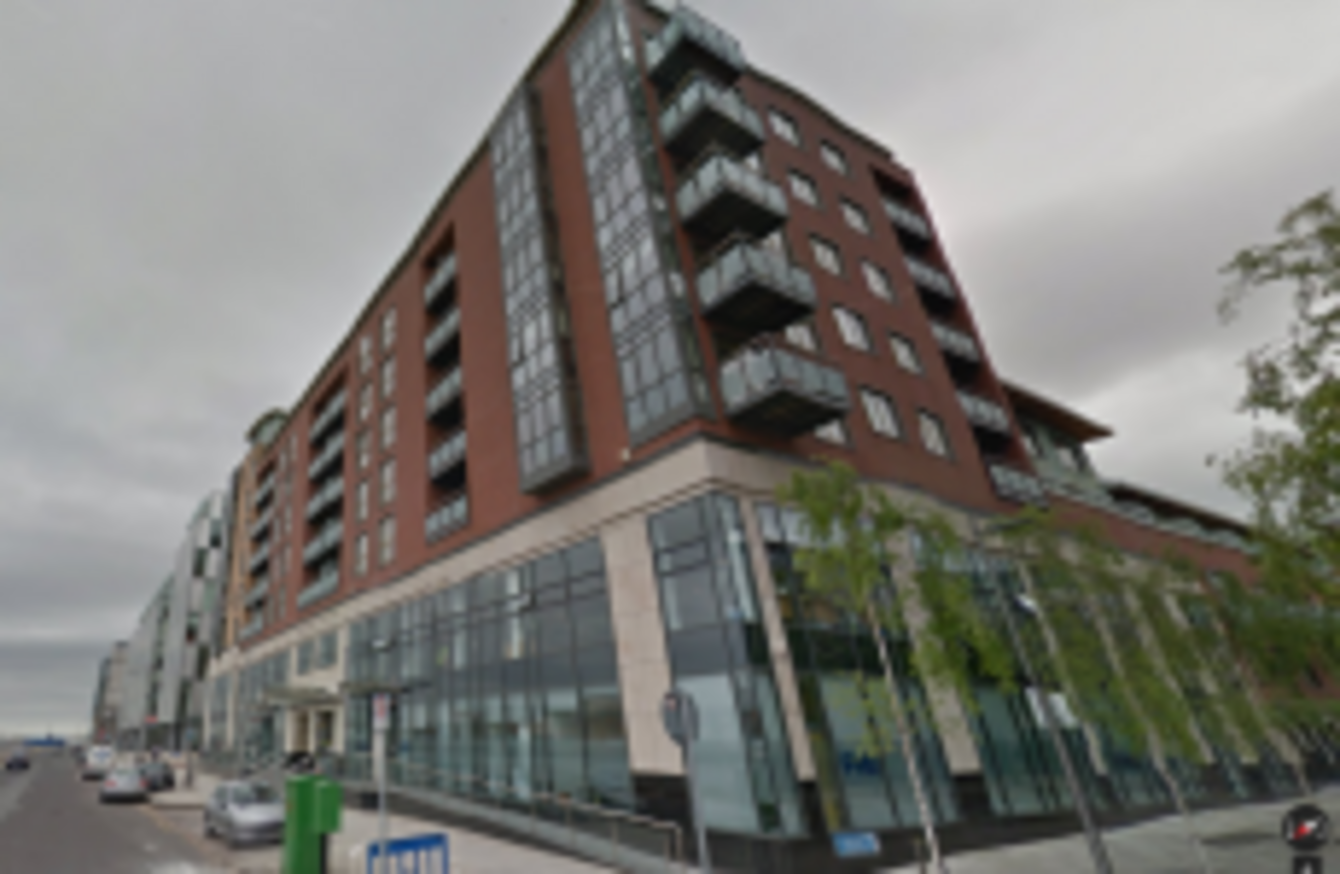 Image: Google Maps
Image: Google Maps
Updated at 11:10pm
RESIDENTS OF A modern apartment block in Dublin's docklands have been told to pay €4 million or face eviction.
The Longboat Quay apartments, built on Sir John Rogerson's Quay by developer Bernard McNamara, have major deficiencies with their fire safety standards. Residents were told at a meeting last night that it would take around €18,000 each to fix the problems in the 299 apartments.
The problems echo those experienced at Priory Hall in North Dublin, which is costing Dublin City €27 million to refurbish.
In an interview on Newstalk's Pat Kenny Show this morning, Richard Eardley, a resident and director of the Longboat Quay Management Company, said each unit may need to make a contribution of €10,000 to €18,000 if funding for the works is not forthcoming from either the building's receiver or the Dublin Docklands Authority.
Resident Paula Daly told Today with Sean O'Rourke on RTÉ One that residents knew about a potential problem 24 months ago.
"Apparently, going back to 2011, Dublin Fire Brigade gave the OK that everything was OK, but they came back two years ago and told us there was a problem.
Last night we got hit with the amount they're looking for everyone to pay. I'm in a three-bedroom duplex and they want €18,000. Myself and my husband have two children and we both work, but I don't know where we're going to get this money.
Paula said that residents were told that fire alarms were put into every room in the apartments two years ago, but now Dublin Fire Brigade says that work is required inside the homes.
Fire marshals were also put in place, providing 24-hour cover.
She said that evacuation is not being proposed and residents will be allowed live inside their homes while the work is ongoing.
"We're hopeful we can stay in the apartments, but the work could take up to nine months."
Call for intervention
Speaking in the Dáil today, Mary Lou McDonald TD called on the Taoiseach to personally intervene in the case. She requested that he ensure that Bernard McNamara "and those responsible are held accountable".
"They don't meet fire safety standards, they weren't built property and yet the developer, the builders, architects and the planning authority will not be penalised," the Sinn Féin deputy said.
"It's the owners who have been asked to foot the bill. Bernard McNamara meanwhile, having run up debts of €2 billion during the boom, is now I understand debt free and back in the property business."
Taoiseach Enda Kenny said that the problems in Longboat Quay are not the first such to be discovered saying they are a legacy from the "over enthusiasm" during the Celtic Tiger.
"Nobody policed the quality of the building that went into these houses," Kenny said before refusing to personally get involved.
"I'd like to find out more about it with the city council, and Minister for Environment, I can't give a judgement at this stage," he said, adding that there may be more cases like this out there.
McDonald then urged the Taoiseach to phone the developer himself.
"I think that you should raise the telephone to Bernard McNamara and the others responsible and the authorities and ask them to make good on that €4 million."
Kenny refused to do so.
"I haven't spoken to Mr McNamara in a number of years, I don't know if you've made attempts to speak to him yourself. I need to know more about whether there was a home bonded insurance scheme in this case or any other insurance scheme," he said.
First published at 12:05pm. With reporting from Rónán Duffy.