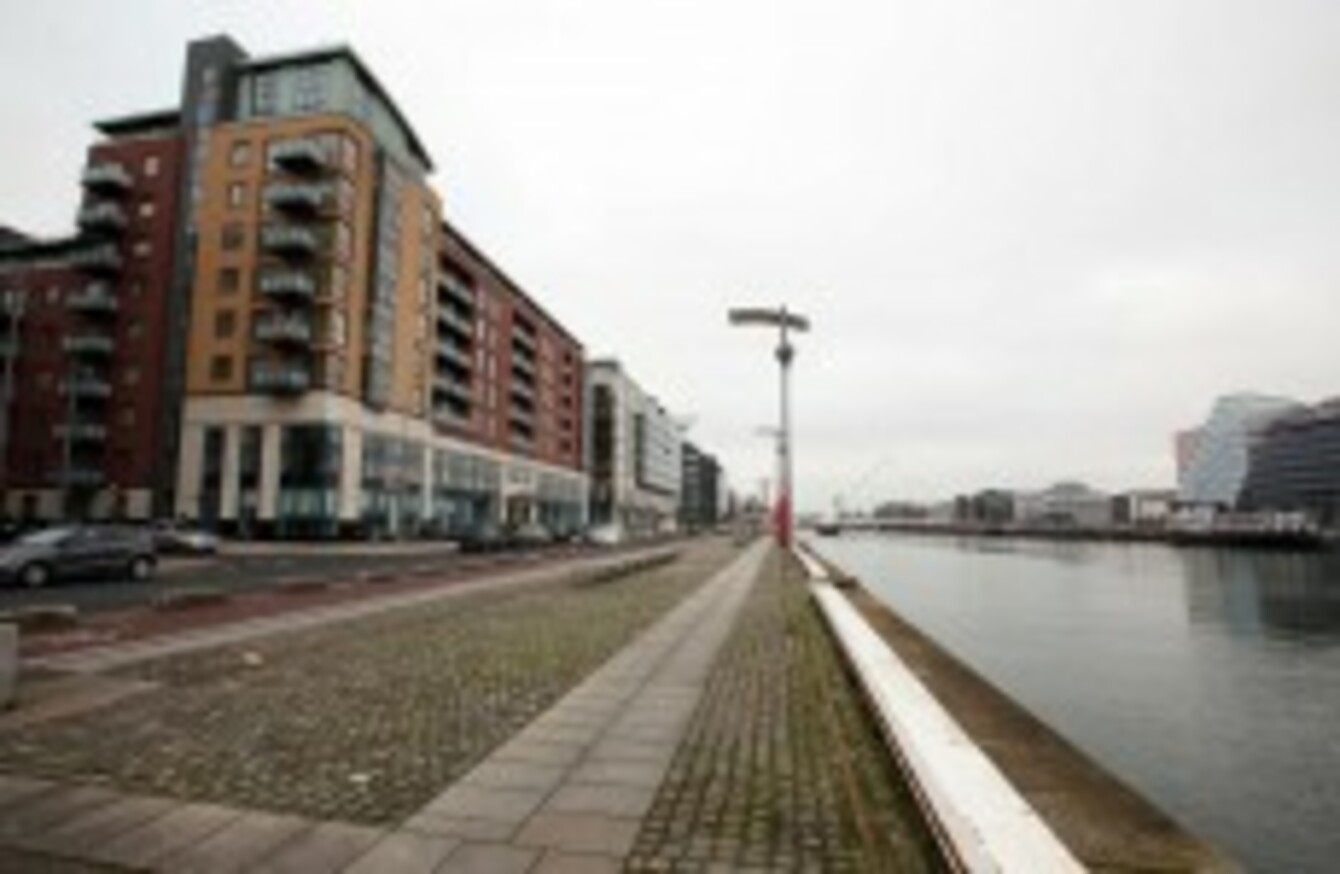 Longboat Quay, Dublin
Image: RollingNews.ie
Longboat Quay, Dublin
Image: RollingNews.ie
THE ARCHITECT BEHIND the Longboat Quay complex requiring over €4 million of fire safety works has insisted that it was constructed in accordance with building regulations.
Residents of the apartment block on Sir John Rogerson's Quay in Dublin were told last week to cover the costs or face eviction.
But Eugen Van Jaarsveld, who is now working in Ghana, told RTÉ's Liveline programme today that the complex passed a safety inspection after it was built and that he faced no pressure to cut corners during its construction.
Van Jaarsveld contested a Dublin Fire Brigade report that deemed fire separation between apartments to be inadequate, saying there was a "200mm concrete wall" between all units in the block.
Addressing other claims included in the report, which was based on an inspection by a senior fire officer, he added that the building's fire doors and smoke ventilation system met safety standards when he signed off on the project nine years ago.
Van Jaarsveld, who was an employee of developer Bernard McNamara's construction company Gendsong when he designed the complex, said that he still regards it to be "a very good building".
However, on the same show, consultant engineer CJ Walsh, who visited Longboat Quay with RTÉ reporter Brian Lally last week, said there was no doubt that it has major fire safety deficiencies.
Walsh told Joe Duffy that the building had been fitted with a fire detection and warning system designed to "suit a suburban semi-detached house, not an apartment in a complex in the centre of Dublin".
Most of the doors in each apartment looked fire-resistant but had no fire or smoke seals, he said, adding that he was "particularly concerned" about there being no door between the units' kitchen and living areas.
Walsh was speaking after a group of Longboat Quay residents threatened legal action against the Dublin Docklands Development Authority (DDDA), which they say should take greater responsibility for covering the costs of required works.
Last week, the DDDA together with the building's receiver confirmed a "formal final offer" of €2.75 million towards the repairs, which will cost €4.75 million.
However, some residents have argued that this offer includes nearly €1.25 million already spent on the installation of fire alarms, meaning they will still have to cover the majority of costs.
'No information'
Meanwhile, earlier today, McNamara denied having any information about the now-defunct companies he ran during the Celtic Tiger.
"Any company in which I had an involvement during the relevant period has ceased trading, been sold or been dissolved so I am not in a position to provide the information sought in any detail," he said in a written statement to the banking inquiry.
Last week, Nama CEO Brendan McDonough told the Oireachtas Public Accounts Committee that the state agency had already spent "millions of euro" fixing other properties built by McNamara.