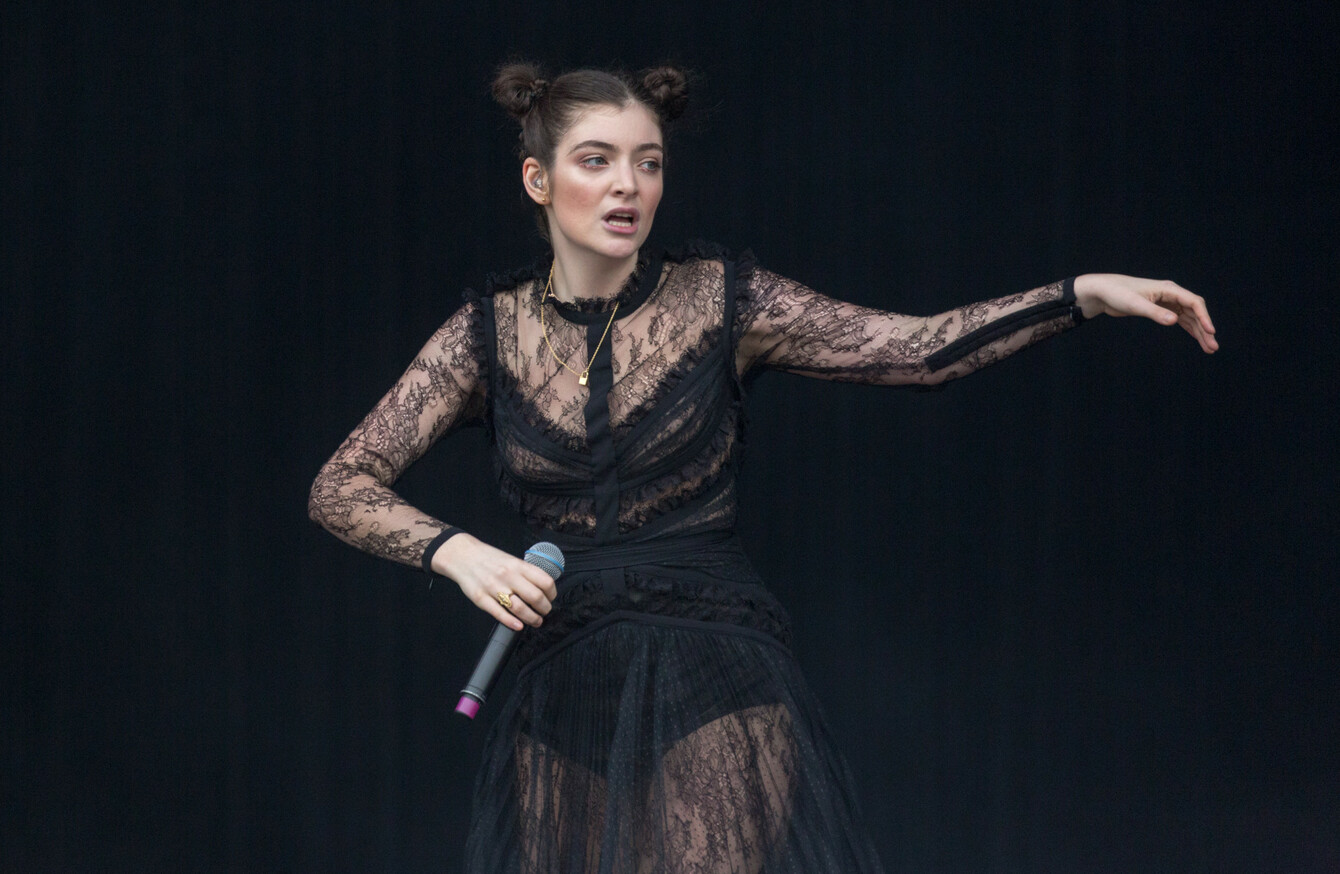 Image: imageSPACE/SIPA USA/PA Images
Image: imageSPACE/SIPA USA/PA Images
NEW ZEALAND MUSICIAN Lorde has been labelled a "bigot" after she cancelled an upcoming gig in Israel.
Lorde has been accused of joining a "a global antisemitic boycott of Israel" in a full-page advertisement taken out in the Washington Post newspaper by the outspoken US rabbi Shmuley Boteach's pro-Israel organsiation This World: The Values Network.
The advertisement appeared on page five of the paper's 31 December edition.
In it, there is a large photo of the popular Kiwi musician superimposed onto a picture of people running through rubble holding onto babies.
The picture has the headline:
Lorde and New Zealand ignore Syria to attack Israel.
It also contains a pullout quote which reads:
21 is young to become a bigot.
The body of the advertisement criticises Lorde as well as her home country New Zealand over the stance they have taken on Israel.
"While Lorde claims to be concerned with human rights, she hypocritically chose to proceed with her two concerts in Putin's Russia, despite his support for Assad's genocidal regime which has already claimed the lives of over 500,000 innocents, and Russia's own endless litany of human rights abuses," it reads.
The advertisement comes after Lorde cancelled a planned show in Israel after facing pressure from supporters of a boycott of the Jewish state over its occupation of Palestinian territory.
"I've received an overwhelming number of messages & letters and have had a lot of discussions with people holding many views, and I think the right decision at this time is to cancel the show," Lorde wrote in a statement distributed by Naranjah, the Israeli promoters of her Tel Aviv show.
"I'm not too proud to admit I didn't make the right call on this one," she said of the initial decision to perform in Israel.
I'm truly sorry to reverse my commitment to come play for you. I hope one day we can all dance.
The movement behind the pressure on Lorde is known as BDS – Boycott, Divestment and Sanctions – and says it is inspired by the campaign that targeted South Africa's apartheid regime and is seeking an end to Israel's occupation of the West Bank.
In July, BDS activists failed to get Radiohead to call off its show in Tel Aviv despite heavy pressure from artists such as Pink Floyd's Roger Waters and director Ken Loach.
Israel sees BDS as a strategic threat and accuses it of anti-Semitism – a claim activists firmly deny, calling it an attempt to discredit them.
A few politically active musicians have called off shows in Israel over the past years, including Lauryn Hill and Elvis Costello.
Rabbi Shmuley Boteach is regarded by critics in the US as a right-wing self-publicist.
He was heavily criticised in 2015 when he took out a full-page ad in the New York Times which accused then-president Barack Obama's national security adviser Susan Rice turning a blind eye to the Rwandan genocide in the 1990s.
He later rowed back  on this.
The advertisement also takes aim at New Zealand. It criticises the country's decision to vote last month in favour of a UN resolution to call on the US to withdraw its recent decision to recognise Jerusalem as the capital of Israel.
With reporting from © AFP 2018