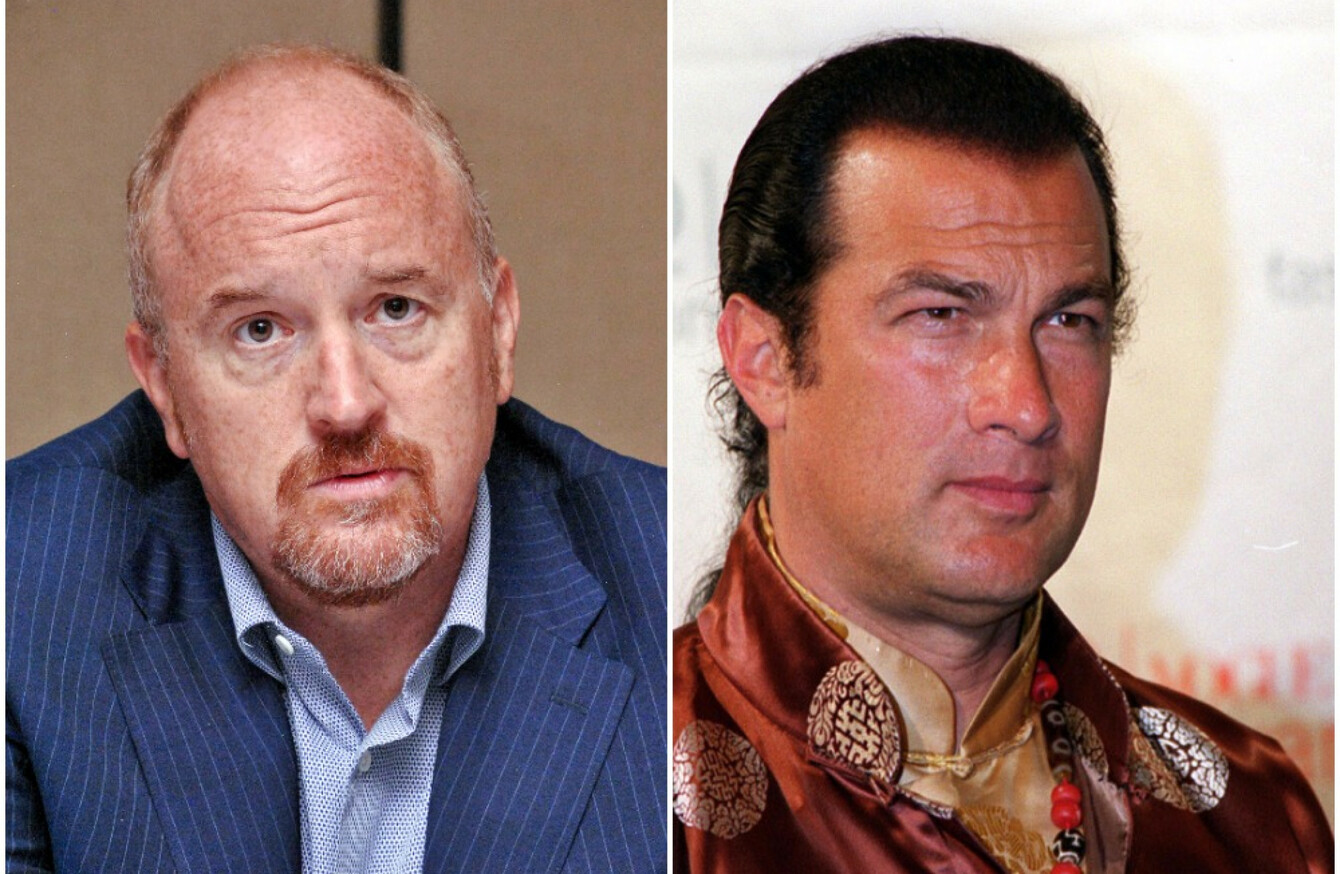 Image: PA Images
Image: PA Images
FIVE WOMEN HAVE accused US comedian Louis CK of sexual harassment, as he becomes the latest well-known showbiz figure to face such allegations.
Actor Steven Seagal has also been accused of harassment, as the Hollywood sexual abuse scandal widens.
The New York Times reported that a female Chicago comedy duo were invited by Louis CK to hang out in his hotel room where he then proceeded to take off his clothes and masturbate in front of them.
Three other women told similar stories to the paper. Actress Rebecca Corry said: "He leaned close to my face and said, 'Can I ask you something?' I said, 'Yes'. He asked if we could go to my dressing room so he could masturbate in front of me."
The women described a fear of speaking out, because of the perceived impact it would have on their careers.
When Dana Min Goodman and Julia Wolov said they witnessed the 50-year-old masturbating in the hotel room, they said they began to describe what had happened to others.
Barely a day later, they "could already feel the backlash" when the comedian's manager told them to stop telling people about the encounter.
Neither Louis CK or his representatives responded to requests for comment.
The comedian is also a director and actor, and has won numerous awards for his work.
A movie premiere of Louis CK's latest film was due to take place this evening, but was earlier cancelled before the publication of the New York Times story.
The film – I Love You, Daddy – is directed by the comedian. Its plot involves a successful TV producer who tries to prevent his 17-year-old daughter from falling for a 68-year-old film director.
Steven Seagal
Meanwhile, US action movie actor Steven Seagal was the latest Hollywood man to face mounting allegations of sexual harassment today, following the downfall of Harvey Weinstein and Kevin Spacey.
Portia de Rossi, the former Ally McBeal actress and wife of chat queen Ellen DeGeneres, accused the former martial arts expert and blues musician over an undated audition for a Seagal movie in his office.
"He told me how important it was to have chemistry off-screen as he sat me down and unzipped his leather pants," de Rossi tweeted late last night.
I ran out and called my agent. Unfazed, she replied, 'well, I didn't know if he was your type'.
DeGeneres retweeted the post to her more than 75 million followers saying: "I'm proud of my wife."
Seagal's representatives did not immediately respond to requests to comment.
#Open journalism No news is bad news Support The Journal

Your contributions will help us continue to deliver the stories that are important to you

Support us now
Julianna Margulies last week recounted an unpleasant encounter with the 65-year-old former 1980s star, whom she appeared with in the 1991 movie Out for Justice.
Margulies, who later shot to fame for her role in 1990s hit series ER, said a female casting director told her Seagal wanted to go over a scene with her in his New York hotel room at night.
Margulies, 23 years old at the time, said that when she arrived she found the actor alone.
"He made sure that I saw his gun, which I had never seen a gun in real life," she told Sirius XM radio. "I got out of there unscathed," she said.
Seagal's fame peaked in the late 1980s and early 1990s with films such as Under Siege and Above the Law, although he remains popular in eastern Europe.
He was last year accorded Russian and Serbian citizenship, personally collecting his Russian passport from President Vladimir Putin at the Kremlin.
In 2010, he was sued by a then 23-year-old former assistant who claimed he treated her as a "sex toy". She later dropped the suit.
With reporting from AFP