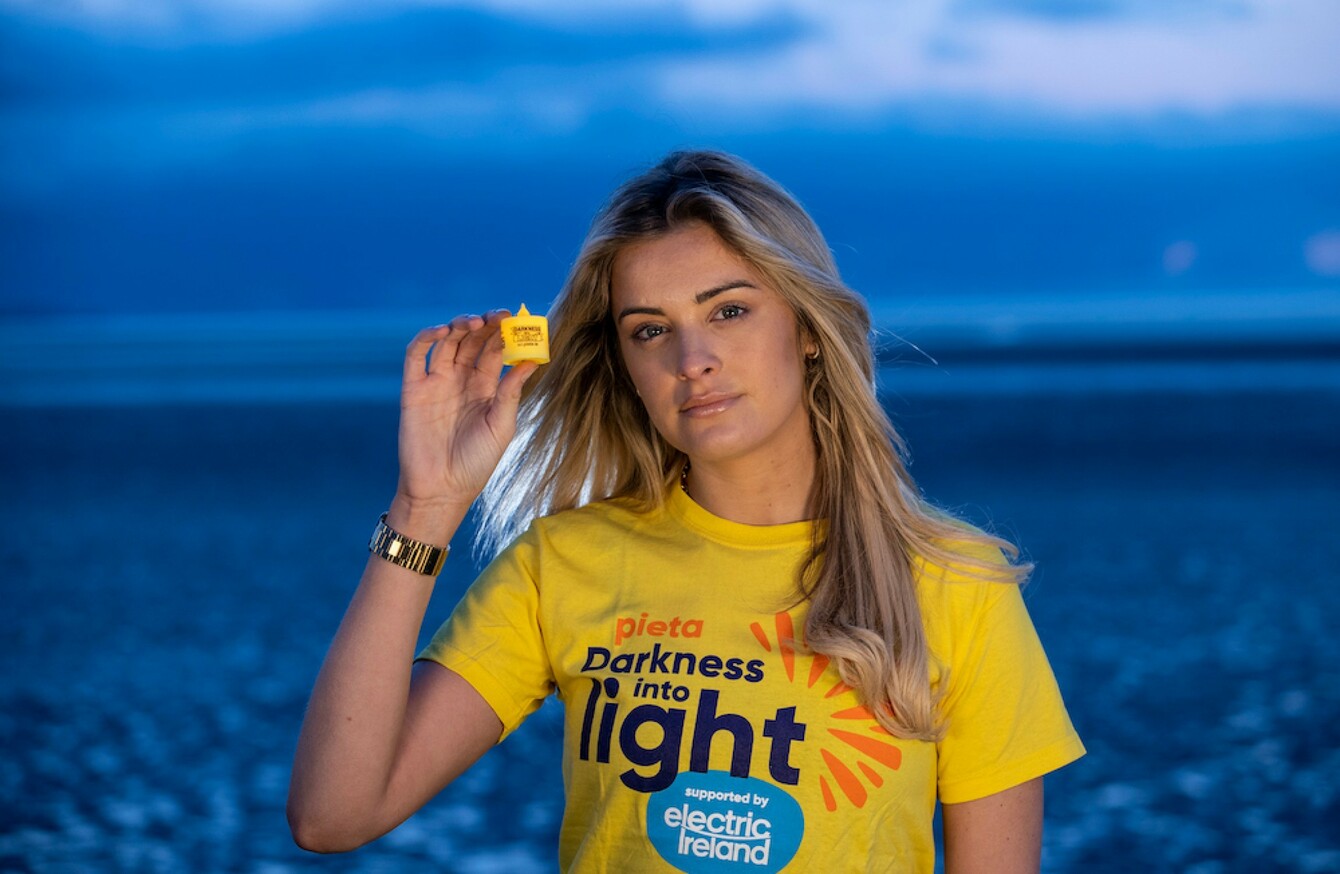 Louise Cooney
Image: Pieta/Andres Poveda
Louise Cooney
Image: Pieta/Andres Poveda
"YOU NEVER THINK it will be your family, you hope it won't be. But everyone struggles and it's so important to recognise the signs in yourself and in others."
Louise Cooney has always believed in the power of speaking openly about mental health, but that belief was brought into even sharper focus in August 2019 when she lost her cousin Nicky to suicide.
"Losing Nicky was devastating. It was so hard, particularly for his immediate family," she says.
Nicky was such a happy guy. He had everything going for him, but he was struggling and he didn't get the help he needed in time. Knowing what to look for and where to go for help is essential.
For Louise, Nicky's death highlighted something: talking about mental health and sharing your struggles isn't always easy, but it can save lives.
Importance of opening up
"I thought I was comfortable talking about those things, but this brought it to a whole new level. We need to become more at ease with getting help, checking in with our nearest and dearest, and having the uncomfortable conversations."
It was this realisation that prompted Louise and her family to hold a fundraising drive for Pieta last year. It was a way to honour a loved one, and also a way to make up some of the funds lost when the charity's annual Darkness Into Light event was cancelled due to Covid-19 restrictions.
As a regular attendee among the "sea of yellow t-shirts" at the Darkness Into Light walk in her home county of Limerick, Louise was well aware of the importance of the event in Pieta's fundraising calendar, and of the power of people coming together for a great cause.
Family fundraiser
"I set up a fundraising page last year, and my aunt, Nicky's mother, recorded a beautiful video. Losing a child is heartbreaking and I think people really empathised with that loss. In the end we raised over €90,000, which was amazing."
Louise is now an ambassador for Pieta, using her platform to raise awareness and to encourage people to share what they are going through. 
As well as the positive impact for the charity, Louise's work with Pieta has also created unique space for her family to pay tribute to their cousin, son and friend:
One of the most fulfilling parts of the work so far has been the conversation it has opened for my family. Suicide can be a difficult topic and people don't always know how to approach it. The fundraiser last year was a way for our family to talk about that topic, but also to talk about Nicky. It just makes it easier to open up.
This year, Louise will be one of many waking up for One Sunrise Together on May 8th. While people can't gather for the usual Darkness Into Light walks, households around the country are encouraged to share in something else: the hope and warmth offered by a sunrise.
Participants can sign up online at darknessintolight.ie and pledge to take on a sunrise walk, cycle or swim – or just spend a few minutes watching the sun coming up.
In the lead-up to the day, people are also encouraged to share their personal stories of finding hope in the darkness on social media, using the hashtag #DIL2021. You can see some of the Sunrise Notes already shared by Pieta ambassadors here.
Although Louise's routine this May 8th might be a little different to previous years, she's still looking forward to the early rise:
"Usually, my family would be preparing to do the sunrise walk from Thomond Park with a huge crowd, before heading back home for breakfast. This year, I'll head to the beach in Dublin with my roommate and we'll take a moment to reflect as we watch the sun rising.
"It's a very special reason to get up early. It's so peaceful, and it's important too – you're helping an Irish charity to support people who really need it."
Join Pieta on May 8th for a special Darkness Into Light sunrise, proudly supported by Electric Ireland. Let's show we're #BrighterTogether, by shining a light on those impacted by suicide and raising vital funds. While there are no organised walks this year, participants can walk, run, swim, hike, bike or simply share One Sunrise Together. Sign up at darknessintolight.ie.