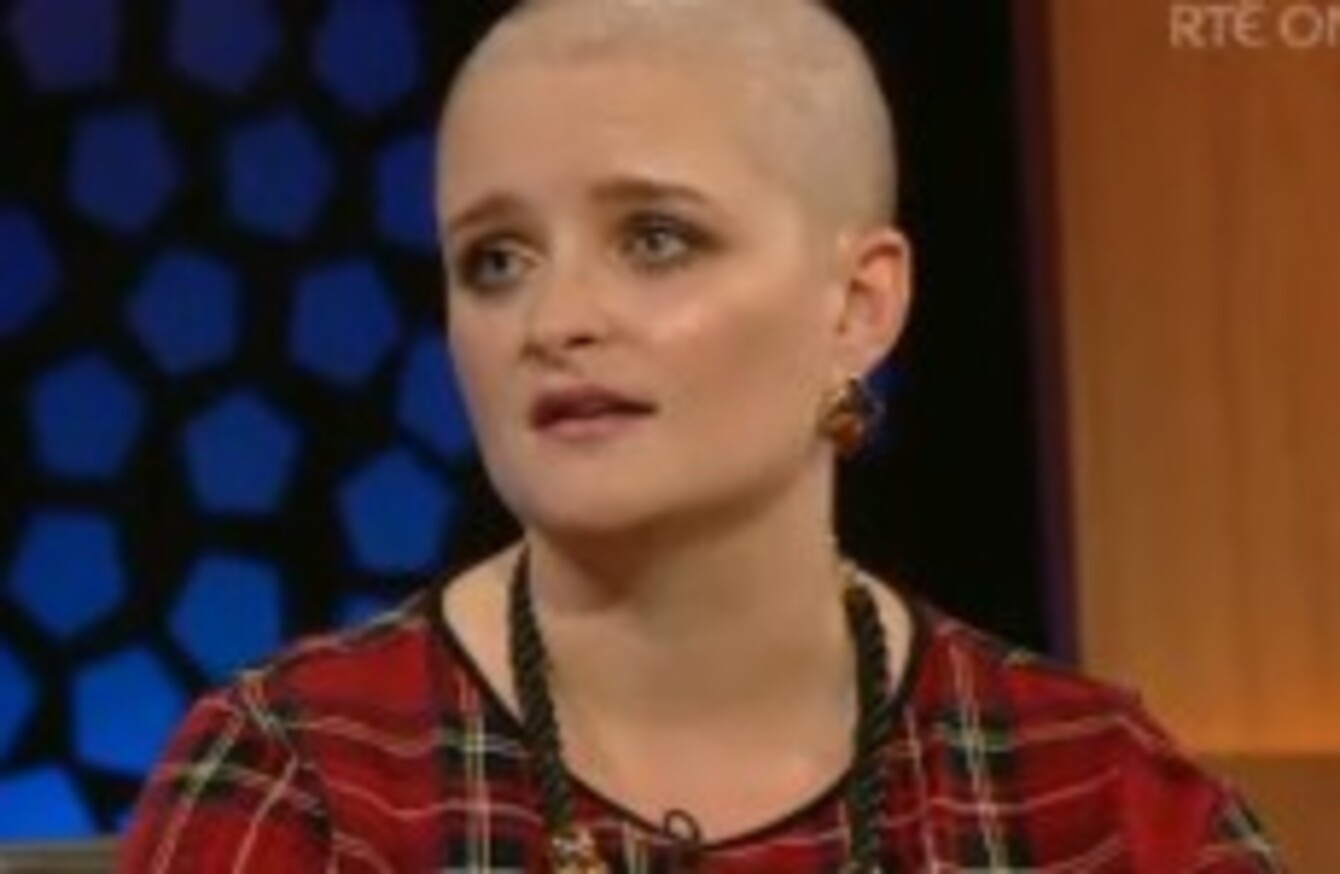 Louise McSharry on the Late Late Show this evening.
Image: Screengrab/RTE
Louise McSharry on the Late Late Show this evening.
Image: Screengrab/RTE
RADIO PRESENTER AND former DailyEdge.ie writer Louise McSharry spoke out about dealing with her cancer treatment on RTÉ's The Late Late Show.
Speaking to Ryan Tubridy, she talked openly about how she couldn't believe the news when her consultant first told her she had cancer.
Symptoms
After not feeling right for a few months, McSharry had her appendix removed but later developed an abscess after that. She said she then felt normal but when her period stopped and she started to have heavy night sweats, she knew something was not right.
"I thought it could be early menopause," said McSharry, who thought the symptoms must be a fertility issue, so she went to the doctor who investigated further.
McSharry said looking back, she was very concerned about the holiday her fiancé, Gordon, had to cancel as she was in hospital. "I thought, if I am going to cancel our holiday it better be something significant," said McSharry, who said she never thought it was going to be something serious, like cancer.
Diagnosis
When her consultant sat her down to break the news, McSharry said he was very straight, very direct, but was careful not to use the word cancer immediately. "I couldn't believe it, there were tears in my eyes," she said.
"I was really blasé through whole thing," said McSharry, who added that she pretty much immediately started telling jokes, which she put down to being a coping mechanism.
She said the doctor then left her and Gordon alone to talk, but she soon felt impatient as she wanted to know the details about what the next step was and how was she going to beat this.
McSharry said that like many people her age, she didn't know much about cancer, but is determined to be open about it all.
Curable cancer 
"There are good days and bad days," she said, adding that she is in a "very strong position" as she is young and healthy.
 I am very lucky, I have a curable cancer.
Speaking about chemotherapy, McSharry said she only recently heard that her treatment is working.
Due to get married next August, McSharry said she never once considered delaying the wedding.
"I never considered the option," she said.
She is going to do her six months of chemotherapy, she is going to get better and she is going to get on with her life, she said.
All of us at TheJournal.ie, DailyEdge.ie and TheScore.ie would like to send all over love and best wishes to Louise. You are truly an amazing lady.