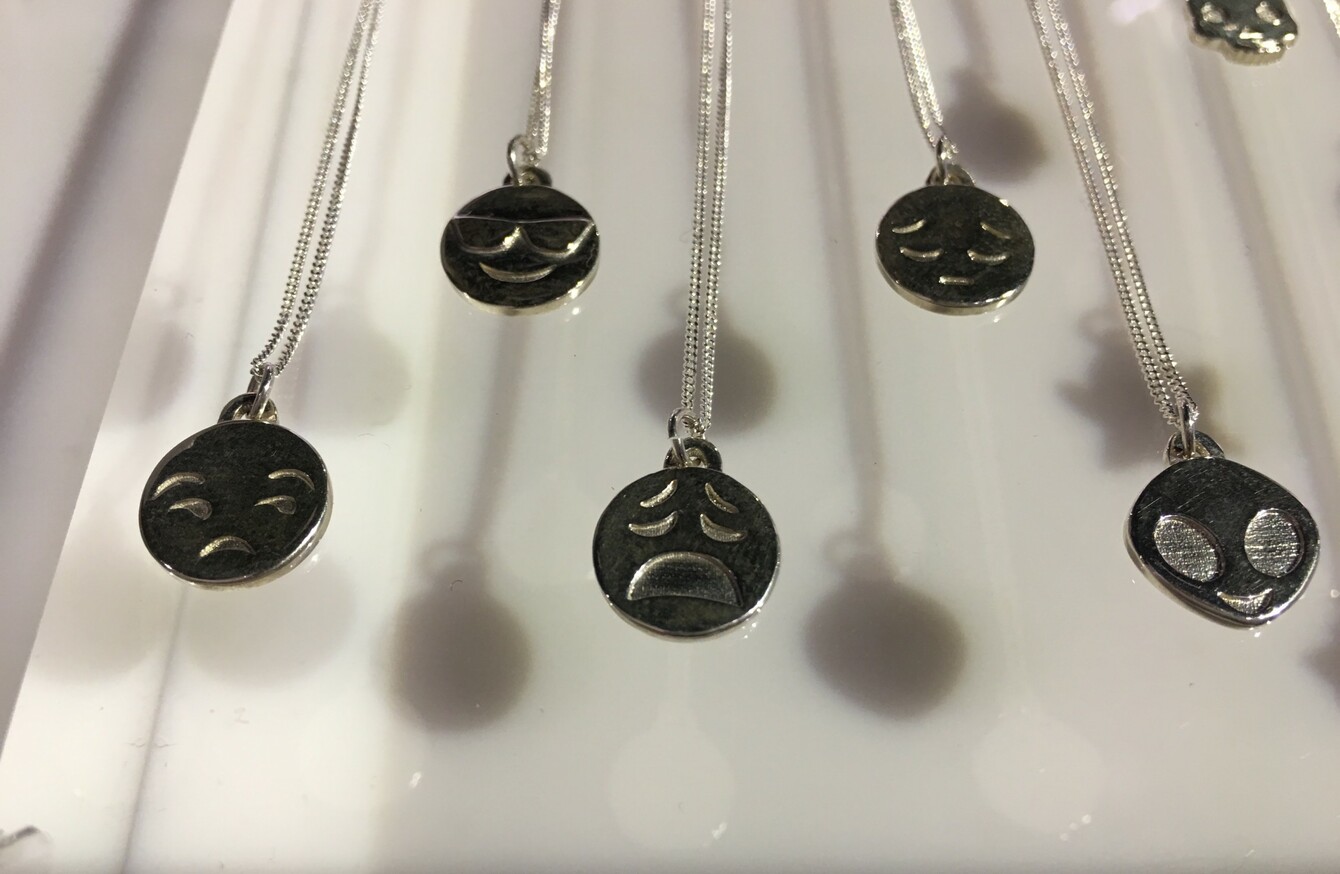 Some of the custom emoji necklaces printed at Love & Robots.
Some of the custom emoji necklaces printed at Love & Robots.
WITH SO MANY shops and retailers moving to online, it can seem a bit strange to open up a physical store after it. When you're online, your reach is better, the costs of setup and running are much lower, and it's easier for the consumer who doesn't have to leave their home to access.
Yet having a physical store does have its benefits. For one, you get to see products in the flesh, and if you're offering things that are heavily changeable like Love & Robots, a 3D printing startup specialising in custom jewellery and accessories, it brings with it a few other advantages.
Founded by sisters Emer, Kate, and Aoibheann O'Daly as well as Miguel Alonso, the startup prints customised trinkets through selective laser sintering (SLS) printing, a method that uses a laser to heat material and form it without melting it. The method allows it to 3D print customised necklaces, earrings and bowties among other things, which you can change the shape or design.
Having started out as an online-only entity, the startup has been experimenting with a temporary shop located at Fumbally Exchange in Dublin city centre, having opened it back in October.
While it's much easier to set up an online store, having a physical store does help with its profile and the approaches it can take.
"It's an amazing billboard for the company and for what we do," says Aoibheann O'Daly. "For some people, they might have heard of us, they come in and we can show them exactly what we can do …  but we also attracted a whole new bunch of customers who never heard of us before.
The store in question is rather spacious. Granted the items on offer are small in comparison, but that's down to the current limitations of 3D printing right now ranging from the speed of printing, the cost of materials needed, and the fact that the software needed can't handle large items.
While things in the area are improving, the fastest printing time is an hour for a standard nylon necklace while a custom gold/silver version would be done within a week.
Yet something that O'Daly found is how some people didn't realise what 3D printing allows them to do. Since it's not a traditional manufacturing method, it means that different shapes and designs can be experimented with.
So think boxes within boxes and joined up combinations that wouldn't be possible with traditional manufacturing methods and you get the idea. It also allows for personal names and words on necklaces with O'Daly saying how some have asked for Instagram handles and rude words, the latter an inevitable consequence of personalisation.
#Open journalism No news is bad news Support The Journal

Your contributions will help us continue to deliver the stories that are important to you

Support us now
The customisation part comes from a modified version of its site, displayed on iPads around the store, which allows them to adjust the bend, twist or pattern of whatever they're buying.
Most of the time, they're creating items that have never been created before due to the amount of customisation but there's still an audience who like to buy an item as it is.
"We try to do things that would be difficult to mass produce," she explains. "They can choose the exact degree of twist and bend [but] we make a real effort to create the pieces in such a way that even if you buy them as they are, they're well designed and they're something people really like".
A lot of people did come in around Christmas and most of the things we sold were customised necklaces and bow-ties but we realised we needed a few things because people just like the designs so it's a bit of both.
The shop is in its last week in Fumbally Exchange – its last opening day is on the 13th giving it time to offer some Valentine's day-themed gifts – but the startup is already thinking about where it's going to go next. O'Daly says they're in talks with a few places in Dublin city centre about opening up a new shop but there's also an eye on what's further afield.
"We're currently looking at a new space [in Dublin but] … our big plan for this year is to open up pop-up shops in London and other cities," she said. "London being close to us makes it a lot easier to do the first one there".