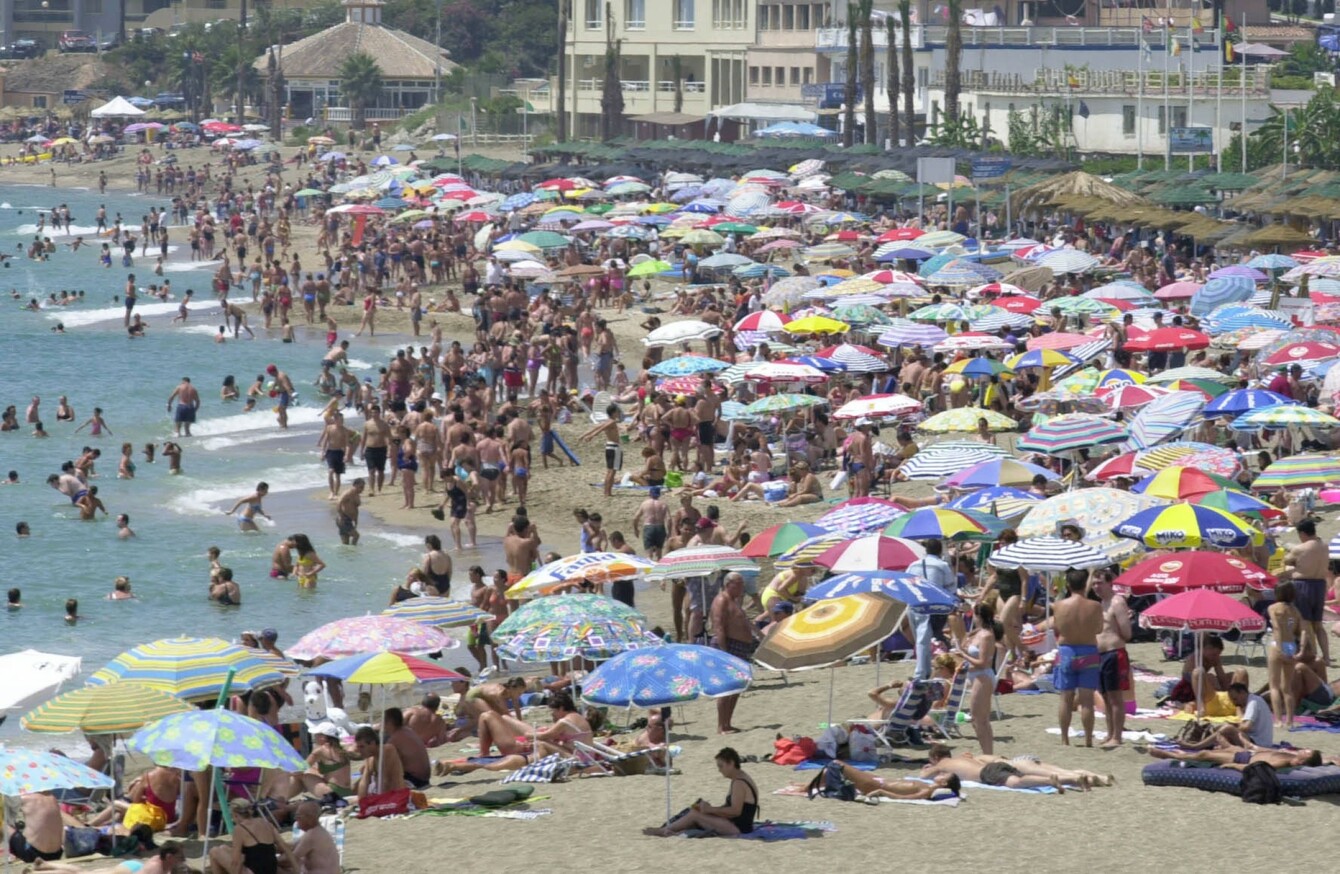 File photo of a crowded beach at Benalmadena on the Costa Del Sol in Spain.
Image: PA Archive/Press Association Images
File photo of a crowded beach at Benalmadena on the Costa Del Sol in Spain.
Image: PA Archive/Press Association Images
TEN OF THOUSANDS of holidaymakers have been affected after budget holiday operator Lowcostholidays went bust yesterday.
A statement on the operator's website has advised customers that the Low Cost Travel Group (LCTG) ceased trading yesterday, "following exhaustive attempts by the group's directors to rescue the group".
UK accountants Smith & Williamson were appointed as administrators of the travel operator.
In a statement, the administrators said that there were about 27,000 customers currently at resorts and a further 110,000 who had booked trips but hadn't travelled yet.
The operator was based in Spain, but the majority of its customers came from Britain. It has offices in the UK, Spain, Switzerland and Poland.
It has an Irish website and Facebook page and is a popular provider among Irish holidaymakers.
The company said in its statement that flights booked for people who were already on holidays should still be valid, but that customers may have to pay again for hotels and other services booked through the company.
Smith & Williamson said that some people who hadn't already travelled would have problems regarding their flights not being paid for.
"All flights as regards those currently in resorts have been paid for and hence customers will be able to fly home when their holidays are over," the administrator said.
Unfortunately, as regards customers who have not travelled, a small number will have problems as regards their flights not having been paid for, and many will have problems as regards their hotel rooms not having been paid for.
Customers are advised that they will have to pay again for services and either reclaim the money on travel insurance, contact the Spanish travel agency regulator (www.caib.es), or try to have the money returned through their credit card provider for services not received.
Anger
Irish customers have taken to the company's Facebook page to express their anger and frustration over holidays they booked and paid for not being honoured.
"What good is having the flights when you don't have transfers or a hotel," one woman wrote.
I feel sick about the whole thing.
"Made my booking at 3.30pm yesterday," said another.
We have lost all our money. We are travelling in 2 weeks' time.
The company states that it can no longer be contacted as it has ceased trading.
Customers are advised to contact the administrator if they wish to process a claim against the company.
The Guardian reports that the majority of its 451 staff have already been made redundant.
Finbarr O'Connell of Smith & Williamson said the Brexit referendum and other factors had led to the company's downfall.
"The group experienced significant market headwinds in the run-up to the EU referendum as holidaymakers delayed decisions," the Guardian reports him as saying.
"This was compounded by the leave vote itself and the subsequent fall in value of the pound.
We are planning to meet with the appropriate Spanish regulators and authorities to investigate what compensation may be available to customers who have lost money due to this collapse.
The Irish Commission for Aviation said that it was aware that the company had gone bust and that it was licensed and bonded with the commission.
"The Commission is endeavouring to find out the extent to which this affects Irish customers of Lowcostholidays Spain," the commission said.
Irish customers who booked with Lowcostholidays Spain should note that the company is licenced by and bonded with the Commission and that details of how to claim, and who should claim, against the bond will be posted early next week.