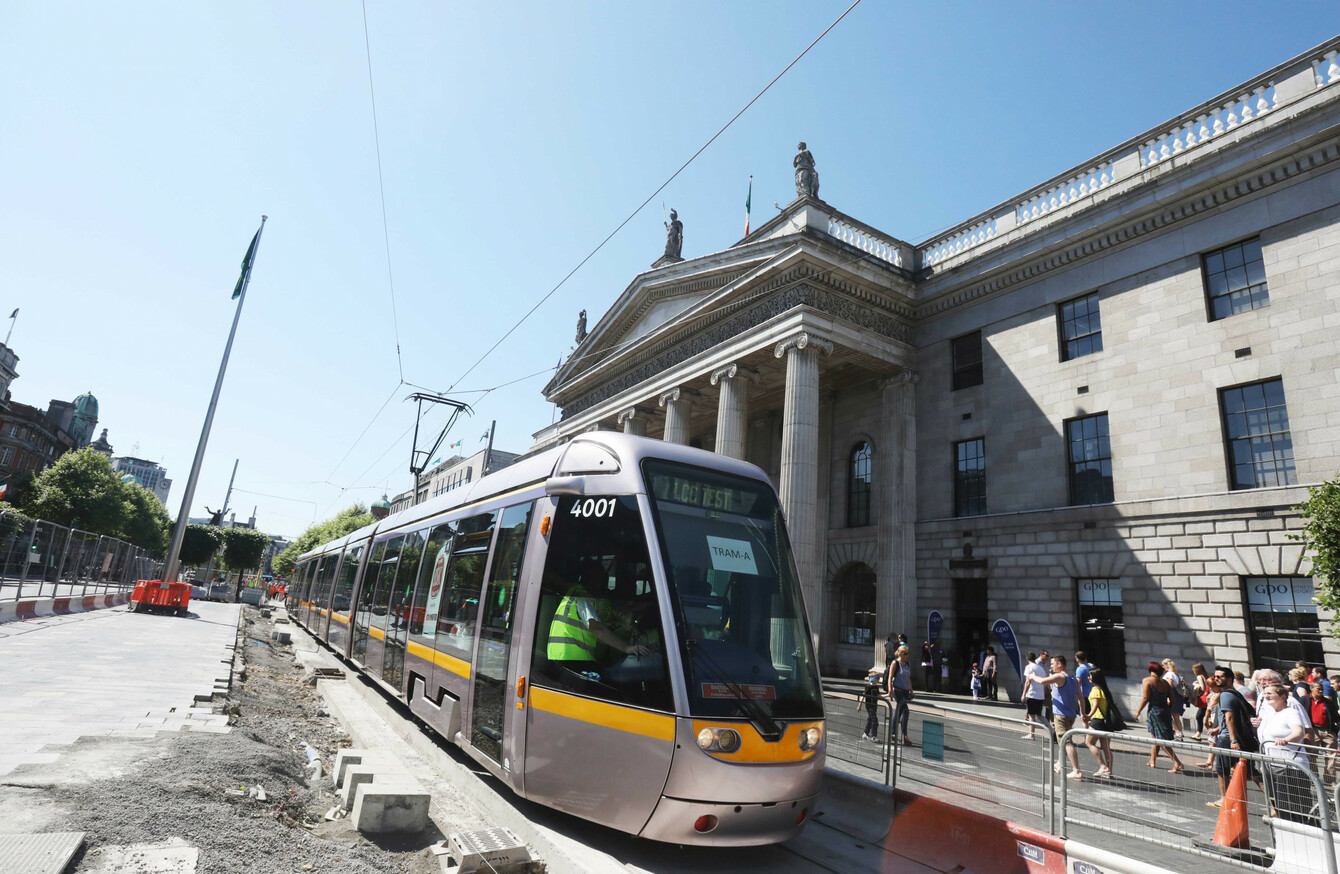 Image: Leah Farrell via Rolling News
Image: Leah Farrell via Rolling News
COUPLED WITH FROSTY weather, the Luas Cross City caused major rush hour traffic disruptions in Dublin city centre this morning due to a signal failure.
The Luas Cross City is a huge infrastructure project, one that took almost three years to complete.
This morning marks the first weekday morning of the tram in operation in the city centre and road users along O'Connell Street, College Green and Dame Street have experienced significant delays as a result of the signal failure.
Speaking to TheJournal.ie, Sean O'Neill from Transport Infrastructure Ireland said that the failure "couldn't have happened at a worse time".
"Everything was going fine in the early hours of the morning and then there was a traffic failure that caused significant problems," O'Neill said.
"You had ice and freezing temperatures, it caused disruption to other transport networks and then the signal failure complicated everything dramatically."
The failure saw a backlog of Luas trams along College Green and Dublin Bus at a standstill.
Sean O'Neill from Transport Infrastructure Ireland apologised for this morning's disruptions and told TheJournal.ie that they are working to resolve the signal failure.
"We're asking everyone to please be patient as we realise that this is a difficult commute and it's causing a lot of frustration. All hands are on deck trying to resolve it.
When asked by TheJournal.ie if road users can expect not to run into difficulties like this morning again this week as a result of Luas Cross City, O'Neill said: "We're trying to resolve the matter right now. I can't predict the extent of the issue until it has been investigated."
Road users were frustrated with this morning's situation, with many complaining about significant delays on social media.
https://twitter.com/davegkelly/status/940154492808564736
https://twitter.com/ColmKeav/status/940153174849187845
https://twitter.com/Dotknee/status/940152019876184064
https://twitter.com/BiddyEarly/status/940148748038139904
Taoiseach Leo Varadkar was 10 minutes late to the launch of the National Patient Experience Survey in Dublin this morning.
Speaking at the event, Varadkar said that the traffic in Dublin West was terrible.
"I hope that's the result of the bad weather, and not the new Luas," he said.
Spokesperson for Rail Users Ireland Mark Gleeson told TheJournal.ie that the Luas Cross City traffic sequencing will need to be reviewed before improvements are seen.
"There are issues with the traffic light sequencing as the trams cross the core city areas, particularly the college green and O'Connell street area.
The trams are being brought to a halt, moving for 10 seconds and getting to the next set of lights and being brought to a halt again.
"Clearly there's some work that needs to be done to optimise the flow and reduce delays."
However, Gleeson said that as Luas Cross City is such a large piece of transport infrastructure, road users will have to adapt to it and make adjustments to their journeys as the trams are integrated into the city.
"Unfortunately, with 350 people on board, it is going to have a degree of priority over other road users so it is going to cause some disruptions to other road users.
"The issue at College Green isn't helped by issues with Dublin Bus, they have issues with how fast they can load and unload people," he said.
They've done months of testing, everything has run smoothly so far, there has been no issues mechanically with the service itself, it just takes time for everyone to get used to the system and get used to the change and people will change their travelling habits.