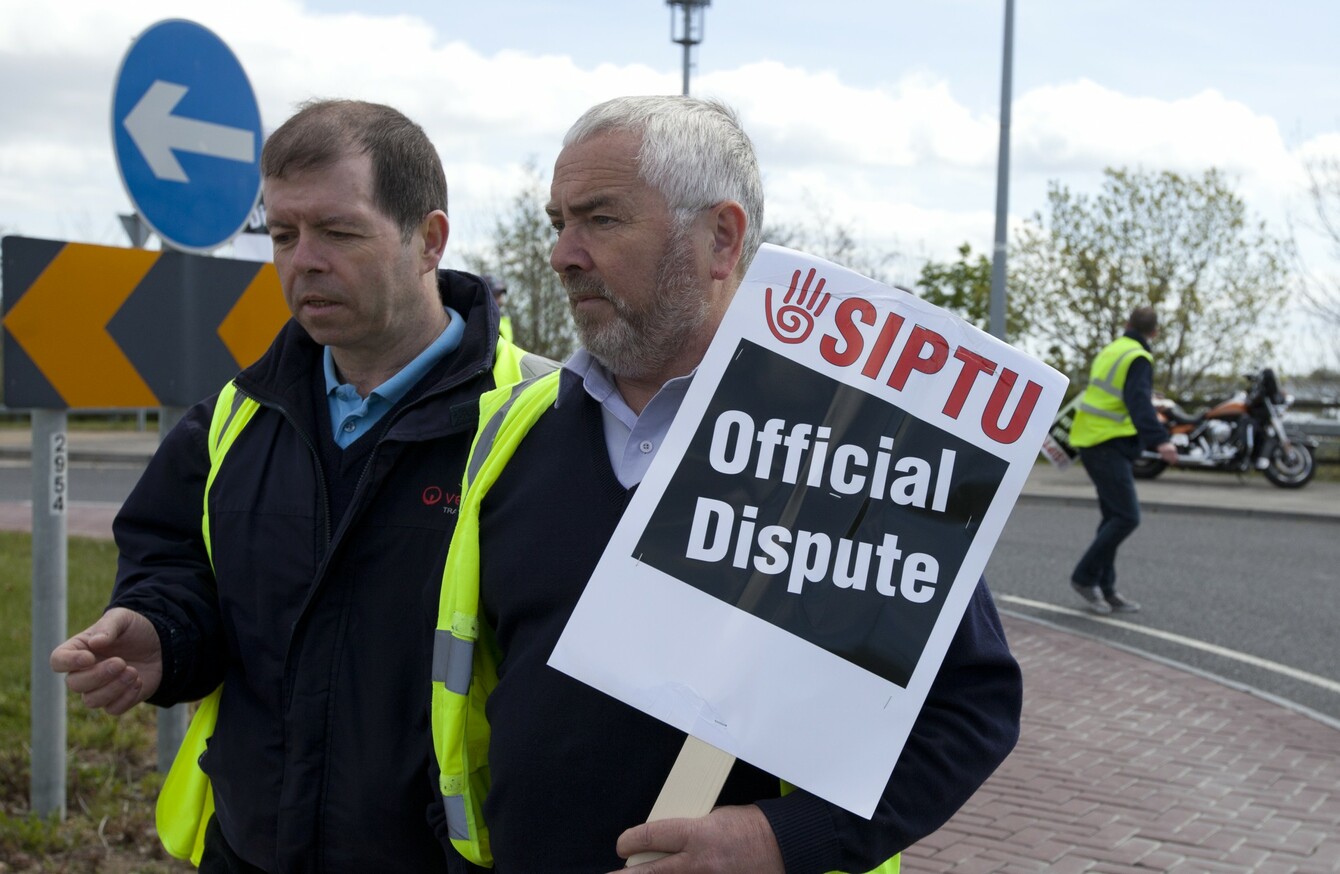 Image: Eamonn Farrell
Image: Eamonn Farrell
IT'S BEEN ONE of the biggest stories of the year and it shows no signs of a resolution.
The ongoing Luas dispute continues to cause headaches for commuters, with more strike days planned this month and next.
Workers are looking for better pay and conditions, including improvements to sick pay, shift durations, pension arrangements and overtime rates.
Negotiations have been very on-off in recent months, with no end in sight.
In the latest twist, Transdev has suspended the sick pay scheme for Luas workers and warned drivers if they proceed with planned four-hour stoppages due to take place in the coming weeks they will be docked a full day's pay.
The absence rate for drivers is currently running at approximately 12%, compared to an absence figure of about 4.5% last year.
Siptu organiser Owen Reidy told Today with Seán O'Rourke Transdev's behaviour is forcing workers to continue their action.
"All they are doing is pouring fuel on the fire and making a difficult situation worse," he said.
In reply, Transdev's managing director Gerry Madden told the News at One the company had made drivers "very reasonable offers" and is "trying desperately to do a deal and be reasonable".
As members of the public face the prospect of more service disruptions, we take a look at some of the key events that have taken place in the dispute so far this year.
January
Luas drivers voted overwhelmingly in favour of strike action, with a Siptu representative saying that 24 or 48 hour stoppages were "quite likely". Some 221 of the 223 employees who took part in the ballot voted in favour of industrial action.
Drivers were essentially seeking pay parity with Irish Rail drivers. Currently, the top Luas salary after 10 years of service is around €42,000. Siptu was calling for an increase in the starting salary to €35,000 – up from €32,000, rising to €60,000 after 10 years.
Reidy said at the time: "In talks over the last 18 months, Transdev has failed to offer an increase in pay for the next five years to Luas workers. The company position in talks in all forums has been that it will only offer pay increases in line with the Consumer Price Index (CPI).
The CPI is currently, and has been for some time, a negative figure. This means that unlike 96% of other companies across the state Transdev is not prepared to pay any increase in pay in excess of that attached to workers existing conditions of employment.
Transdev, however, said that the Luas drivers' demands were unreasonable.
The claims being pursued by Siptu on pay alone are between 8.5% and 53.8% depending on the pay scale, and would cost Transdev €30 million over the five years of the Luas operating contract – €6 million per year. This is at a time when Transdev finds itself in a loss making situation. The loss incurred by Transdev in 2015 was €700,000 and we are predicting further losses in 2016.
Luas drivers served strike notice for four days in February.
Talks between workers and the company in the Labour Relations Commission (LRC) broke down at the end of January.
February 
Transdev told workers who are taking part in strike action they will have wages for up to four days docked from their pay packets.
The Workplace Relations Commission (WRC) asked both sides in the dispute to come in for separate negotiations.
Kieran Mulvey of the WRC told Morning Ireland that seeking a pay rise of 53% was "unusual, to be blunt".
Mulvey said everyone is losing in the situation – drivers are losing pay, the company is losing revenue and 90,000 commuters are "struggling to get to work" every day the strike continues.
He backed up then Transport Minister Paschal Donohoe who had said it was not his place to intervene.
March 
A planned strike for 8 March is called off.
Both sides attend talks at the WRC in a bid to avert three further planned stoppages on St Patrick's Day, Easter Sunday and Easter Monday.
Luas employees reduced their pay claim significantly. (They are now looking for a pay rise of 27% (down from 53%) which would see a salary increase of circa €13,000 to about €55,000 over the next five years.) Transdev said the revised demands are still beyond the company, but form the basis for further discussion.
The company cancelled plans to operate a private bus service on St Patrick's Day after unions described the tactic as "scab labour" and "Thatcherite".
The St Patrick's Day strike was called off as talks continued.
Luas strikes go ahead on Easter Sunday and Monday, when state commemorations to mark the centenary of the Easter Rising are taking place, after workers reject WRC proposals.
Reidy said Siptu had compiled feedback from members in the driver grade as to why they have rejected the proposals, including the following:
Drivers did not want to accept a new pay scale that leaves new entrants on lower pay than current staff;
Drivers are of the view that the productivity sought in the proposal was disproportionate and vague in the case of the Luas extension;
Drivers also expressed concern that they did not trust how management would implement such productivity measures.
April
A war of words broke out between Mulvey and Siptu chief Jack O'Connor.
Mulvey told Morning Ireland most union representatives would get a "standing ovation" if they returned to their members with the proposals put forward by Transdev.
O'Connor said Mulvey's remarks "demonstrated his bias" against Siptu and rendered him unsuitable to mediate the dispute.
A Claire Byrne Live/Amárach Research poll found that 80% of people did not support the industrial action, while just 12% of people support the strikes and 8% said they don't know.
Richard McCarthy, a Luas driver and shop steward, told TheJournal.ie Luas workers were being unfairly portrayed as "greedy hounds".
"This isn't a pay claim, it's a negotiation. It's the only forum we have every five years to change pay and conditions. This round of negotiation was supposed to begin in 2014. But the company delayed and then entered into protracted negotiations.
They've known for a long, long time that this was coming, even if the public has only really been aware since February.
One of the planned stoppages was called off to facilitate more talks.
Negotiations on a deal broke down after Transdev balked at a 26.5% claim by drivers. The three other grades at the company voted to approve a 13% claim.
Drivers have their pay cut by 10% for continuing a work-to-rule protest alongside strike action.
May
Strikes continued in May, with further action planned for later this month and June. Some of the stoppage times were changed to avoiding impacting students sitting the Leaving and Junior Cert.
Shane Ross, the new Transport Minister, said he won't get involved in the ongoing dispute.
Speaking on the Marian Finucane show on Saturday, Ross said his department is monitoring the dispute between drivers and operator Transdev but is "not going to do anything about [it]".
"The Luas strike is not something which a minister … can or should get involved in."
He added that this is "a private sector company in a dispute with its staff" and he's not going to "take out the state's chequebook" to resolve it.
Later that day, on Saturday with Claire Byrne, Siptu's O'Connor said it's not true that the government can't intervene.
There's no one looking for [Ross] to use the state chequebook, we understand perfectly why that's not an option.
"He said he neither can nor should, but he actually can or at least the government can, without taking its chequebook with it," O'Connor said, referencing section 38 of the Industrial Relations Act 1990.
He said the new jobs minister, Mary Mitchell O'Connor, could ask an outside body such as the Labour Court to intervene if she believes it's in the public interest.