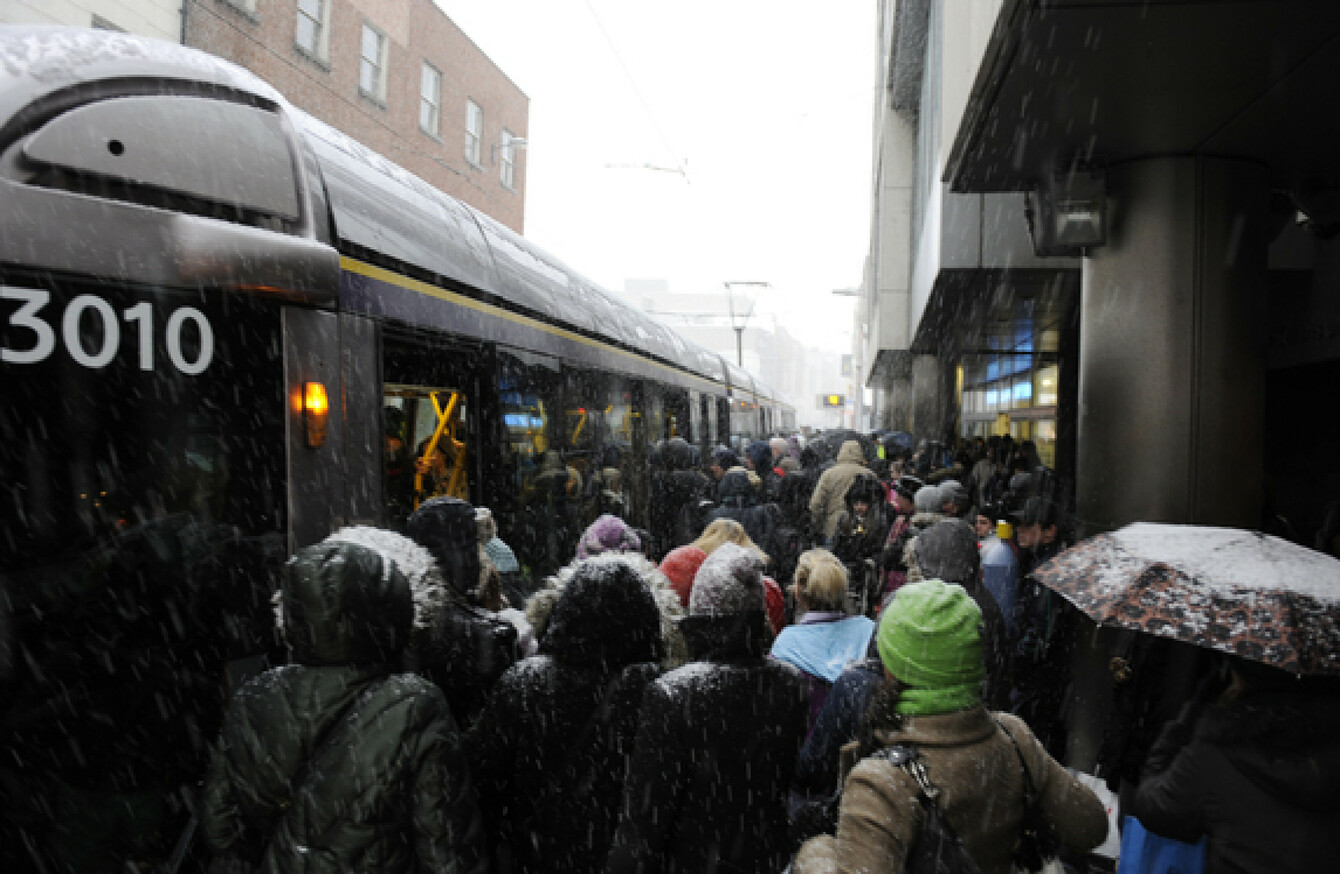 File Photo
Image: Sasko Lazarov via RollingNews.ie
File Photo
Image: Sasko Lazarov via RollingNews.ie
LUAS COMMUTERS ARE reporting long waiting times for trams in the mornings since the new Luas Cross City came in.
Other traffic is also affected, with increased traffic congestion being reported in the run-up to Christmas.
Fianna Fáil's Robert Troy said: "Traffic gridlock has hindered road users including bus passengers and cyclists and has led to significant disruption right across Dublin City.
This problem was entirely predictable and it's shocking that Minister Ross lacked the foresight to put in place a joint operation to help alleviate traffic congestion.
When questioned about the massive delays for people trying to get on packed Luas trams, a spokesperson for the Department of Transport said: "Teething difficulties are to be expected while that familiarisation process takes place.
"While it is welcomed that so many new customers are using the extended Green Line, it has meant that some trams are operating at capacity. This will be alleviated early in the New Year when seven new 55 metre long trams will be brought into service on this line."
However, Luas users have reported being unable to get on a Luas in the mornings as tram after tram is completely packed.
One commuter told TheJournal.ie, "I get the Luas to work every morning, it can sometimes be packed at busy times and I understand that. I don't mind being a bit uncomfortable as long as I get to work in time.
"Occasionally I wouldn't be able to fit on a Luas because it was so packed and I'd have to wait for the next one but it has become a nightmare since the cross city line started.
On the very first morning the new line came in, I couldn't get on the first Luas. It was packed beyond anything I have seen before so I waited for the next one… all in all five trams passed before I could eventually manage to get on one.
"I was 25 minutes late for work and that's pretty much been the way since it came in. It sound like a massive exaggeration and I wish it was, but it's not at all.
"I have to leave 30 minutes earlier in the morning and battle my way on. I just think this should have been organised better before Christmas, it's all well and good saying it will be better in January but it's horrible for people trying to start their day every morning."
The spokesperson for the Department of Transport said, "With the introduction of the new Luas service through the city centre and onwards to Broombridge, many new users have been attracted to try out the new service.
While the Luas lines would always be busy at this time of year, it is particularly so at the moment, with additional commuters, shoppers and many people trialling the new service.
"The introduction of a completely new tram service into Dublin City Centre requires a period of 'bedding in' while all road users get familiar with, and adjust to, the new trams travelling on the central streets.
"Car drivers, bus drivers, taxi drivers, cyclists and pedestrians all have to acclimatise to the new street environment and the new traffic layouts."
Troy added, "It's important to note that the start of Luas Cross City services has had a negative impact on other forms of public transport in the city.
"Bus passengers who rely on services that travel along the quays and O'Connell Bridge in particular have seen their journey times increase dramatically this week.
There is clearly a significant problem emerging at College Green as buses, taxis and now Luas trams are competing to access what is a vital arterial route for a huge number of public transport users.
"Serious consideration will have to be promptly given to the layout of College Green, and whether taxis can continue to use the area at rush hour."