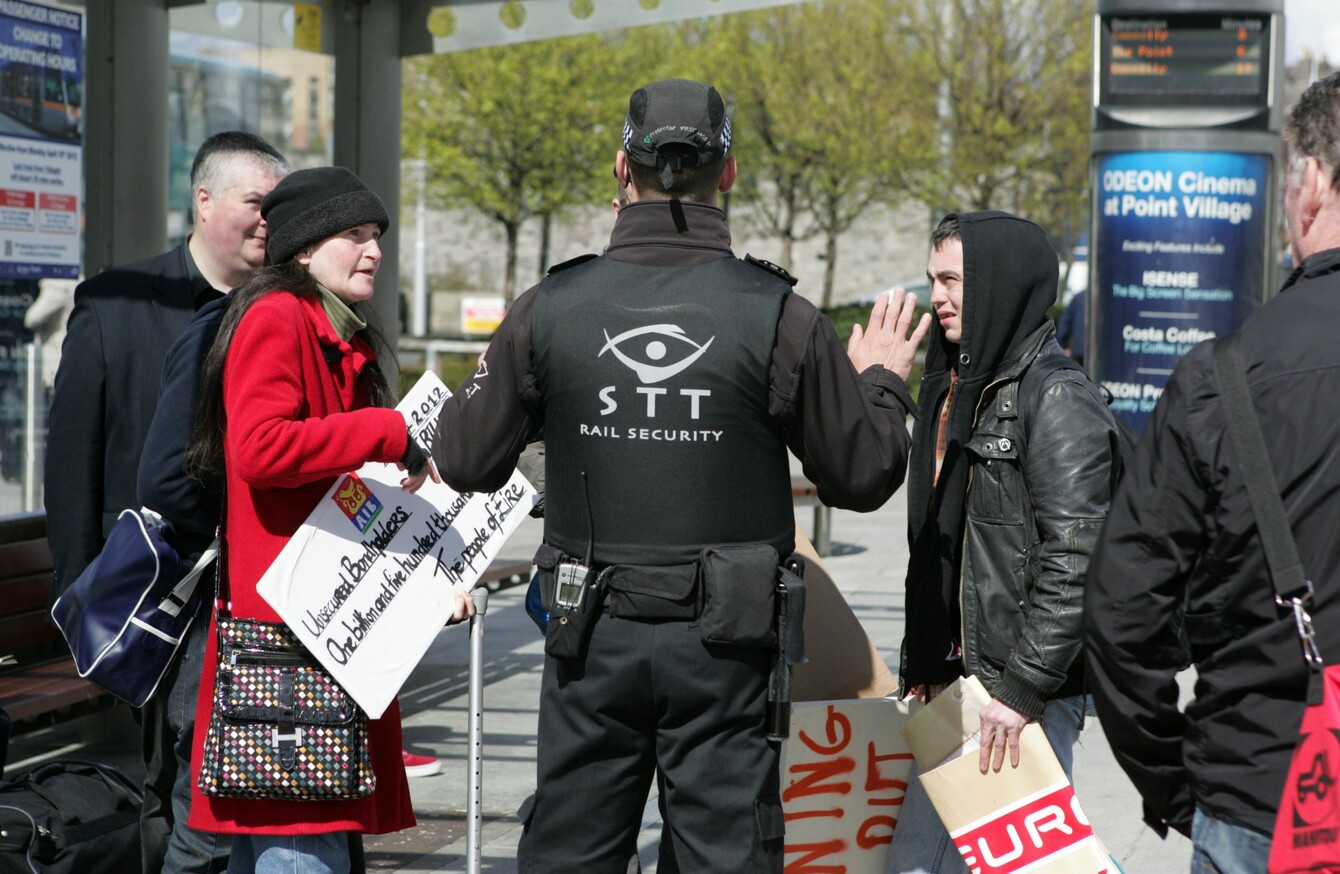 An STT worker
Image: Sam Boal/Photocall Ireland
An STT worker
Image: Sam Boal/Photocall Ireland
LUAS SECURITY WORKERS have rejected a pay deal but have no plans to take strike action, representatives for the drivers have said.
This comes after newspaper reports this morning that workers for company STT Risk Management were set to be ballot on work stoppages following the rejection of a Labour Court recommendation on a pay increase.
Trade union Siptu, who represent the security workers, has said that a meeting has been requested with STT bosses to further discuss a pay claim.
According to a spokesperson, the meeting is being sought to try and find "an agreed resolution to the outstanding issues."
What are the workers looking for?
Security workers on the Luas are currently paid €10.75 an hour, and – as representatives for the workers pointed out to the Labour Court – this is quite a bit less than the €13.84 earned by comparable employees on the Dart service.
The amount of money that Luas security staff are paid is guided by the government as part of Employment Regulation Orders (ERO), which set the basic rate of pay for workers in the cleaning and security industries.
Responding to the pay claim, STT Risk Management said that for workers' pay to change, the ERO would have to change.
In its ruling, the Labour Court acknowledged that the claim by security workers had "merit" and, while issues over the ERO are being resolved, recommended the following temporary increases:
From 1 January 2016: 40c an hour 
From 1 January 2017: Between 10c and 50c an hour 
From 1 September 2017: Between 15c and 65c an hour
Other problems
Although Transdev declined to comment on the situation when contacted by TheJournal.ie (stating that the disagreement was between a contractor and its employees) there is no doubt the company will be keeping a close eye on the process.
They continue to be locked into a long-running pay dispute with drivers on the light-rail service – and more strikes are planned for this month and next.
Speaking to TheJournal.ie during last Friday's strike, drivers said that they felt they had no other option but to take the strike action – and that they were looking for a fair share of a company they had helped to build.
Transdev offered an 18.7% pay increase over 33 months during a Workplace Relations Commission recommendation back in March, but has since dropped this offer to 13%.