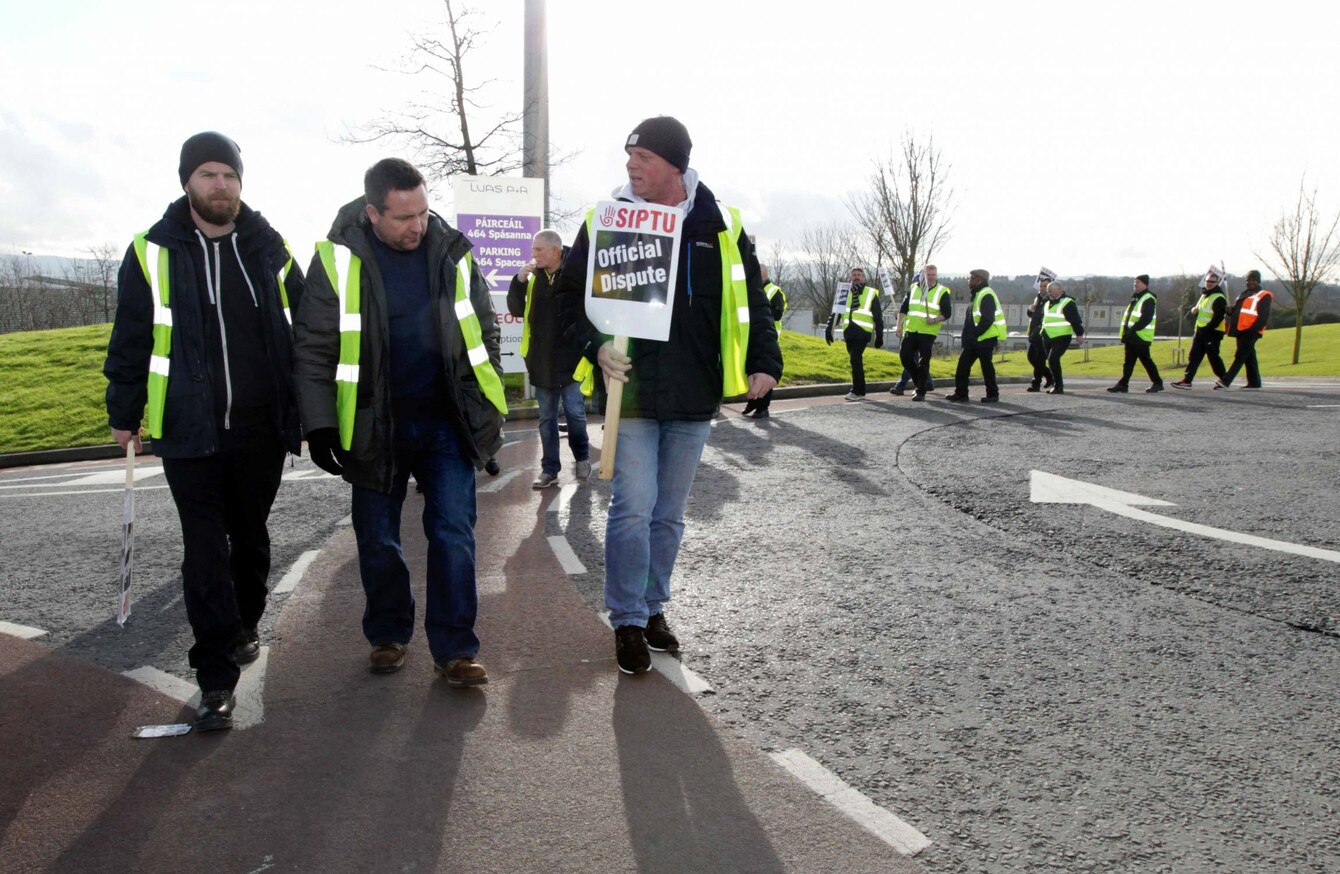 Image: RollingNews.ie
Image: RollingNews.ie
LUAS WORKERS TAKING part in strike action this week will have wages for up to four days docked from their pay packets.
The workers are set to hold another 48-hour stoppage on Thursday and Friday over pay and conditions.
Further industrial action is planned for 8 March and St Patrick's Day.
In a letter to staff, Transdev, the company that operates the service, said it would process deductions for this month's strike days next week.
"For some employees, this will mean up to four days of deductions from their wages on 26 February," its managing director, Gerry Madden, wrote.
Next month's payroll will be similarly affected for the 24-hour stoppages scheduled to take place on 8 and 17 March.
Staff were also reminded that they would lose out on bonus payments for the year as a result of the strike.
"The agreement between Siptu and Transdev on entitlement to bonus payments is clear in the event of industrial action and our position on this has previously been communicated to you," Madden said.
So we are all losers in the current strike situation and our capacity to work with Siptu to improve terms and conditions … has been seriously damaged by this industrial action.
"The scale of the penalties we face are in the public domain and any loss of income to the company through work stoppages or work-to-rule action will have to be factored into a final resolution," he wrote.
A continuation of the dispute will only serve to make this financial situation worse and undermine our ability to protect existing terms and conditions.
Pay increases
Luas staff are seeking better pay and conditions, including salary increases of between 8.5% and 53.8%.
Their union, Siptu, has called on Transdev to re-enter talks aimed at resolving the dispute.
Divisional organiser Owen Reidy told RTÉ's Morning Ireland today: "I spoke to the workers on the picket line last week.
They want a resolution, they want no more industrial action.
But they are equally resolved to get what they consider to be a fair and just outcome.
Transdev has described the pay claims as "extreme" and argued that they would cost about €6 million for every year of its contract to operate the service.
The company says its staff are paid annual salaries of between €31,877 and €47,941, including overtime payments.