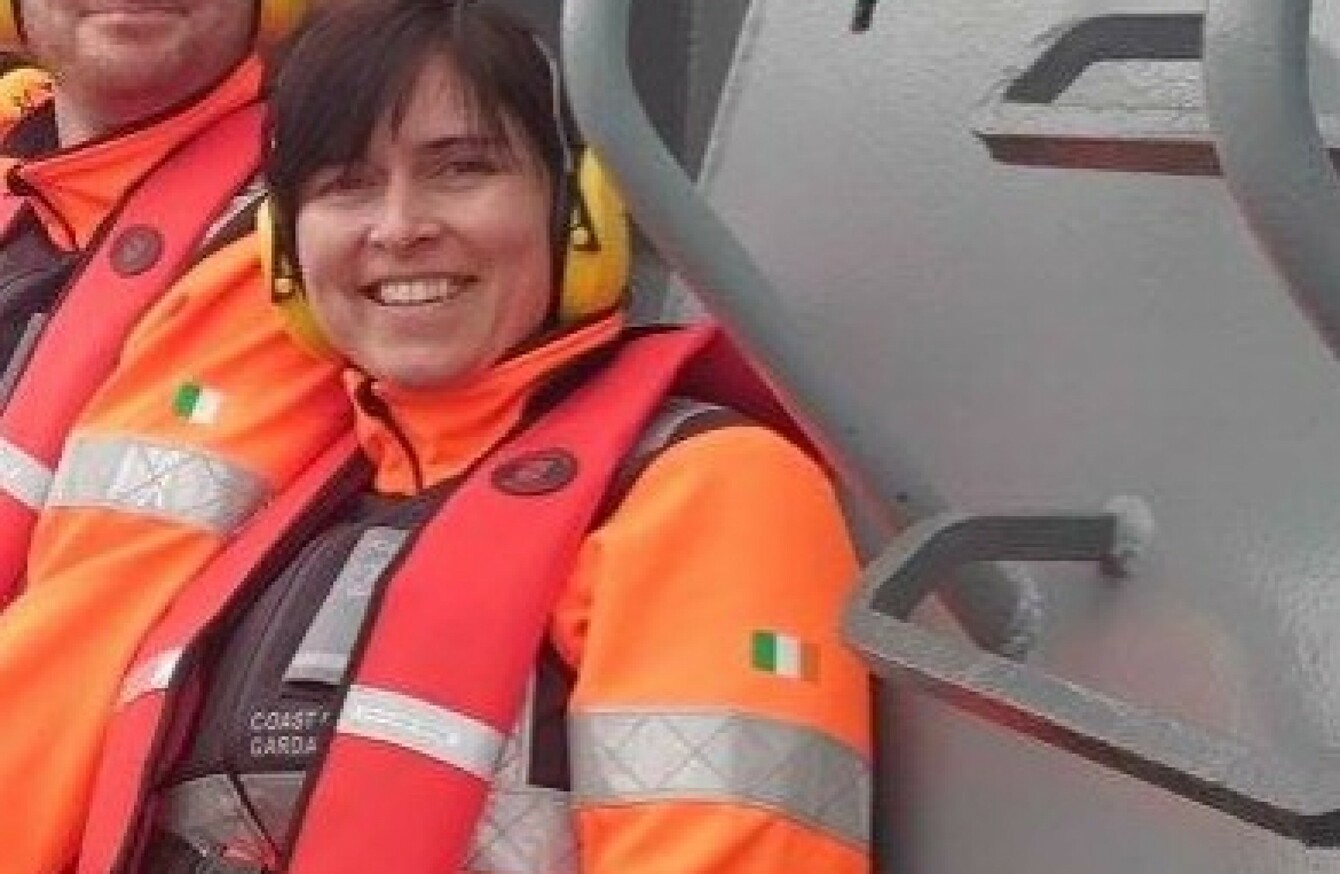 Image: Doolin Coast Guard via Facebook
Image: Doolin Coast Guard via Facebook
THE HUSBAND OF Caitríona Lucas, the Coast Guard volunteer who lost her life in September, has paid an emotional tribute to his late wife.
On 12 September this year, the mother-of two became the first ever Irish Coast Guard volunteer to die after the boat she was travelling in capsized during a search for a missing person.
Speaking on RTE's Today with Seán O'Rourke, Bernard Lucas paid an emotional tribute to his wife, praising her selfless commitment to helping her community.
While she worked as a librarian, Caitríona was always on hand to answer the call to help the Coast Guard when required.
He told the programme: "Every time the pager went, Caitríona was gone. She used to work for the library service in Clare… If she was working on her own, she couldn't go. If it was a protracted search, she would go in in the morning before work. If she was working where there was cover from her colleagues, she would go."
Such was her commitment to volunteering her time that she would work about 700 hours a year. Bernard said: "A lot of it would have been behind the scenes. She would have done the Facebook page, the website, and school visits as we were both education officers."
The couple had almost 30 years of experience between them as volunteers. As to the cause of the incident, he said: "You ask all sorts of questions. Until all these things are investigated, we won't have an answer."
The call out
As she would usually do in the situation, when the call came out on the day to provide assistance in a missing person's case, Caitríona was one of the first to volunteer. Bernard also volunteered to help out but arrived on the scene later.
He said: "We got paged to go and the text came through that it was an upturned boat in Kilkee. I went to Doolin, to go on the boat and assist them. When we got to the pier in Kilkee, I was just called ashore by gardaí and told that there had been an accident and Caitríona was involved in it. I just flew with her in the helicopter to the hospital."
An inquiry is currently under way as to the cause of the incident. In September, Irish Coast Guard operations manager said that it would be "unwise to speculate at this time in terms of the cause of accident."
Stamp petition
Caitríona was also an avid artist, and a campaign is well underway to get An Post to make one of her artworks onto a stamp to commemorate her life, and the sacrifice that she and many like her take when they volunteer for the Coast Guard.
At the time of writing, 1,200 of the required 2,000 signatures have already signed the petition on Uplift.ie. You can view it here.
Bernard said: "We just happened to bring it to the church [...] It's being considered by An Post on the next round of stamps that are going to be issued. She painted it herself. She was a very talented artist."
"She continues to inspire me"
She gave up so much of her time to initiatives like the Coast Guard and SARDA (the search and rescue dog association), of which she was national secretary for three years, as well as finding the opportunity to encourage children to get into reading through her work in the library, that she will continue to be an inspiration for Bernard and their children, Ben and Emma.
Having met when they were just 17, and having a family early, meant that they were a very tight knit group. "We grew up together," he said. "She was more than my wife, she was my best friend."
With Ben back in work as an atlantic air aviation engineer in Shannon, and Emma preparing to sit her leaving cert exams, the family is receiving "fantastic support from friends, family and the local community".
When asked by O'Rourke what sustains him, Caitríona's husband answered: "It's her memory. It's her commitment to everything she did. All she did was just try and do it better. Everything we do, we'll try and do it better."