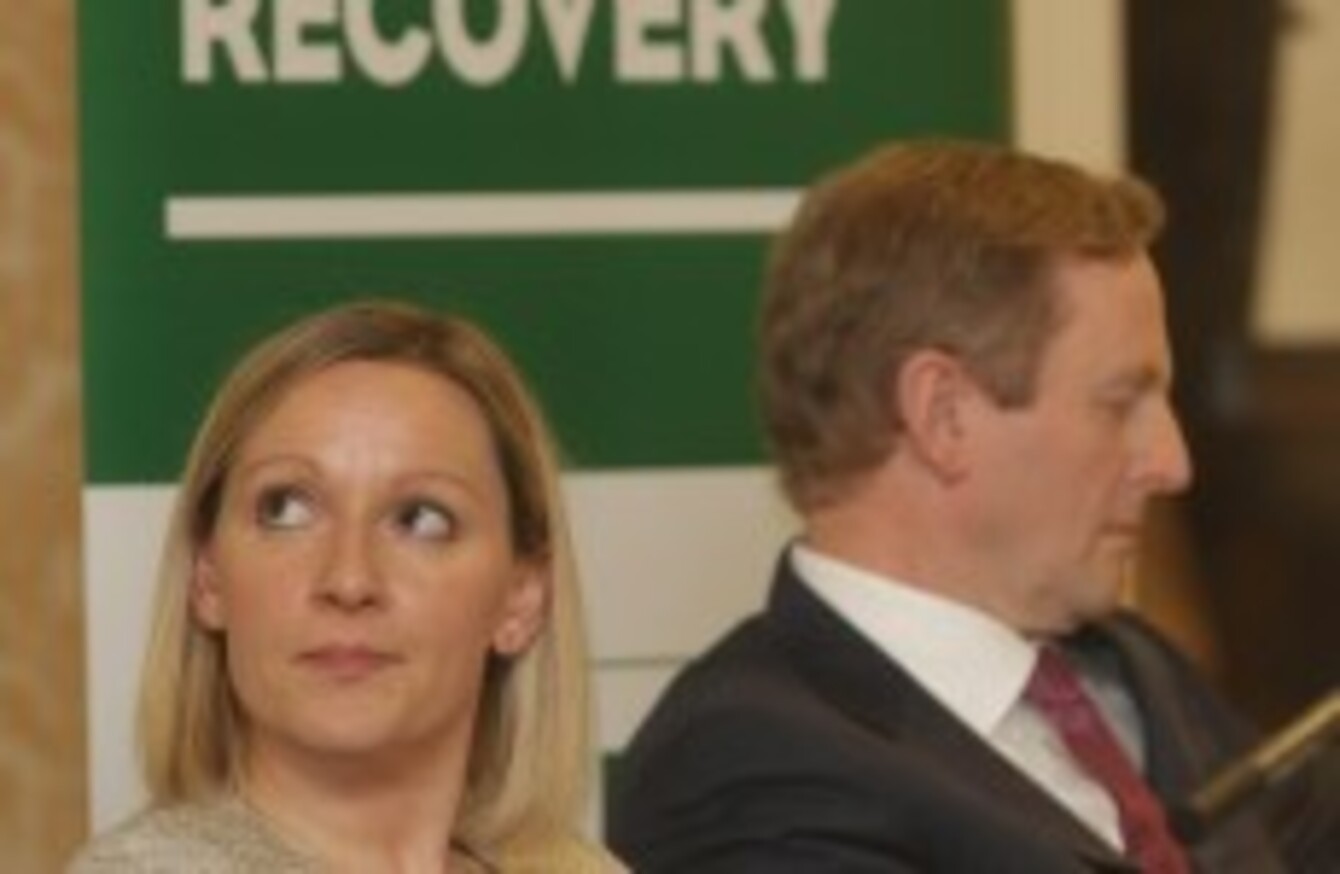 Lucinda Creighton with Taoiseach Enda Kenny before she left government
Image: Niall Carson/PA Archive/Press Association Images
Lucinda Creighton with Taoiseach Enda Kenny before she left government
Image: Niall Carson/PA Archive/Press Association Images
LUCINDA CREIGHTON BELIEVES that many members of Fine Gael in her constituency will campaign for her at the next general election but has acknowledged there is no prospect of her returning to the parliamentary party in the current Dáil term.
Her comments came in an interview with TheJournal.ie prior to a surprise move last night by the Dáil Ceann Comhairle to allow Creighton and her fellow TDs in the newly-created Reform Alliance limited speaking time during Dáil debates as the new term gets underway today.
The former Minister of State said she will remain a Fine Gael member and intends to remain involved with the party at a local level by campaigning for its candidates in the local and European elections next year.
"Who's going to stop me? I am a member of the party," she told this website, adding that she believes many in Dublin South-East will support her at the next election.
She continued: "I think most of our members [in Dublin South East], genuine Fine Gael people, would like if it could be put behind us and if we could be embraced back into the parliamentary party. But as I keep saying it's not going to happen.
"So we have to live with the new reality, and that makes it very awkward. I mean there are members of Fine Gael who will be campaigning for me at the next election and that's going be awkward. I don't know [how many] but a lot."
The TD hit out at the "ridiculous" removal of her name and picture from all Fine Gael literature in her constituency.
"It's like censorship in the 1930s, all references to the black sheep – to take Peter's [Mathews] metaphor – have been removed. Even photographs, it's quite ridiculous really," she said.
"But there you go, that's their choice. I don't think it does any favours to Fine Gael in Dublin South East or any other constituency."
No paranoia
Creighton said that the Reform Alliance intends to publish private members' bills in the coming months and secure further speaking rights. Those secured last night are limited and do not entitle the Alliance to private members' time or a slot at Leaders' Questions.
She said she is enjoying the new alliance: "The one thing I am enjoying in my group is that there is no paranoia, which is quite unusual, there is no begrudgery, there is no jealousy and what actually exists among us is a lot of mutual respect."
She said that Taoiseach Enda Kenny's description of her and colleagues as "free spirits" is "a very accurate description".
"For the first time in my political career I am not under any whip," she said. "I am not obliged to vote any particular way and I am not treading on eggshells about whether I can say things or not say things. So, it's a little bit liberating actually. "
Creighton insisted that the Reform Alliance is is not a political party but a group which she hopes will go "a long way to introducing some fresh thinking and a little bit of life into the parliament".
"We have a lacklustre parliament which has no power, which doesn't hold the government to account and doesn't seem to be capable of bringing new ideas into Irish political life and that's what we want to do."
Creighton added that she has "no idea" if she will be a Reform Alliance or independent candidate at the next election.
"But I will be a candidate, that's all I know," she added.
Lucinda Creighton on…
Abortion:
"For me it's a human rights issue. It's on par with if we entered into coalition with an extreme right wing party who wanted to reintroduce the death penalty and suddenly Fine Gael decided: 'Okay we'll go along with that in the interests of the stability of the coalition, we'll now support the reintroduction of the death penalty.'""I wouldn't vote for it in the same way that I won't vote for abortion. It's a fundamental issue for me. I don't believe in abortion full stop."
The Reform Alliance becoming a political party
"Well just because the media keep saying it is… I mean if we were a political party we would be fundraising, we would be finding a headquarters, we'd be hiring a secretary general, we would be, you know, forming a party here in the Dáil."We would have our 300 signatures – which is what you'd require, which isn't difficult. It's not that we can't become a political party, we just don't wish to become a political party."
The Reform Alliance being known as 'The RA'
"I think it's kind of funny. Of all people I think we are probably the least likely to align ourselves with the organisation formerly known as 'The RA'.
What she'd say to Enda Kenny:
"Despite the perception in the media, I've always gotten on well with him. He's good company, Enda's a great storyteller, he's good fun as well. So we'd probably have a chat and a natter and that'd be that. No daggers across the table or anything.She added: "Do I think somebody is going to throw down the gauntlet and challenge him? Absolutely not, no. There's no such talk. Not at all."
Constituency colleague Eoghan Murphy:
"I think he's great. What else is there to say? We work fine together. I haven't heard form him since July. I mean we do our own thing anyway."
Whether she'll be a Fine Gael member for life:
"Jesus, I don't know. I hope so, but who knows."