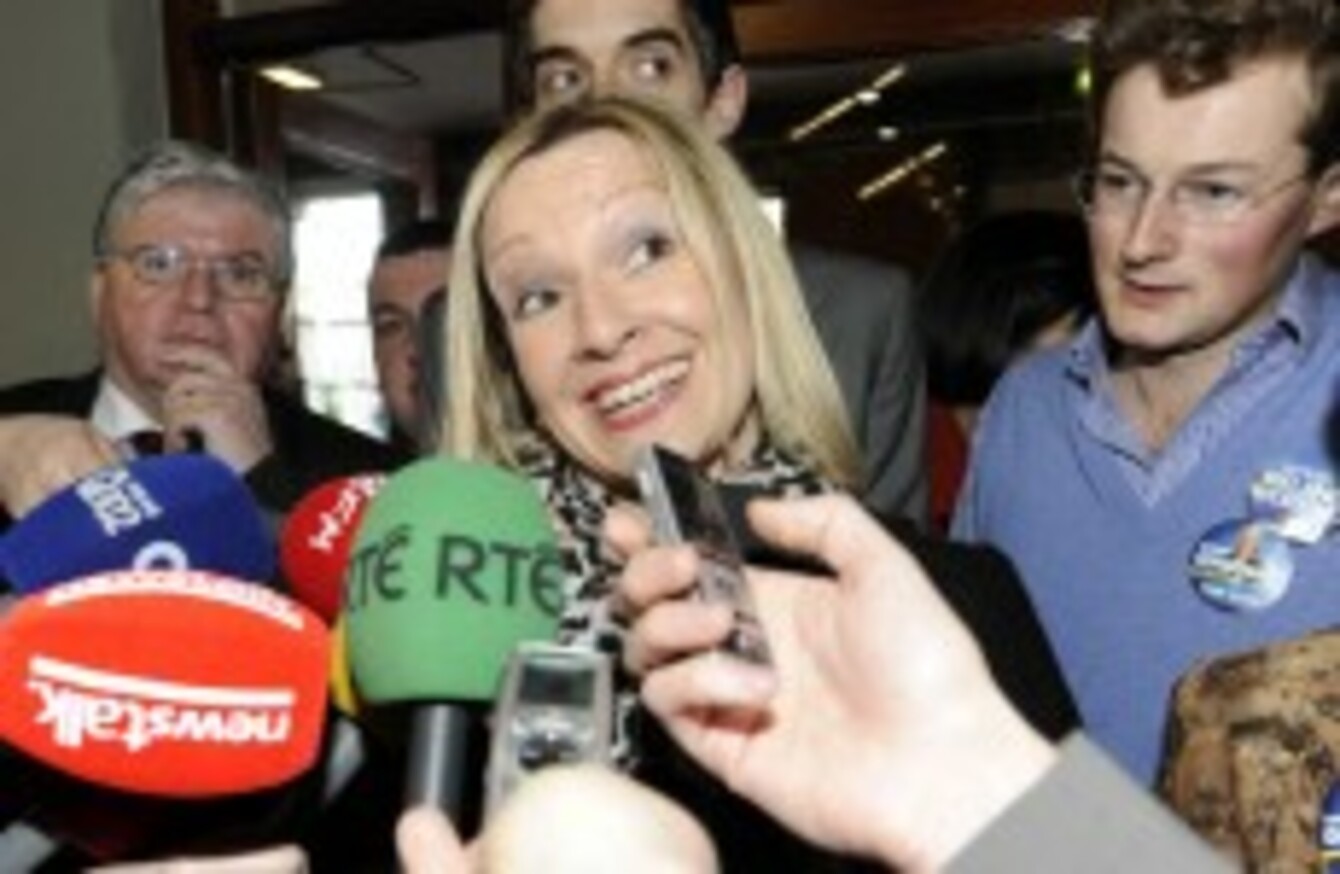 Image: Photocall Ireland
Image: Photocall Ireland
FORMER EUROPEAN AFFAIRS Minister Lucinda Creighton gave a wide-ranging interview to Marian Finucane on RTÉ Radio this morning in which she insisted cannot be stopped from running for Fine Gael again at the next election.
Though the Dublin South East TD faces an uphill task when the next general election is held she insisted this morning that if the members of her constituency choose her as the Fine Gael candidate she cannot be stopped from representing them.
"I don't think I can be stopped if that's what the members of my constituency choose," she said. "Now I wouldn't second  guess or try to pre-determine the outcome of a convention because the members in Dublin South East will decide that.
"But I don't believe that if the members select me as a candidate I can be stopped representing my members and my constituency, absolutely not."
Creighton said there was a "strong likelihood" that members of Fine Gael who have lost the whip after voting against the Protection of Life during Pregnancy Bill could be allowed back into the party before the next election.
She also spoke about her dislike of a former Taoiseach, the 'lovely girl' syndrome in the Dáil, her views on Enda Kenny, her leadership ambitions and what Cabinet minister she would like to be in the future…
Creighton was and is not a fan of former taoiseach Bertie Ahern:
"I've always been infuriated by Bertie, I have to say. I never appreciated his style of politics. I thought it was very superficial, running around the country opening crisp packets, as they say, never really engaging with the substance of what was being debated and it clearly had a hugely negative impact on this country."
On the 'lovely girl' syndrome that afflicts the Dáil:
"I think women don't necessarily play the game as much as the men and I found it, especially when I was first elected, I was constantly being dismissed. I was 27 when I was first elected to the Dáil. I was constantly being dismissed publicly, in meetings and privately as 'Oh, you know, silly little girl, young woman, really doesn't know what she's at'. You know, just not being taken seriously."
On the controversy surrounding the Dáil bar:
I don't spend much time in it. I go in there for my lunch and for coffee in the afternoon. I'd rarely be in there at night. I don't think it's neccessarily a bad thing but if it's abused obviously it's a bad thing.
On the party whip system:
It has long been a bug bear of mine… it needs to change, very simply.
Despite being involved in the June 2010 attempted heave, she is a fan of Enda Kenny:
"I think Enda Kenny has shown himself to be a good leader in the sense that he can accept that people might have differences of opinion with him, but at the same time can see that it's useful to have them involved and part of the team and I very much appreciate that."
On when she told the Taoiseach she wouldn't be supporting the abortion legislation:
I told him last Monday that I felt the way things were going it was unlikely that I would be able to vote for the legislation.
On her opposition to gay marriage:
"Loads of my friends are gay, I don't see myself in any sense as being opposed to gay rights, but I did express a view before the election  - which by the way was also expressed by the party but then they changed their mind – that we didn't support gay marriage which is, I suppose for some, the ultimate destination, but not for everybody.

"I have many gay friends who don't support gay marriage either."

She later said: "If the Irish people vote in favour of gay marriage then I'll vote for gay marriage in the Oireachtas in order to recognise that position, but at the moment that is not recognised by the Constitution."
On whether her husband Paul Bradford (a Fine Gael senator) influenced her vote:
Paul's view would be that I am a big enough girl to make up my own mind and I appreciate that. I think that's an important basis for our relationship.
On leading Fine Gael and what ministerial portfolio she would like:
"I have no interest or desire to be head of Fine Gael…. I am ambitious for my country and I always said I would love to sit at Cabinet…

… I think Finance is the one that everybody aspires to, who's serious in politics, because that's where the real decisions are taken and I think it's a fascinating portfolio.
All pictures: Photocall Ireland