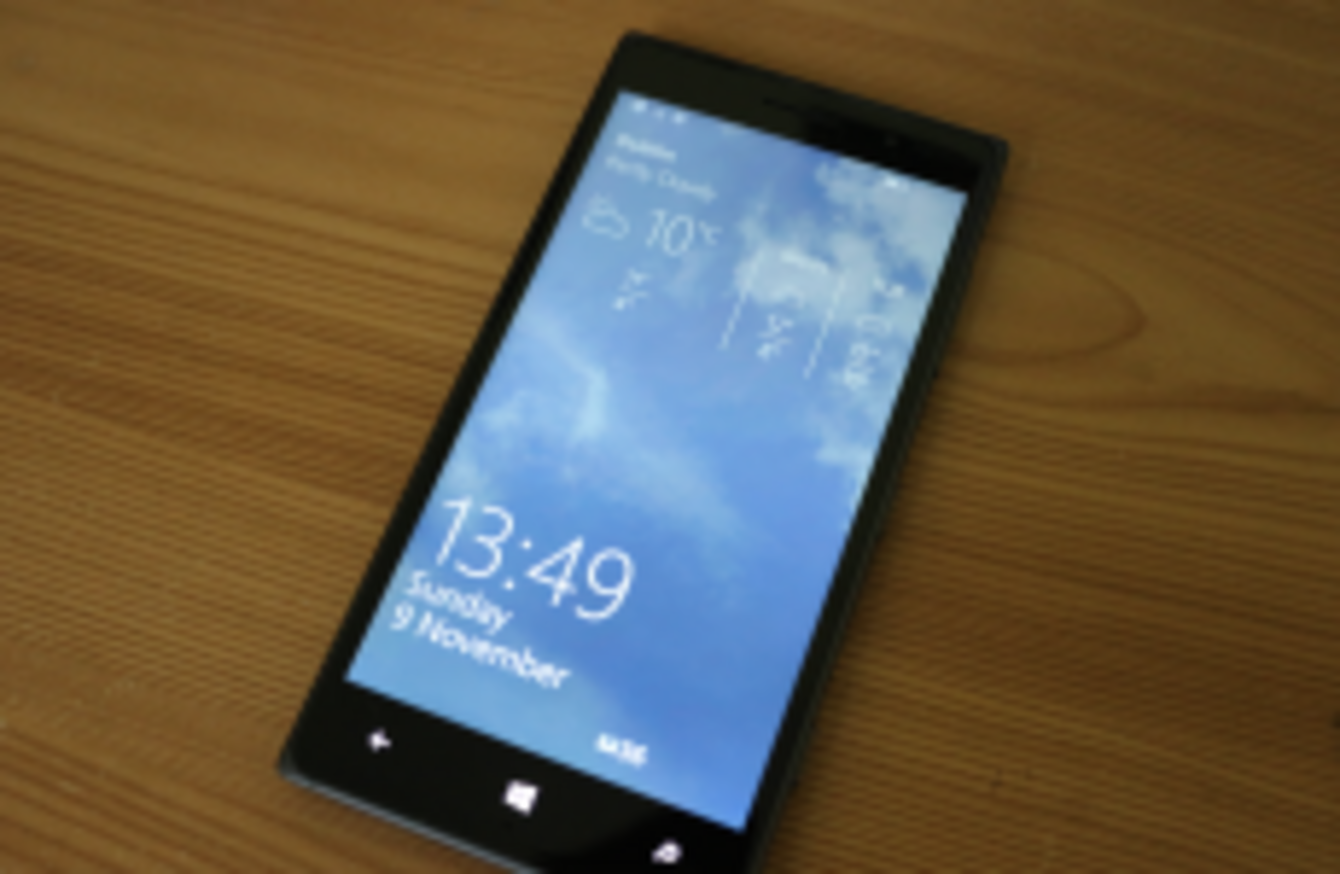 Image: TheJournal.ie
Image: TheJournal.ie
THE FINAL SMARTPHONE before Microsoft dropped the Nokia branding, the Lumia 830 was touted as the 'affordable flagship' smartphone by the company when it was revealed at IFA back in September, comparing the price to the likes of the Samsung Galaxy S5 and iPhone 5S.
Microsoft cut a number of corners to get the price down and increase its competitiveness in a tough market, but how does that translate to overall performance?
Look and feel
Compared to the weighty and bulkier 930, The Lumia 830 is rather light While it uses a plastic back cover like all Lumia devices, the square design and metal frame feels nice to hold while the screen rises ever so slightly above the edges. The same goes for the back, making it rather nice to hold, fitting comfortably whatever way you hold it.
It also goes for physical buttons with the three standard Windows Phone buttons underneath the screen, the volume, power and shutter button at the side and the speaker at the lower back. The two most noticeable changes is the PureView camera module, mainly the black, circular panel housing its 10MP camera and flash (it's also found on the Lumia 1020 which has a 41MP camera).
The other difference is the USB and charger port is located at the top of the phone beside the headphones jack and not the bottom. This is more odd to see than impractical as you see a cable popping out of your phone, but this lends itself better to the Lumia's Glance Screen, which displays time, date, and select notifications when you've switched off the display. This makes it handy to have as a bedside clock should you need it.
Hardware and Software
To keep the price down, Microsoft downgraded a few areas which for the most part, hasn't affected it too much.
The 5-inch LED screen is a nice size and its resolution (1280 x 720) is decent, if not remarkable. Watching Netflix on it is fine as long as you don't expect sharp quality visuals from higher-range devices.
Considering the specs it's running on – a quad-core 1.2GHz Snapdragon 400 and 1GB of RAM for those interested – performance is pretty decent, quite similar to the 735 in that working Windows Phone 8.1 and its native tasks is smooth and trouble-free.
Although the same caveats surrounding Windows Phone still applies here, if you rely heavily on Google products, for example, you will need to resort to third-party offerings, or switch to Microsoft's suite of tools.
While you're able to run most games, you will start to notice the frame rate becoming a bit jittery when dealing with the more demanding examples out there, and even some cases where supposedly simple games see the frame rate drop noticeably.
That doesn't mean that games like Asphalt 8 aren't playable – you still have a lot of fun with them – but if you're expecting sharp 3D graphics and smooth performance, you may come away from this feeling disappointed.
Battery life is also solid, with a regular day allowing roughly a day and a half of use. More intensive use would see it last close to a day, but for the average person, it should be more than enough.
Camera
Before we go into this, it has to be mentioned that the model we reviewed didn't come with the Lumia Denim upgrade. Because of that, we weren't able to test out any of the new camera features and speed improvements that are going to come with it, but even without that, it's still a solid camera.
Booting up the camera only takes a second to complete, allowing you to snap focused photos within the space of two to three seconds. It helps that the camera is able to handle almost any situation, although in some cases, it takes a bit of time for it to settle upon the right brightness and temperature, but for the most part, you can edit any teething issues like that later through Lumia Camera.
Nokia Lumia 830

Source: TheJournal.ie

Nokia Lumia 830

Nokia Lumia 830

Nokia Lumia 830

Nokia Lumia 830
#Open journalism No news is bad news Support The Journal

Your contributions will help us continue to deliver the stories that are important to you

Support us now
The front-facing 0.9MP camera is pretty average, and you're not going to use it for anything more than quick selfies and video calls, but overall, the PureView camera does more than enough provided you're using it for things like Instagram and Facebook.
Summary
Despite the drop in power and speed, the Lumia 830 is definitely one of the best phones from this range, although whether you like it or not greatly depends on what you want from a phone. If you place importance on camera hardware and software – with the latter getting extra improvements further down the line – and you're aware of the pros and cons of Windows Phone, then you're going to love it.
If you're looking for a gaming machine, or it to complete intensive tasks, that's where things start to get a little iffy, but for the most part, what it aims to do, it does very well.
Microsoft may have made a number of cuts in the hardware, but in this case, most of them were correct. As long as you keep your expectations in check, then you'll certainly find much joy from this.
Pros
- Comfortable high-quality feel.
- Good hardware and software specs.
- Solid camera.
Cons
- Hardware more mid-range than high-end.
- Can have difficulty keeping up with demanding games.
- Average front-facing camera
The Nokia Lumia 830 costs €409 SIM-free and is currently available with Vodafone (free on bill-pay/€379 PAYG)