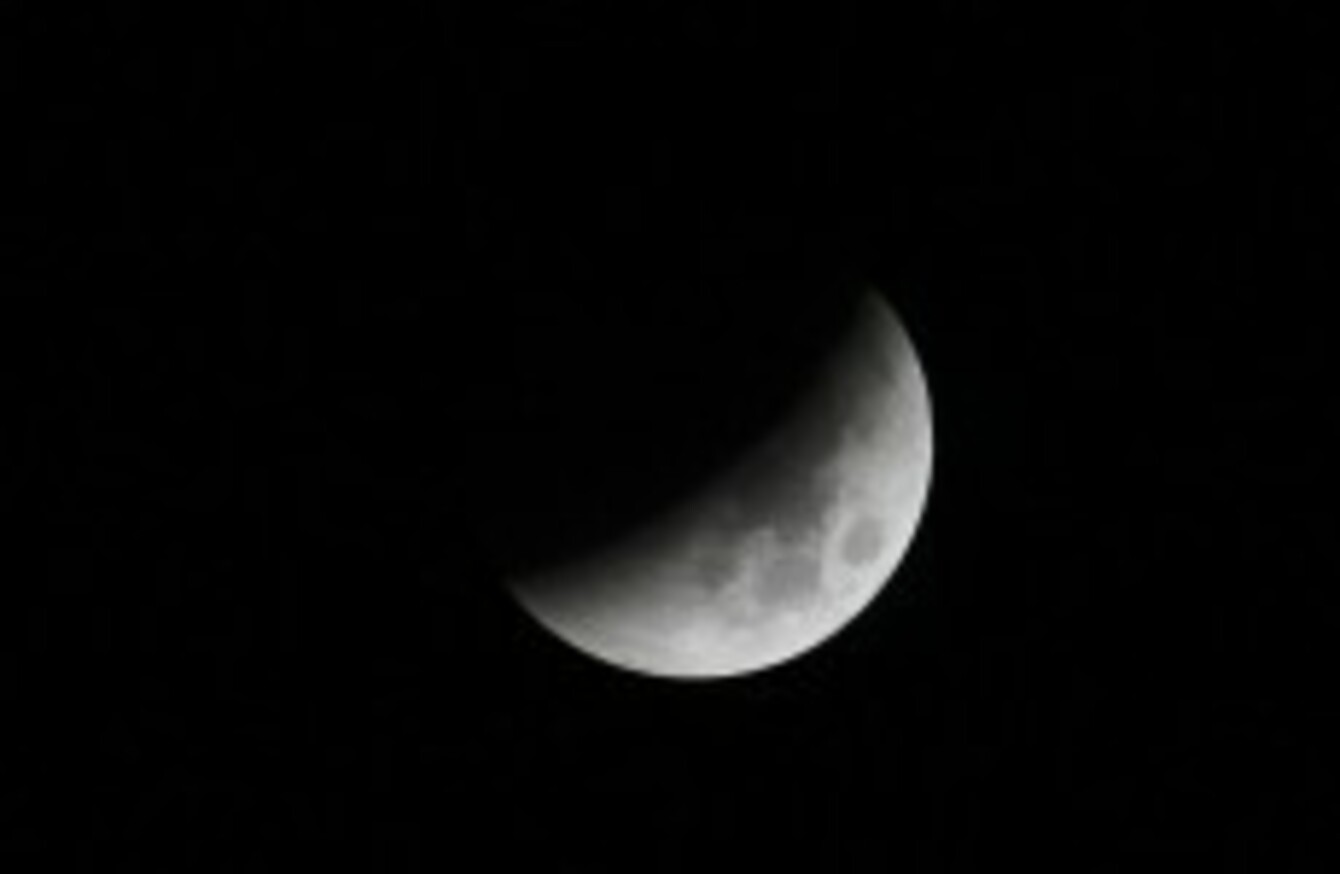 The Earth casts its shadow over the moon in a Total Lunar Eclipse as seen in Manila, Philippines this evening
Image: BULLIT MARQUEZ/AP/Press Association Images
The Earth casts its shadow over the moon in a Total Lunar Eclipse as seen in Manila, Philippines this evening
Image: BULLIT MARQUEZ/AP/Press Association Images
THE LAST LUNAR eclipse visible in Ireland until 2015 will be getting underway shortly, with Met Eireann predicting a good view this evening.
Astronomy Ireland says the eclipse will be best viewed in the east of the country between 9.55pm and 10.15pm, and that the moon will turn a reddish colour. The eclipse will continue until around midnight.
If you hurry you can catch one of Astronomy Ireland's special moon-watching events around the country. They're at: St Michael's School, Kilmihil, Co Clare; JFK Park, Cork; Papal Cross Car Park, Phoenix Park, Dublin; Seabank Car Park, Castlebellingham, Co Louth; Parke's Castle, Sligo/Leitrim; and Fairfield Green, Belvedere Manor, Waterford.
Google has unveiled a homepage doodle which is helping people around the world the follow the lunar eclipse, reports PC Mag.
The eclipse has already been seen in some parts of the world, with a total eclipse in Africa and parts of Asia.
There's a live stream of the eclipse on the Google YouTube channel via Slooh.com.
Philippines Total Lunar Eclipse

The Earth casts its shadow over the moon in a Total Lunar Eclipse as seen in Manila, Philippines

Philippines Total Lunar Eclipse

The Earth casts its shadow over the moon in a Total Lunar Eclipse as seen in Manila, Philippines

Philippines Total Lunar Eclipse

The Earth completely casts its shadow over the moon in a Total Lunar Eclipse as seen in Manila, Philippines before dawn Thursday June 16, 2011. The total lunar eclipse was also visible in most parts of Asia.

Zimbabwe Lunar Eclipse

A lunar eclipse in progress in Harare, Zimbabwe Wednesday, June, 15, 2011. A total lunar eclipse occurred in some parts of Africa, Asia, Middle East and Western Australia. The 100 minute period of totality is said to be the longest since 2000 according to Astronomers. (AP Photo/Tsvangirayi Mukwazhi)