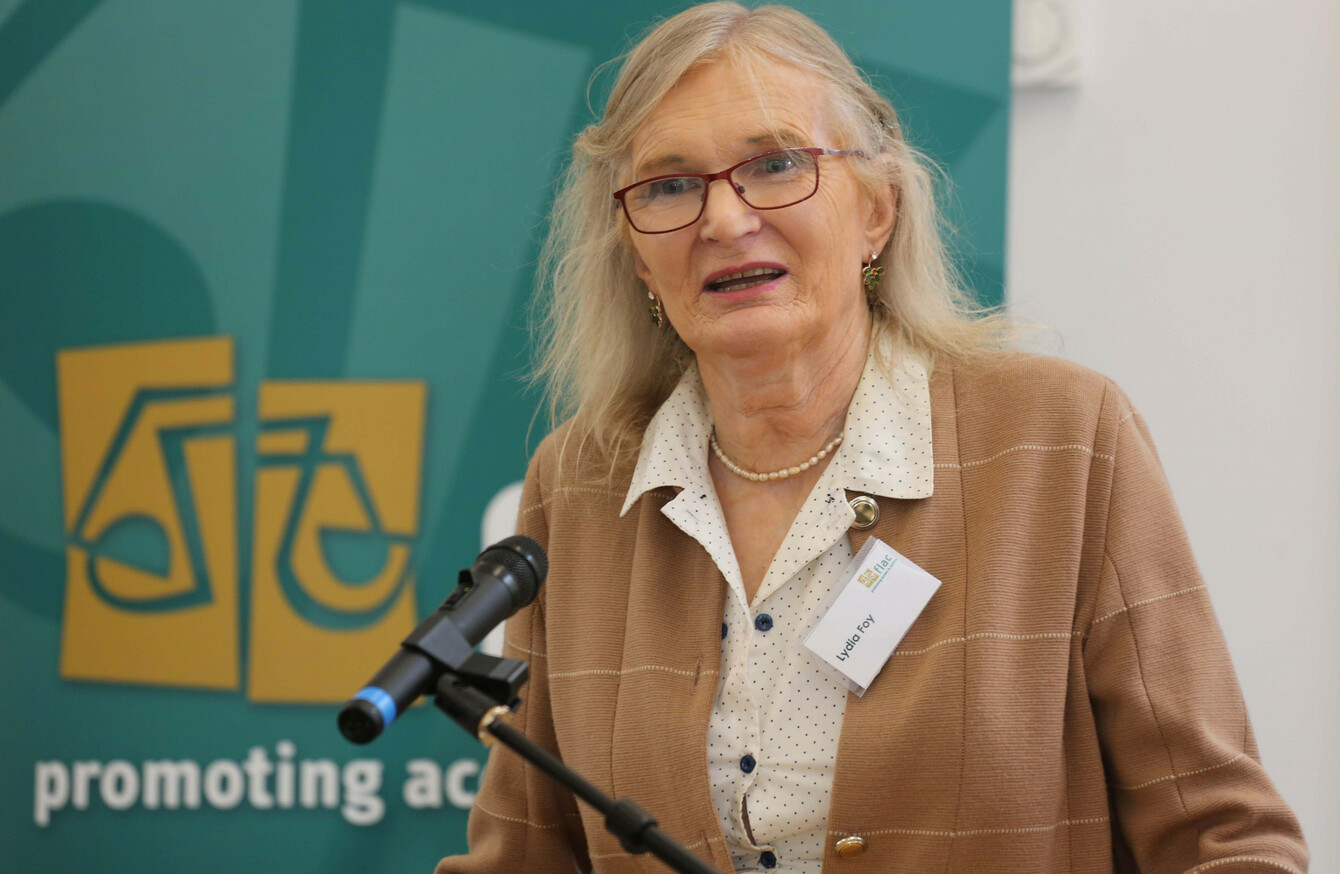 Lydia Foy
Image: Derek Speirs via Flac
Lydia Foy
Image: Derek Speirs via Flac
"OUR IDENTITY IS a fundamental part of who we are – whether it's your nationality, your race, your religion, or your gender." – Sara Phillips, TENI.
Irish transgender woman Lydia Foy spent 20 years of her life involved in a difficult and complex litigation to have her gender legally recognised in the Irish State.
Her battle has since resulted in a radical reform of the law on gender recognition – the Gender Recognition Act.
Flac (Free Legal Advice Centres) has produced a comprehensive history of Foy's right for justice – 'A story of great human proportions': Lydia Foy and the struggle for transgender rights in Ireland.
Foy was born in Westmeath in 1947 and was registered male at birth. In 1992, she had gender reassignment surgery in the UK and from then on she has lived as a woman.
The legal battles
As Teni details in its timeline of Foy's story, and as is detailed in the new report, in March 1993, Foy's legal battles began when she applied to the office of the Registrar General for a new birth certificate to accurately reflect her correct gender.
In 1997, Foy began High Court proceedings, with the help of Flac, to request that the Registrar provide her with a new birth certificate.
The case was heard in the High Court before Justice Liam McKechnie in 2002. On 9 July 2002, Foy's request was rejected and Kechnie stated there was no authority under the Registration Acts to change the gender registered at birth except for purely clerical errors.
McKechnie called on the government to take urgent action to assist transgender people.
Foy then appealed to the Supreme Court. However, before the appeal was heard, the European Convention on Human Rights Act 2003 was enacted. The report outlines that the Act required public bodies to carry out their functions, as far as possible, in compliance with the ECHR and required the courts to interpret legislation, also as far as possible, in line with it also.
Because of this, and as noted in the TENI timeline, Foy made a new application to the Registrar General in November 2005, citing the obligation under the Act to comply with the requirements of the European Convention.
The Registrar General refused her case again under grounds that he had no power under the Registration Act to do what was requested.  Foy again began a new High Court case, seeking a declaration under the ECHR Act that Irish legislation was not compatible with the European Convention in relation to the registration and issue of birth certificates.
In 2007, Foy returned to the High Court and Justice McKechnie again heard her case. As noted in the report, Judge McKechnie repeated that there was nothing in Irish law on the Constitution that would require or allow for Foy's birth record to be amended or to allow for a new birth certificate.
Recent progress
In May 2010, the government set up the Gender Recognition Advisory Group (GRAG) to advise on the legislation to recognise transgender people as their preferred gender.
Flac (having taken on Foy's case), the Transgender Equality Network Ireland (TENI) and other bodies made recommendations to the group. In July 2011, the group published its recommendations and proposed gender recognition legislation, the TENI timeline and report outline.
In January 2013, Foy issued new proceedings in the High Court, seeking a declaration that the Irish government was under a legal duty to make provision for issuing her with a new birth certificate. She also sought damages for the continued breach of her rights following the High Court decision in 2007.
The case was settled in November 2014.
#Open journalism No news is bad news Support The Journal

Your contributions will help us continue to deliver the stories that are important to you

Support us now
The Gender Recognition Act was passed on 15 July 2015. It meant that a person can apply for a Gender Recognition Certificate to the Department of Social Protection in order to have their preferred gender recognised by the State.
In November 2017, Minister Regina Doherty appointed a review group chaired by Moninne Griffith (executive director of BeLonG To) which includes members from TENI, Flac, other independent experts in the field and government bodies.
The group has said it will review the following areas:
Arrangements for children aged 16 to 17 years
Arrangements for children under 16 years
Arrangements for persons who identify as neither male nor female (e.g. non-binary)
Arrangements for intersex people
Any other relevant issues, including issues relating to the operation of the current legislative provisions (i.e the Gender Recognition Act 2015)
It will submit its report to the Minister in May this year.
'Thank you'
Speaking at the launch of Flac's report, and addressing the impact Lydia Foy has had on transgender rights in Ireland, chairperson of TENI Sara Phillips thanked Flac and Foy.
"Without this case, without her struggle and without her unyielding and forthright commitment to make sure she kept going, I think the trans community wouldn't be where they are today," Phillips said.
"As we step forward, the trans community, from the shadows, with pride now, we can be confident that there are allies who will support and stand behind us within that struggle.
So, let's be clear, there is still a need to ensure that the social causes and heroes like Lydia are documented and remembered.
"For the trans community, we must pledge for keeping this story alive in the minds of everyone, in the minds of society, but also in the minds of our own community."