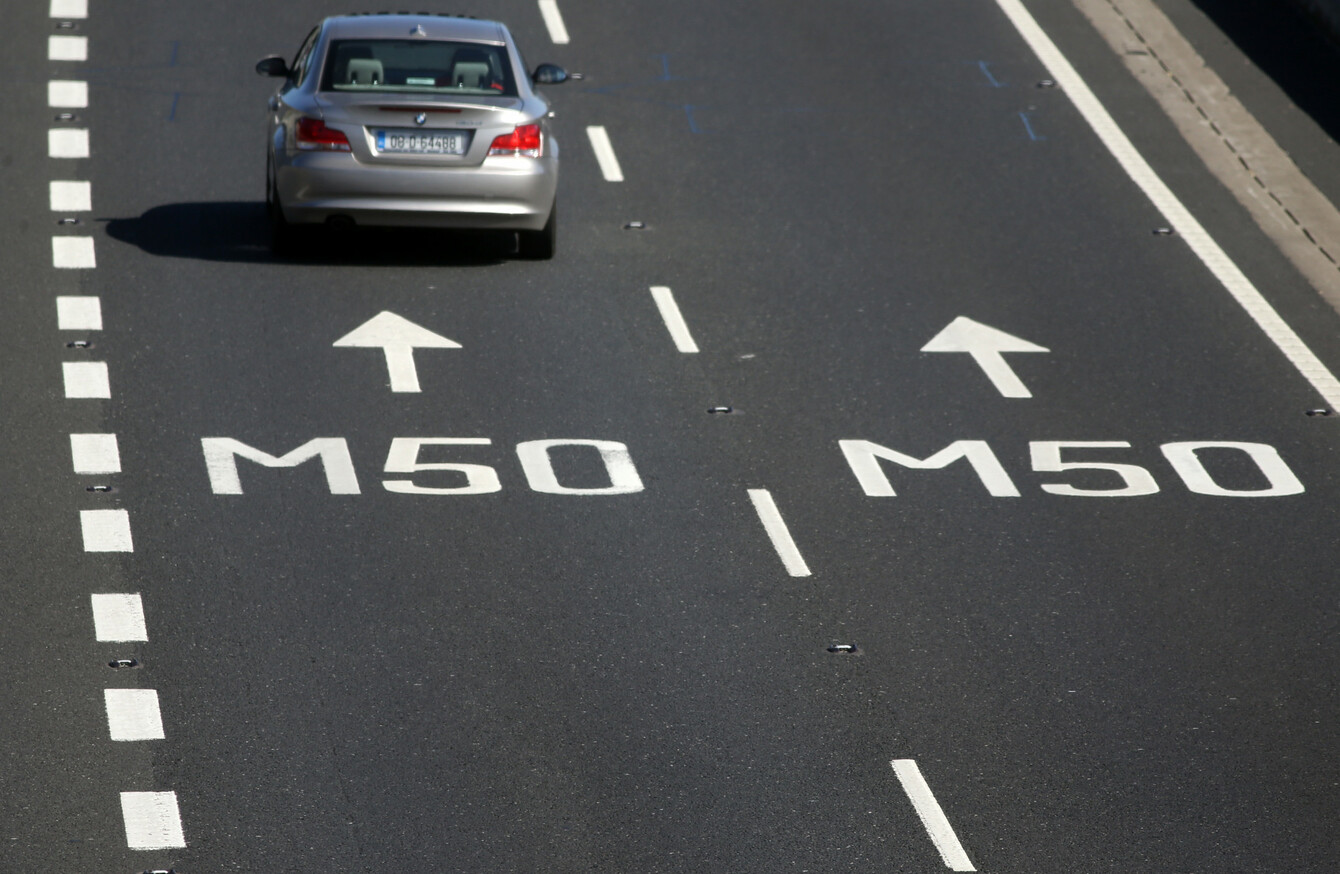 Image: Rollingnews.ie
Image: Rollingnews.ie
A MAN WHO damaged an M50 toll gantry with an angle-grinder and then threatened gardaí at the scene with the machine has been jailed for six months.
Tony Rochford, 50, of Steeple Manor, Trim, Co Meath, pleaded guilty to criminal damage and possession of an angle-grinder at an M50 eFlow toll gantry on 30 May this year.
At Dublin Circuit Criminal Court today, Judge Melanie Greally sentenced him to two and a half years in prison, but suspended the final two years.
The judge set a headline sentence of four years but reduced it because of the large number of testimonials handed into court in Rochford's favour, the good works he has carried out in his life, and the stress he was under at the time of the offence.
It was the second time that Rochford had damaged an M50 toll gantry, although the first offence caused significantly more devastation, the court heard.
On 16 June, 2017, Rochford caused over half a million euro in damage and loss of earnings to the eFlow toll collection system when he climbed up on an M50 gantry, snipped wires and smashed sensors.
Social media posts
The court heard previously that the toll collection system was out of action for 26 hours and the northbound lanes of motorway were closed for three hours because of the damage.
Rochford had posted videos to Facebook and Twitter outlining reasons for his actions, which included a bid for media attention to raise awareness about a fatal fire at a flats complex.
He pleaded guilty to the first offence and the day before his scheduled sentence, he committed his second act of criminal damage at the M50.
He is currently serving a two and a half year sentence for the earlier offence.
Garda Martin Mannion told Ger Small BL, prosecuting, that a security man working on the M50 saw Rochford pulling up in a jeep last 30 May in a dishevelled and agitated state.
Rochford approached the gate to the toll gantry and told the security man to "kill his bosses and close the M50".
He also said he was going to throw a bucket of white paint on the ground.
'Hyper'
When the security guard asked Rochford why he was there, he responded "two people died in Blanchardstown".
The security man called the gardaí and described the man as "hyper".
Rochford proceeded to cut about four or five inches down into the gantry fence with his angle-grinder and also damaged the gate.
When gardaí arrived he told them, in a highly agitated state, "the time to talk is over".
One garda tried to pick up the paint bucket, but Rochford jammed his foot down, spilled the bucket, and shouted "come on so" before turning on his angle-grinder.
Rochford flashed the machine around in a threatening manner, forcing Mannion out onto the road to get away from him.
Rochford was eventually contained by gardaí and staff of Transport Infrastructure Ireland.
Compliant
The court heard the damage to the gantry was estimated at between €500 to €1,000.
Rochford has three previous convictions, including a public order offence.
Brian Storan BL, defending, described his client at the scene "like Saddam Hussein when he was captured, with a long beard, long hair and homeless".
Mannion agreed that Rochford presented in court as an entirely different man to the one he had arrested on the M50.
The garda further agreed that on arrest, Rochford was remorseful, friendly and very compliant.
Storan said that Rochford's previous offence at the M50 had been politically motivated, but that this offence was different in that he had been under significant stress and strain.
The court also heard that Rochford suffered from PTSD dating back to two incidents when he was aged eight and 13.
Rochford's mother, a rural postmistress had been tied up and beaten by raiders in a hostage type situation, and Rochford had been forced to witness both events.
Struggled with alcohol
At the age of 17, Rochford witnessed a crime in the UK and was wrongfully accused of being an accomplice.
He served 19 months in custody in a miscarriage of justice and was brutalised and badly beaten while in jail.
Storan said that Rochford had previously struggled with drink and the night before the offence, he had been drinking after learning that a close friend of his had died.
He has not drunk alcohol since, counsel said.
The court heard that Rochford had brought €500 to court in order to pay for a new uniform for Mannion after it was damaged by white paint, but the garda declined the offer.
"Judge, it wouldn't be proper, I don't think," said Mannion.
Judge Greally ordered that Rochford's sentence be consecutive to the previous sentence.