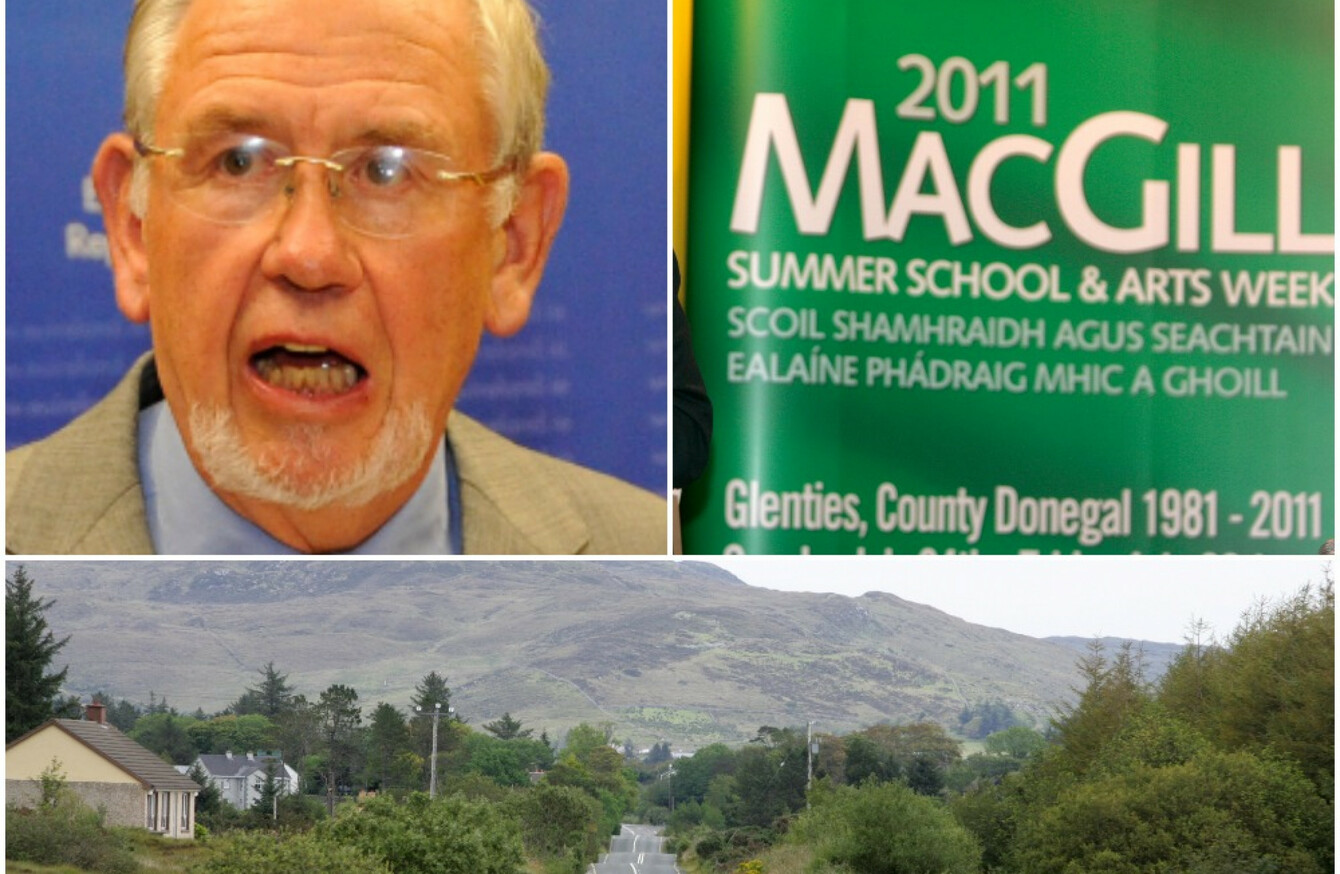 Top L-R: Joe Mulholland, a poster at the summer school. Bottom: A road in Glenties
Top L-R: Joe Mulholland, a poster at the summer school. Bottom: A road in Glenties
IT'S BEEN AN unusual year for the MacGill Summer School. The annual gathering for political discussion found itself at the centre of a gender balance storm in June, when it emerged that there was just 20% female representation on its panels.
The criticism led some participants threatening to pull out and to Joe Mulholland, Director of the MacGill Summer School (which takes place in Donegal's rural Glenties area), becoming the focus of much ire online. He found himself and his event accused of sexism.
On 10 July, it was confirmed that in response to the complaints MacGill had added two new events to its programme at last minute.
Both were organised to address the gender balance issue at the summer school and one even addresses the controversy itself: 'Women in Public Life: Why are organisations such as the MacGill Summer School still trapped in a world of gender stereotypes?' The second panel is about the recent abortion referendum, which had not been addressed on the original programme.
'It was a lot of pressure'
The event is due to get underway tomorrow, and we spoke to Mulholland about the criticism, how he coped with the controversy, and why he isn't going public with his plans for the future of the festival – which might be his last.
He said he believes the programme is as good as ever, and noted that it has more speakers as a result of the two new panels. "It was a lot of pressure because it was so late and then there are so many people that one invites to participate who are on holidays at that time so it was quite awkward," he said of making changes at the last minute.
"I think we have everything in place. We are a very small outfit and we don't have much means, but it will be alright on the night and the programme is the important thing, and I think it's a damn good programme."
The summer school will discuss topics such as the health service, the Catholic church, and gender equality.
How did he deal with being the focus of such criticism? "In my career I have been through quite a lot of controversy one thing or another," said the former managing director of RTÉ Television, who retired in 2000.
And you just deal with it and live through it. The only thing I felt about it that I have some regrets about is that it became very personal. It was very directed at me personally, which was unfair as all of my friends … and anybody knows me thought it was unfair and unjustified. But look, that said this is part of public life and MacGill is part of public life.
Mulholland put the initial gender imbalance down to there being "too many things" that he wanted to put into the programme.
"You end up sometimes dropping things that do take precedence, so that has now been rectified, but it means that there is hardly any respite for anyone [attending the panels] during the whole week," he said.
Male, pale and stale?
MacGill has faced accusations of being only directed at older men, and not appealing to diverse enough an audience. Does Mulholland think that adding two new panels focusing on women will bring in a different type of audience?
"I think it probably will – it has certainly brought attention to MacGill amongst a lot of new people I imagine who maybe heard of it vaguely but never thought about bothering about it really. I am sure that it will attract a greater number [of attendees]," he said.
He said the speakers are all invited because they are strong in their different fields, and that his primary objective is "to keep the quality of debate up and the relevance of debate".
Participants at this year's summer school include Vicky Phelan and Stephen Teap, who have both been affected by the cervical cancer scandal. "I am particularly pleased that [they] are coming because that is a huge personal story, a personal tragedy and is a good counterpoint to all the stuff about economy and jobs at risk and you know the other things we do," said Mulholland.
He took issue with the description in some media coverage of "MacGill being ridiculously outdated", saying that "nothing could be further from the truth".
I mean the whole impression being given that it was male, pale and stale… [The participants] have reached the zenith of their careers, it doesn't mean they're any of those things. Whether it be in health or in any other field that kind of thinking now is as dangerous as the lack of gender equality. It has to be open minded and more tolerant of ageism and not of sexism, but more tolerant of women taking their rightful place.
#Open journalism No news is bad news Support The Journal

Your contributions will help us continue to deliver the stories that are important to you

Support us now
Mulholland said that the issue of intolerance today is "not helped by social media"
"Throwing insults and offensive insults around about any age group is very wrong because there are people now, and I would hope I would be an example myself, who are very active mentally and physically and who live full lives and who contribute to the community with community work."
'You're a fool not to learn'
Has he learned from the experience? "Of course you learn, you're a fool not to learn from your experiences. It is something you would certainly not do again and certainly think afresh about the thing as you approach it. Absolutely, I don't shrug off anything, I soak up everything that I [experience]."
Mulholland maintains that this is his final year running the festival, but won't be drawn too much on its future.
When asked if he thought the next person at the helm would also be focused on diversity, he said: "I'm not sure I want to talk about going forward. Whoever is there would want to do that of course."
I haven't thought about [finishing up] at all at this moment in time. I just have to concentrate on getting this when we'll look at it.
I have made no final decision about the school and I haven't and won't at the moment.
The MacGill Summer School will run from Sunday 22 July to Friday 27 July.