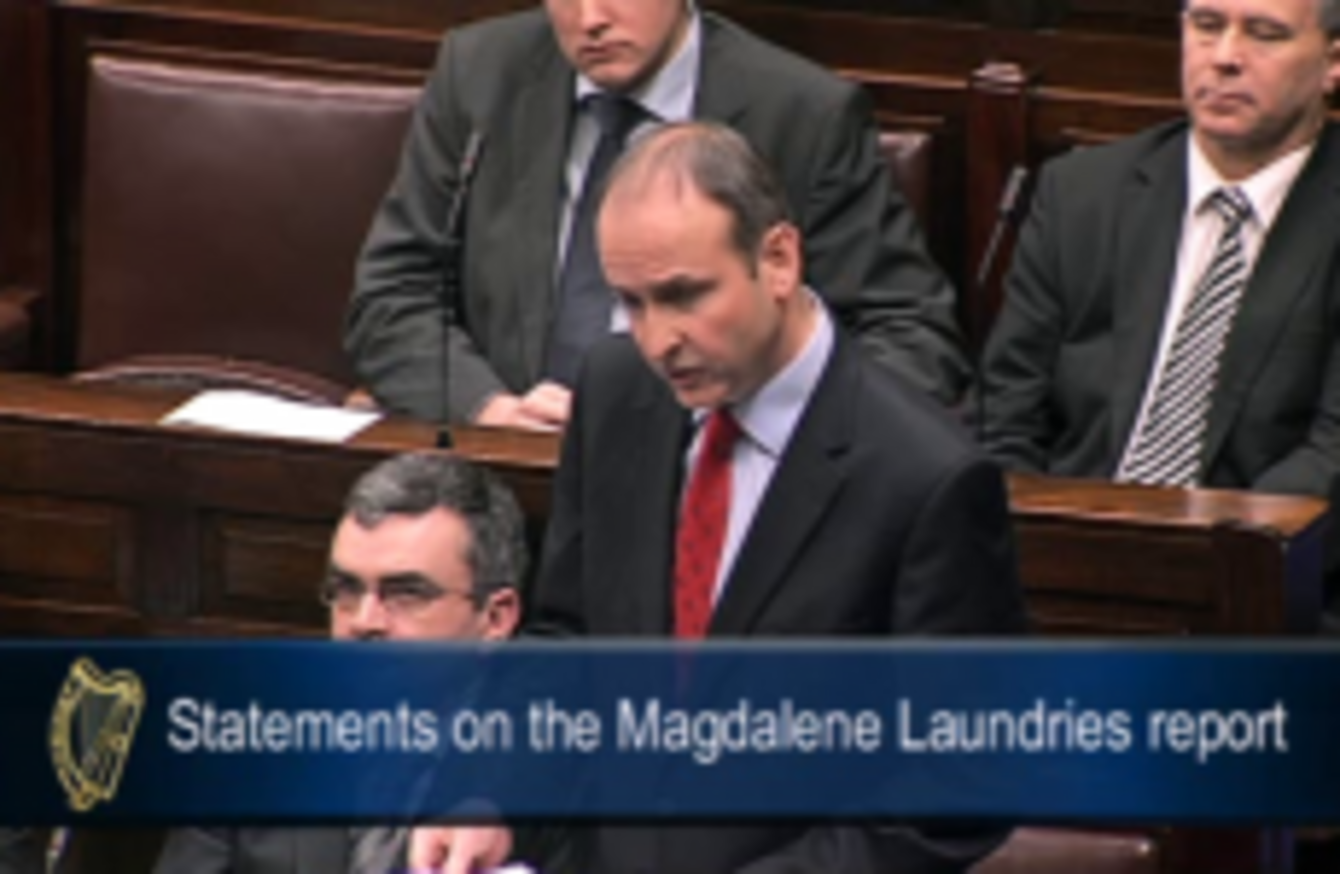 Image: Oireachtas.ie
Image: Oireachtas.ie
IT HAS BEEN an evening Magdalene Laundry survivors have waited for for decades: the moment they would receive a formal apology from the State for their incarceration and treatment in religious-run institutions.
In the Dáil this evening, the Taoiseach Enda Kenny apologised wholeheartedly to these women, two weeks after the publication of the McAleese report into the State's involvement in these laundries.
The apology came after he was roundly criticised for not giving a formal apology the day the publication was released; it came just days after he met with Magdalene survivors to speak to them about their experiences.
Tánaiste
In an emotional speech, Kenny apologised to all Magdalene women for what they had suffered.
He was joined by the Tánaiste, Eamon Gilmore, who offered a heartfelt apology:
I want to say to those women, some of whom are with us today, that we have heard you, we believe you, and we are profoundly sorry for what was done to you.
That what happened to you, as children or as adults, should not have happened. It was Ireland that was wrong, not you.
Gilmore said that there was a fluid culture of collusion between Church and State:
But there is nothing so blind as the blindness imposed by a dominant ideology, and a subservient State. A blindness that can subvert what our human intuition knows to be right and wrong.
He paid tribute to his colleague and Minster of State, Kathleen Lynch, for her "commitment to justice for the women of the Magdalene laundries".
As a State, and as a people, we can never make sufficient restoration to the women of the Magdalene laundries for what they have experienced. We can never give them back their past; their youth; their opportunities; for some, the children they gave up.
But we can tell them that we believe them. We acknowledge that what happened to them was wrong. That the stigma they have been branded with was false. And that we are sorry.
There is a role, too, for the religious orders which ran the laundries, to make a fair contribution, along with the taxpayer.
Deserved earlier intervention
Fianna Fáil leader Micheál Martin also welcomed the apology.
There should have been earlier consideration given to this issue and there is no doubt that the women of the Magdalene laundries deserved earlier intervention. I am sorry that that did not happen. I also accept that steps should have been taken earlier to make this apology.
Regarding Martin McAleese's inter-departmental report, Martin described it as "nowhere near a comprehensive report", saying it was given a "narrow terms of reference".
I believe that the state should now commission and sponsor significant extra work to ensure that every survivor is offered the chance to give their testimony and that this is studied and made publicly available.
While welcoming the news of the fund and memorial, he said the government should provide counselling to those women who want to avail of same, and should set up a Special Unit in the Department of Justice to coordinate the State's response.
#Open journalism No news is bad news Support The Journal

Your contributions will help us continue to deliver the stories that are important to you

Support us now
Martin also said that the four religious orders that were running the laundries should be asked to give unequivocal apologies and if possible should contribute to the redress of the women.
Magdalene victims were "slaves"
Sinn Féin lead Gerry Adams welcomed the "fulsome and comprehensive apology" , along with the Technical group, who are currently speaking to the Dáil. Deputy Maureen O'Sullivan said that the two weeks delay between the publication of the report and the formal apology could have been avoided.
In the manner of their incarceration and in their treatment in the Magdalene Laundries– these women were slaves – these girls were slaves – slaves of a brutal and inhuman regime which Irish governments turned a blind eye to.

Indeed, successive governments endorsed and used these institutions.
Adams thanked Martin McAleese and his team for the report, but said that the government's "strictly limited terms of reference" meant that some of the Magdalene Laundries and the stories of some of the women were not included – such as previously unknown of Laundries in the north or the conditions in Bethany Home.
"I know some of the survivors feel that the 1,000 page report by Senator Martin McAleese does not accurately reflect the abuse and the suffering that all of the women endured in these institutions. For example, the Report states that only a minority experienced physical abuse and none suffered sexual abuse – many will take issue with this statement," he said.
Adams concluded by saying that the Magdalene women were "an inspiration" to the Dáil and the people of Ireland, who all owed them "a debt of gratitude for their endeavours on behalf of each other and of all those who were victims of abuse".